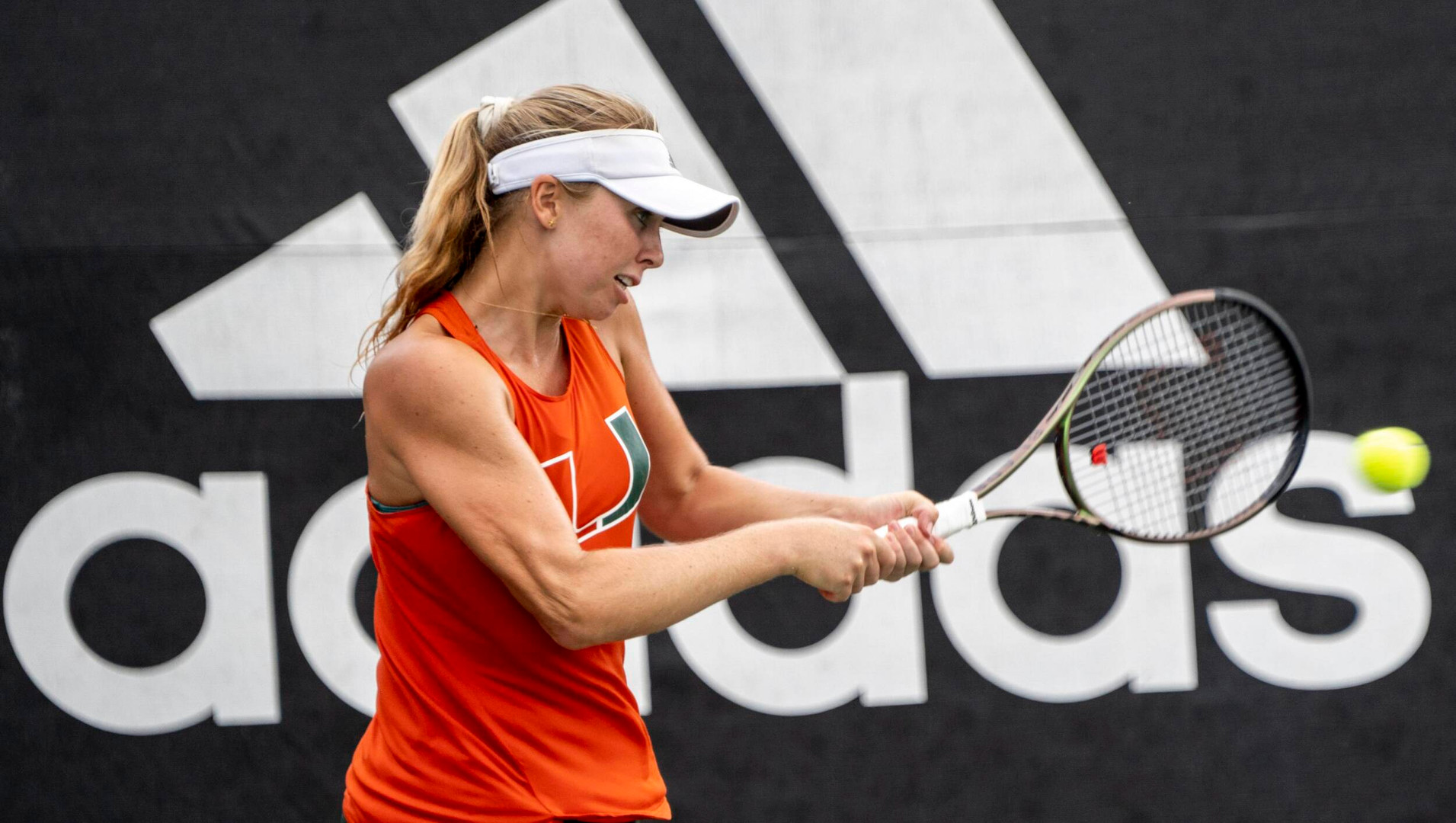 CORAL GABLES, Fla. – The University of Miami women's tennis team is headed into conference play on a high note.
The Hurricanes beat a top-20 team in each of their last two matches, logging a 4-3 victory over then-No. 17 Old Dominion and sweeping then-No. 19 UCF, 5-0.
"Our confidence is pretty high," fifth-year senior Eden Richardson said. "I think we're all starting to trust each other … that we're all going to do our thing on each court. So, I think that's the main thing."
No. 15 Miami (5-1) opens conference action Friday at 5 p.m. when it hosts No. 47 Georgia Tech at the Neil Schiff Tennis Center.
Through its difficult non-conference slate, which included three top-20 foes and three Power Five opponents, Miami has made some significant improvements as a team. It has also honed in on a value it strives to display each time it takes the court.
"I think we're tough. We're trying to start out there as long as possible if we need to," Richardson shared. "We've just kind of been using the word 'relentless' a lot. And that's what we're trying to be, as relentless as possible."
Richardson, in particular, has been a key component of the Hurricanes' success in the early part of the 2022 season.
In her first year at The U after transferring in from LSU, she is playing atop the lineup in both singles and doubles. She sports a No. 81 ranking in singles and, alongside fourth-year junior Daevenia Achong, a No. 40 mark in doubles.
"I wasn't expecting to come in and play one in singles. I think in doubles I was expecting to be higher up there, but in singles I wasn't," Richardson said. "Honestly, I think it's a great thing that the coaches have some trust in me and they think that I can go out there and compete with some of the best girls in the country. That means a lot to me."
A 2018 NCAA doubles champion during her freshman season at LSU, Richardson is brought a lengthy list of accolades with her when she made the move south.
However, it is not her past performance that she believes has led to Paige Yaroshuk-Tews and Alex Santos having faith in her. Instead, it is the mentality on the court she has shown thus far as a Hurricane.
"I think they know that I'm going to leave it all out there on the court," Richardson said. "I'm going to try to find a way to win, whether that is win ugly or I am playing my best tennis. I'm going to give it all I have."
Although she has never played an ACC match before, Richardson did play four seasons in the SEC, another one of the nation's top leagues.
The Bath, England, native shared the team's mindset as it heads into conference competition this weekend.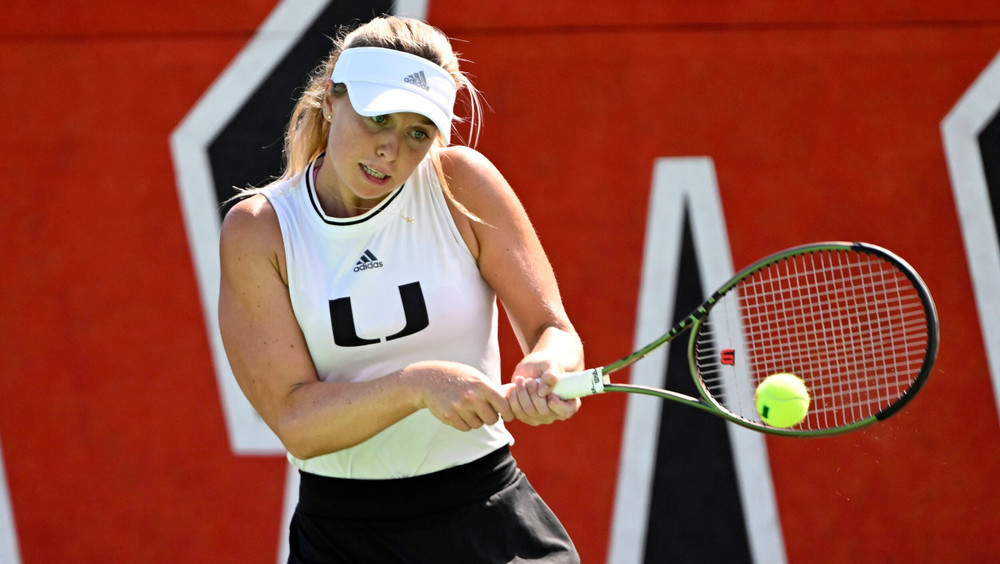 "We want to win every match, but especially we want to win every ACC match," Richardson remarked. "We know we could be playing any of those teams again in the ACC tournament. So, we don't want to go into that with any bad taste in our mouths."
Georgia Tech is 3-3 on the season, but has won three consecutive matches, including taking a 7-0 result in each of its last two outings.
The Hurricanes are 14-14 all-time versus the Yellow Jackets, who are led by former Miami men's tennis head coach Rodney Harmon. That includes an 11-4 mark in the last 15 meetings and a 6-3 ledger at home.
Georgia Tech, though, earn 4-3 wins in both of the teams' meeting last year, including on April 24, 2021, in the ACC Championship semifinals in Rome, Ga.
While the teams this year are not the same on either end, Miami does know it has a tough task at hand once again. Watching and studying the Yellow Jackets' 7-0 victory Monday against Mercer confirmed just that.
Carol Lee and Kylie Bilchev are Georgia Tech's two ranked singles players, checking in at No. 72 and No. 73, respectively. In addition, Bilchev and Ava Hrastar place No. 16 in doubles, while Lee and Kate Sharabura hold the No. 18 spot.
"They are a pretty talented team, a tough team. And I know they're a well-coached team," Richardson said. "I know Rodney is a very good coach. So, I think it's going to be a great match."
The Hurricanes enter the contest with three ranked singles players, Richardson, fourth-year junior Daevenia Achong and sophomore Isabella Pfennig, at No. 81, No. 67 and No. 85, respectively.
Meanwhile, third-year sophomores Diana Khodan and Maya Tahan form the nation's No. 38 tandem in doubles, while Achong and Richardson place No. 40 in doubles.
In addition to starting league play, the matchup with Georgia Tech will be different from Miami's other outings this season for another reason. A camera crew from ACC Network's "All Access The ACC Life" will be on campus Friday and Saturday.
The focus of their show is primarily on Richardson, who has been carrying a camera around with her for much of the week leading up to the crew's arrival.
"I like it. I think it has kind of helped me a little with talking in public, I guess," she shared. "It's not really my favorite thing to do, but I think it has given me a little bit more confidence. I take it as a compliment that I got chosen to do it. I think it's a really good thing. I'm excited for them to come and show them around."
Although assuredly focused on helping her team notch a win in its ACC opener, Richardson is also looking forward to having the camera tracking her this weekend.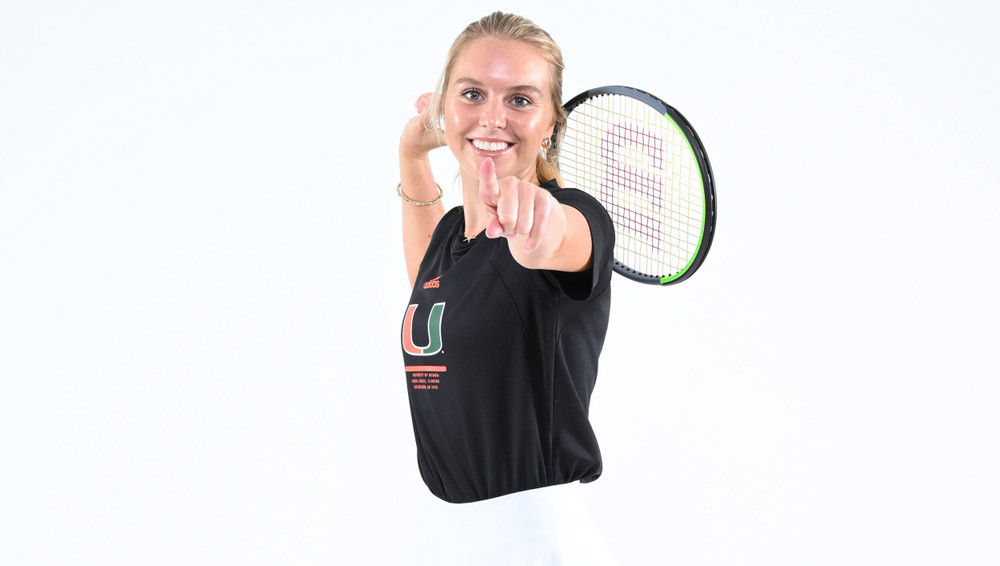 "I think I'm going to feel like a celebrity," she said with a laugh. "It will be kind of cool having them at our match. That will be awesome. I just think there are so many things to show them. There is a lot going on around here. So, it will be good."
Sunday, the day after the ACC Network crew departs, the Hurricanes will play their second ACC match in a three-day span when they host Clemson at 11 a.m. at the Neil Schiff Tennis Center.
The Tigers are 6-2 on the year and begin conference action Friday at 5 p.m. at No. 44 Florida State. They feature two ranked singles players in No. 109 Cristina Mayorova and No. 123 Eleni Louka, but no ranked doubles duos.
Miami owns a 32-4 all-time record versus Clemson, including a 15-2 ledger at home. The Hurricanes are on a 20-match winning streak in the series dating back to 2001, the year before Yaroshuk-Tews took over as head coach. In the most recent meeting, Miami earned a 7-0 shutout on Feb. 21, 2021, in Clemson, S.C.
Live stats for Friday night's match between the Hurricanes and Yellow Jackets can be found HERE, while live stats for Sunday morning's meeting between Miami and Clemson will be available HERE.
To keep up with the University of Miami women's tennis team on social media, follow @CanesWTennis on Twitter, Instagram and Facebook.