University of Miami Athletics
Jake Garland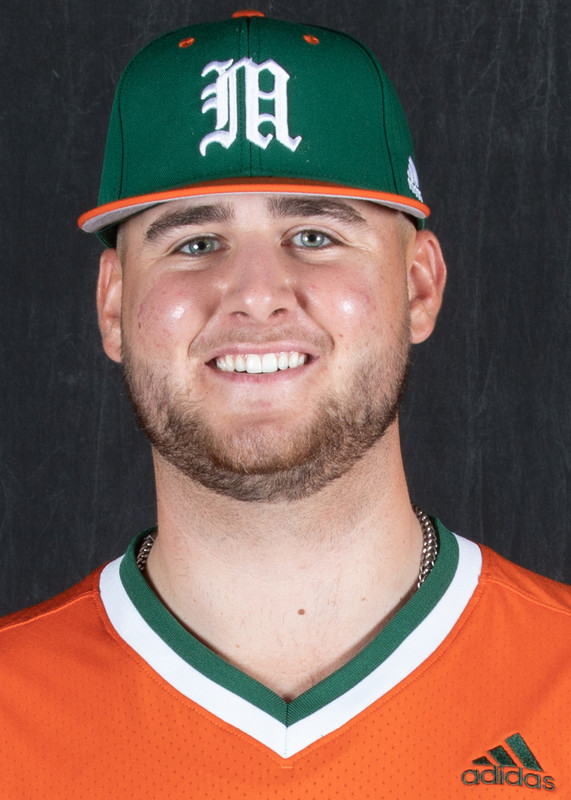 The asterisk next to 2020 and 2021 season bios indicate the NCAA's decision to grant an extra year of eligibility for student-athletes in light of the COVID-19 pandemic; the student-athlete's year of eligibility did not "advance" from 2020 to 2021 due to this NCAA ruling.
*Freshman (2021): Made 16 appearances, including a team-high13 starts, as right-handed pitcher…Went 6-4 with a 5.69 ERA over a team-high 68.0 innings pitched…Struck out 38 batters while walking 14 and holing opponents to a .286 batting average…Fanned two batters over 3.2 innings at preseason No. 1 Florida (Feb. 19)…Struck out five batters over three scoreless innings vs. Virginia Tech (Feb. 26)…Allowed just one run over 6.0 innings to earn victory vs. FAU (Mar. 9)…Held FGCU to one run over a season-high 7.0 innings to earn victory (Mar. 17)…Tossed six scoreless innings to win at FIU (Mar. 31)…Had six strikeouts while holding Clemson to one run over six innings (Apr. 18)…Held North Carolina to one run over six innings to earn fifth win of the season (Apr. 25)…Allowed two runs (one earned) in rain-shortened 2.0-inning start vs. App State (May 9)…Held Louisville to one run over 5.0 innings to pick up sixth win (May 22)…Started vs. Florida State in ACC tournament (May 28)…Made NCAA tournament debut vs. South Alabama (June 6).
*True Freshman (2020): Made six appearances out of the Miami bullpen in shortened 2020 college baseball season…Went 1-0 with a 1.93 ERA and 12 strikeouts over 9.1 innings pitched…Tossed a scoreless inning and struck out a career-high three batters in Miami debut vs. Rutgers (Feb. 16)…Fanned two batters over two scoreless innings in win over Kent State (Feb. 19)…Struck out two batters vs. No. 2 Florida (Feb. 23)…Threw career-high 2.2. shutout innings in win over USF (Feb. 26)…Struck out two batters in scoreless inning vs. Towson (Mar. 1)..Struck out two batters over two innings at FAU (Mar. 4).
High School: Two-time FHSAA all-state selection and two-time 9A player of the year…Four-year varsity starter at Jupiter High School, where he racked up a school-record 222 career strikeouts, 1.49 ERA and a 1.13 WHIP in his career…Helped lead team to its first state championship in 2018.
Personal: Parents are Todd and Kim Garland…Has two brothers, Drew and Griffin…Intends to major in communications.