Miami Baseball
The University of Miami baseball program thrives as one of the best in the country as well as one of the most notable in South Florida's baseball history. Since 1973, the program has been one of college baseball's elite with 25 College World Series appearances, winning four national championships (1982, 1985, 1999, 2001) and advancing to the NCAA regionals a record 44 consecutive years. Miami has won 29 NCAA Regional Titles, hosted 27 NCAA Regionals, and in each of their four national championship runs they were a NCAA Regional Host.
Historical Timeline
Jack Harding 1940, 1959: 16-14-1 (.516)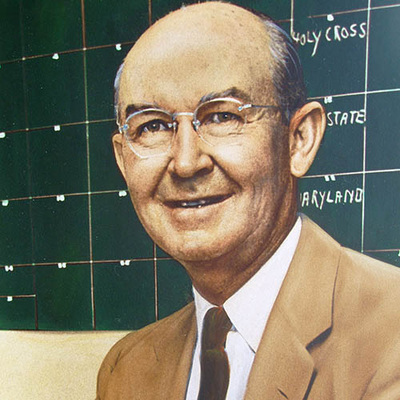 But Hurricane baseball actually began in the spring of 1940, as Miami's first varsity game was played at Miami Field, near Miami Senior High School. The afternoon of March 26 saw the "Hurricane nine" defeat Newberry (S.C.) College in a 13-12 thriller.
Games were actually played at UM briefly in the late 1920s and early 1930s, but were discontinued until a decade later when Jack Harding resurrected the sport at the varsity level in 1940. Harding was the Hurricanes' football coach from 1937-42 and, following World War II from 1945-47, as well as serving as UM's Athletic Director for 26 years. Harding also returned to the helm of the baseball program in 1959
After just a five-game varsity season, baseball once again took a hiatus at Miami until 1946 when a former UM football standout led the Hurricanes back onto the diamond.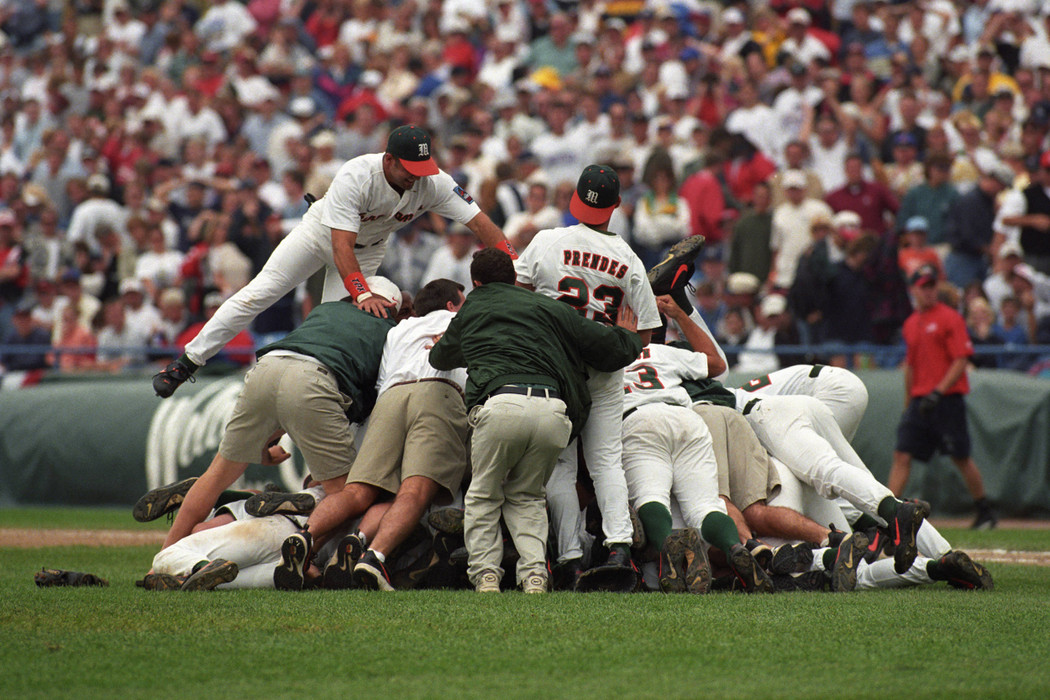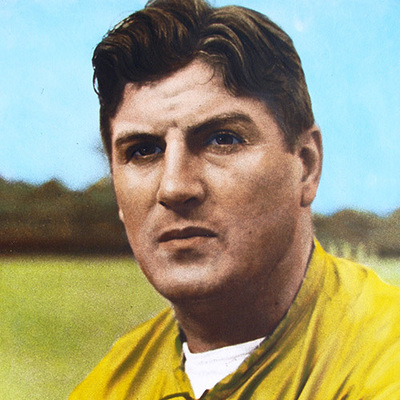 Eddie Dunn
1946-1954: 82-73-1 (.522)
The Post Word War II era saw the rebirth of the University of Miami baseball program with former Hurricane football standout and eventual head coach Eddie Dunn at the helm.
Dunn was a nationally acclaimed running back for the Hurricanes from 1936-38 and later took the reins of the program from 1943-44 when gridiron coach Jack Harding left for service in the Navy. Dunn also served two seasons under Hart Morris on the men's basketball team, as well.
Over 60 years later, Dunn still remains ranked among UM's all-time top 10 in all-purpose yards (#3, 3,476), touchdowns (#5, 25), rushing yards (#8, 1,778) and points scored (#10, 160). His two football seasons saw UM go 5-1 in 1943 and 1-7-1 in '44, prior to the return of Harding to the UM sideline.
It was at that point when the Athletic Department enlisted the service of Dunn to resurrect both the basketball and baseball programs to varsity level during the post World War II era. UM had one previous season of varsity baseball in 1940 along with years of freshman class-level play.
Against teams from the state of Florida, military bases and around the Southeast, Dunn guided UM to an 82-73-2 mark over his nine seasons. His 1947 club went 11-2, followed by his second-best mark of 14-8 in '49. Dunn, who was raised in Miami, was the father of UM football All-American and Pittsburgh Steeler great Gary Dunn.
Perry Moss 
1955: 15-7 (.682)
Legendary head coach Perry Moss served one season at the helm of the Miami baseball program in 1955. His Hurricanes went 15-7, including wins over Florida and Florida State. Moss' name is synonymous with the sport of football. Up until the 2000 season, Moss could be found pacing the sidelines of the Arena Football League's Jacksonville Tomcats. An amazing career within the sport of football, Moss has held head coach, front office and assistant coach roles in the NFL, CFL, WFL, USFL and both Arena leagues.
Jimmie Foxx 1956-57: 20-20 (.500)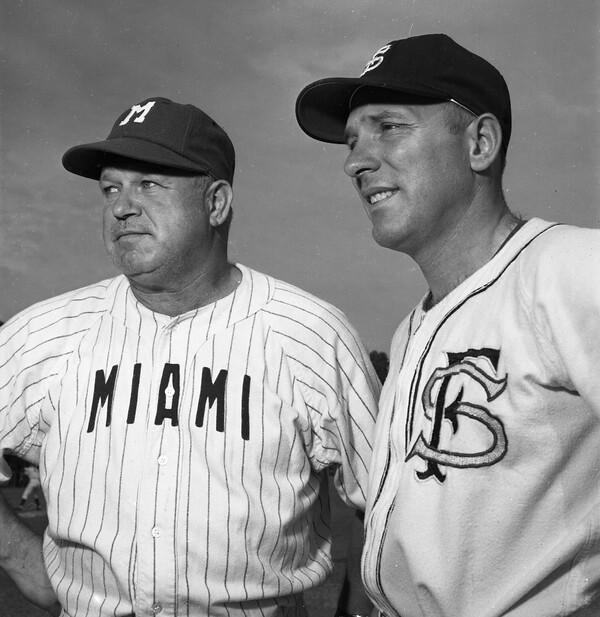 Major League Baseball Hall of Famer Jimmie Foxx spent two seasons in Coral Gables in 1956 and 1957. With a 20-20 combined record, Foxx's Hurricanes picked up wins over Florida State and Yale.
Foxx was inducted into the MLB Hall of Fame in 1951 after a stellar professional career that spanned 20 years with the Athletics, Red Sox, Cubs and Phillies. Foxx was the leagues' most valuable player three times (1932, '33, '38), while being selected to the all-star team from 1933- 41. One of baseball's most feared batters, Foxx led the league in batting average (1933, '38), home runs (1932, '33, '35, '39), RBI (1932, '33, '38). He was the triple-crown winner in 1933 and still holds numerous Boston Red Sox records.
Whitey Campbell 1958, 1960-62: 69-36-3 (.653)
Former Miami four-sport star Whitey Campbell, a member of the UM Sports Hall of Fame, became the first former Hurricane baseball player to assume the role of head coach and spent four seasons at the helm of the baseball program (1958, 1960-62).
With the exception of the 1959 season, in which former coach and athletic director Jack Harding led the team, Campbell was the skipper of the Hurricanes through the spring of 1962. Campbell's teams never had a losing season in his four years as coach. His Hurricanes were successful with a 69-36-3 combined record with highlight wins over Florida, Florida State, Jacksonville, Army, Georgia Tech and Ohio State.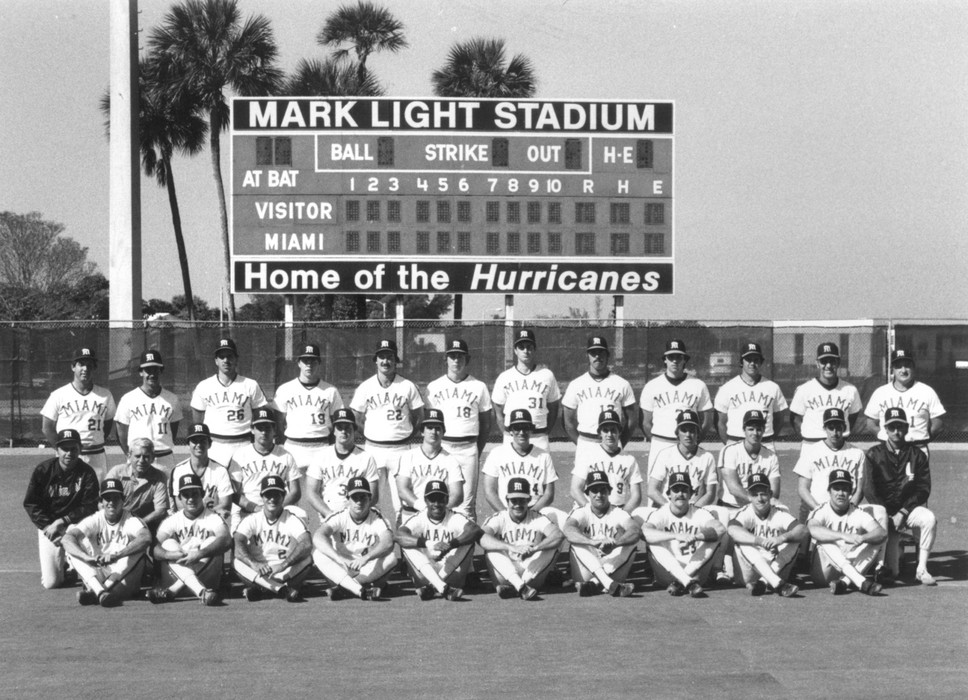 Ron Fraser 1963-92: 1,271-438-9 (.740)
The University of Miami became a major factor on the national collegiate baseball scene when the school hired Ron Fraser to guide the program in 1962. A player at Florida State in the late 1950s, Fraser was the mentor of the Dutch National Team for three years before Miami lured him to Coral Gables. Over the span of 30 years, "The Wizard of College Baseball" built what many considered the model collegiate program.
Miami Qualifies for the NCAA Tournament
 After nine seasons overhauling the baseball program at Miami, Fraser guided the Hurricanes to their first postseason berth in 1971. Miami traveled to Gastonia, N.C., where it won its first tournament game, a 4-3 victory over Georgia Tech on May 27. The Canes fell to Mississippi State, 7-3, the next day and lost 5-3 in a rematch to the Yellow Jackets on May 29 to end their season, 35-11, but the foundation was officially in place for the Hurricanes as a winning program.
 Mark Light Stadium Goes from Dream to Reality
In 1971, Coach Fraser's dream of building an elite on-campus stadium began to take shape. George and Ethel Light came forward to support the project by making the initial donation to the stadium fund.
Opening night for the brand new stadium came on February 16, 1973. A crowd of 4,235 watched as the Hurricanes defeated Florida State, 5–1. The Hurricanes thrilled the overflow crowd by executing a rare triple play in the win over the Seminoles.
George and Ethel Light made a second donation in 1974, which was matched by other donors, in an effort to build permanent concrete seating at the new facility. The stadium was dedicated in 1977 and named for Light's son, Mark, who died of muscular dystrophy. Unfortunately, George Light didn't get to see the dedication of the stadium named for his son. He died in 1974 shortly after he and his wife made their second donation.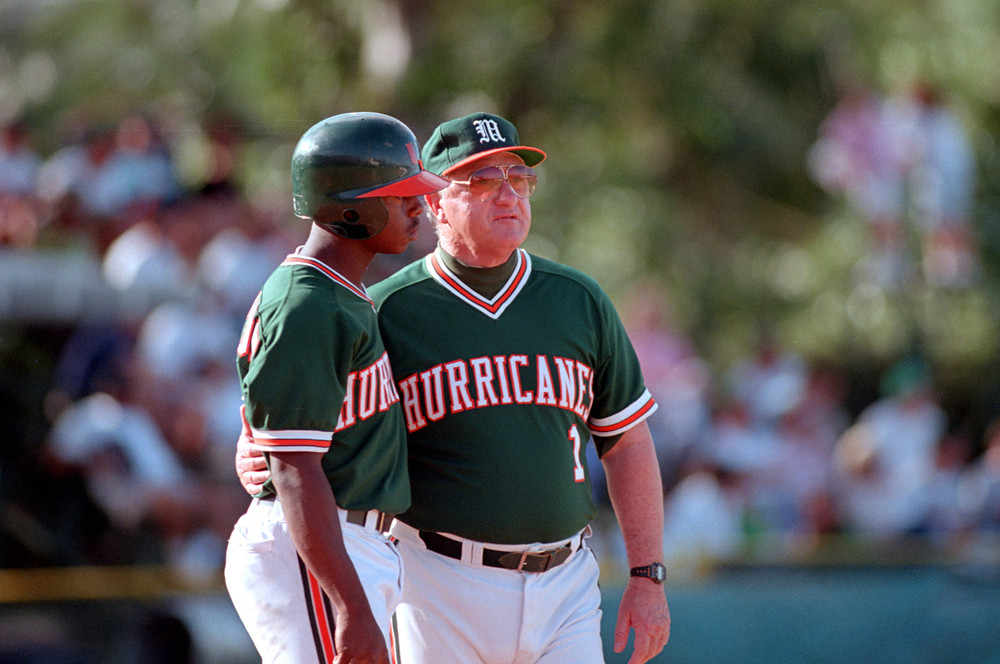 The 44-Year Postseason Streak Begins
 Miami holds the NCAA record with 44 consecutive postseason berths, but every streak has to have a start and the Hurricanes began their unprecedented run in 1973. The Canes traveled to Starkville, Miss., and reached the District 3 final before falling to Georgia Southern and putting their Omaha dreams on hold for
one more year.
The Big O Leads the Canes to Omaha for the First Time
 The first University of Miami player ever to have
his jersey retired (No. 20), Orlando Gonzalez has
gone down in the UM annals as the team's best
all-around first baseman. A .300 hitter out of Dade
South Community College, Gonzalez hit .338 and
stole 34 bases in his first season with the Canes.
He
followed that performance with a banner senior
season in 1974. He slugged his way to a .402 average and
stole a then-NCAA record 62 bases. His aggressive
style at the plate and on the base paths led the
Hurricanes to their first-ever College World Series,
where Miami finished second to Southern Cal., who
that year won its fifth consecutive CWS title.
Following that College World Series which saw
"Big O" drive in seven runs with his seven hits, he
became the first recipient of the annual Lefty
Gomez Plate Award as the outstanding player in
collegiate baseball. He was named to the College
World Series all-tournament team and as an All-America selection by Sporting News and the
NCAA coaches as well.
Although not a power hitter–as a lefty shooting
against long right field fences he hit but two
homers in 1973 and one in 1974– Gonzalez did have
the tools of a fine baseball player. He combined
overall hitting with great speed and quickness. He
also was adept with the glove. He was a part of
most of UM's 68 double plays — a UM record for
that time in twin killings. Gonzalez was drafted by
the Cleveland Indians following his two-year stint at
UM. It was with the Philadelphia Phillies and the
Oakland Athletics, though, that he played at the
major league level.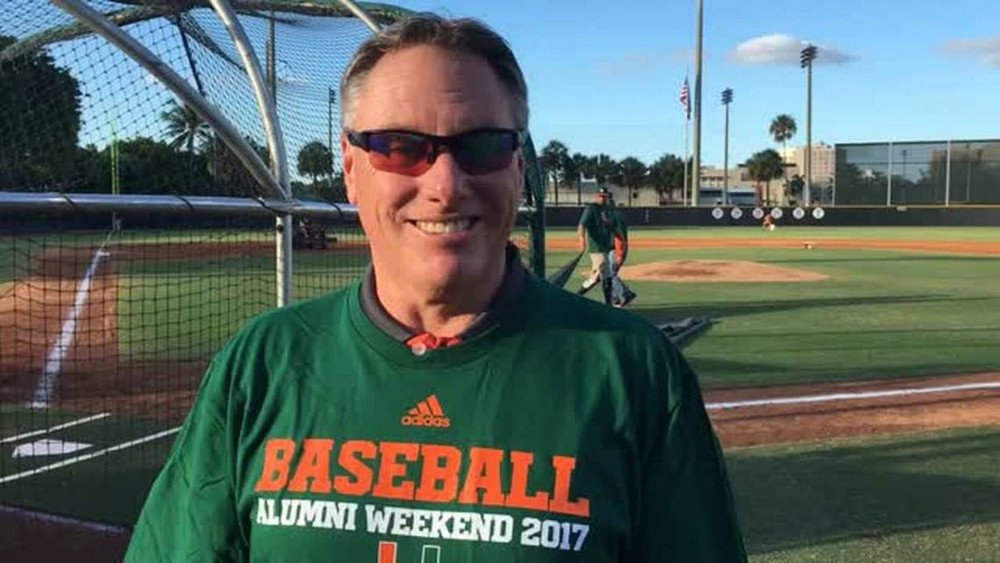 Stan Jakubowski Shines as a Starter
 In 1974, as a 19-year-old sophomore, Stan Jakubowski posted a 16-3 record and dazzling 1.46 ERA while being named to the AABCA All-America and All-College World Series teams. At the CWS, the right-hander hurled a nine-hit complete game over Harvard in the Hurricanes' first CWS game ever. Miami finished runner-up to USC in their first College World Series.
Jakubowski, whose No. 29 was retired after an outstanding career, finished his time at Miami with a 40-14 record, 27 complete games, 432 innings pitched and 1.81 ERA. His 27 complete games is still a Miami school record. He was also a member of the 1974 United States team, which won the World Amateur Championship under Ron Fraser.
Regional Baseball Comes to Coral Gables
 In 1977, the Hurricanes hosted their first NCAA regional and welcomed Clemson, Ole Miss, and Morehead State to Mark Light Stadium. After qualifying for the NCAA tournament six times, including five straight seasons, the Canes finally played postseason baseball on their home field.
"Dandy Randy" Guerra Dazzles on the Mound and at the Plate
 "Dandy Randy" was "Mister Do-It-All for UM", excelling on the mound and at bat from 1976 to 1979. He won 20 games as a hurler, but was best known as a long-ball hitting first baseman. Guerra finished his career in Coral Gables eighth on the career games played list with 238 appearances.
Guerra's consistency also landed him fifth on the career at bats chart with 839. During his four-year career, Guerra flashed excellent skills at the plate, finishing sixth in Miami history with 252 hits. He also finished tied for ninth with 50 career doubles and tied for seventh with 39 career home runs. Maybe the most impressive statistic of Guerra's career was his 427 career total bases, which ranks third in Hurricane history, and 234 RBI, which ranks second. His No. 25 was retired after an illustrious career in the orange and green.
Neal Heaton, nicknamed "The Heater" during his time with the Hurricanes, left Miami holding almost all of Miami's pitching records, including victories in a season (18) and career (42) and strikeouts in a game (23), season (172) and career (381). In three years, Heaton was twice named an All-American, by ABCA in 1980 and by consensus in 1981.
In 1981, Heaton was drafted in the second round by the Cleveland Indians and made the parent club after just one year in the minors. Heaton's No. 26 was retired and "The Heater" was inducted into the UM Hall of Fame in 1992.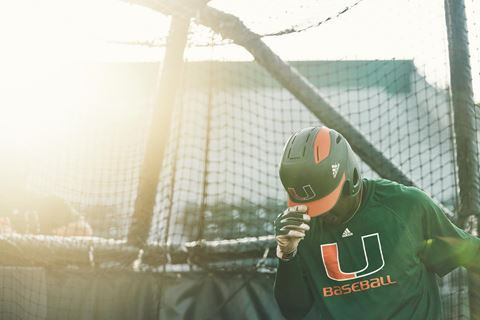 "The Grand Illusion" Leads to Miami's First National Championship
 The Hurricanes came close to winning the national championship in their first College World Series appearance in 1974. They followed up with 4 straight appearances from 1978–1981 before sweeping through the Atlantic Regional in Coral Gables en route to Omaha in 1982.
Miami opened the College World Series with a 7–2 win over Maine. The Hurricanes followed up with a close-fought 2–1 victory over Texas. Miami's third game in Omaha had perhaps the most memorable play in the history of college baseball.
In what would come to be called "The Grand Illusion," the Hurricanes used a hidden ball trick to pick off NCAA stolen base leader Phil Stephenson. In the 6th inning against powerhouse Wichita State, Stephenson took his usual lead from 1st base. Hurricanes pitcher Mike Kasprzak faked a throw to the bag. First baseman Steve Lusby dove to the ground then raced down towards the Hurricane bullpen where pitchers Dan Smith and Bob Walker leaped to avoid the ball. Stephenson set out for 2nd base as Kasprzak tossed the ball over to shortstop Bill Wrona for the tag. The Hurricanes swung the momentum in their favor and went on to win 4–3.
In the semifinal two days later against Maine, Miami pitcher Rob Souza threw a pickoff attempt over the head of Bill Wrona into center field. But the memory of the Grand Illusion kept the runner from trying to advance to third. Maine head coach John Winkin said, "I thought it was another trick play." Miami rolled to a 10–4 victory that propelled them into the championship game against Wichita State.
In the championship game, Wichita State jumped out to an early 3–0 lead. In the top of the 5th, the Hurricanes scored 6 runs with the aid of a Phil Lane 3-run home run. Miami added a run in the 6th and 2 runs in the 8th before closer Danny Smith finished off the Shockers in the 9th for the Hurricanes first national championship. Smith was named College World Series MVP while Lane and catcher Nelson Santovenia were named to the all-tournament team.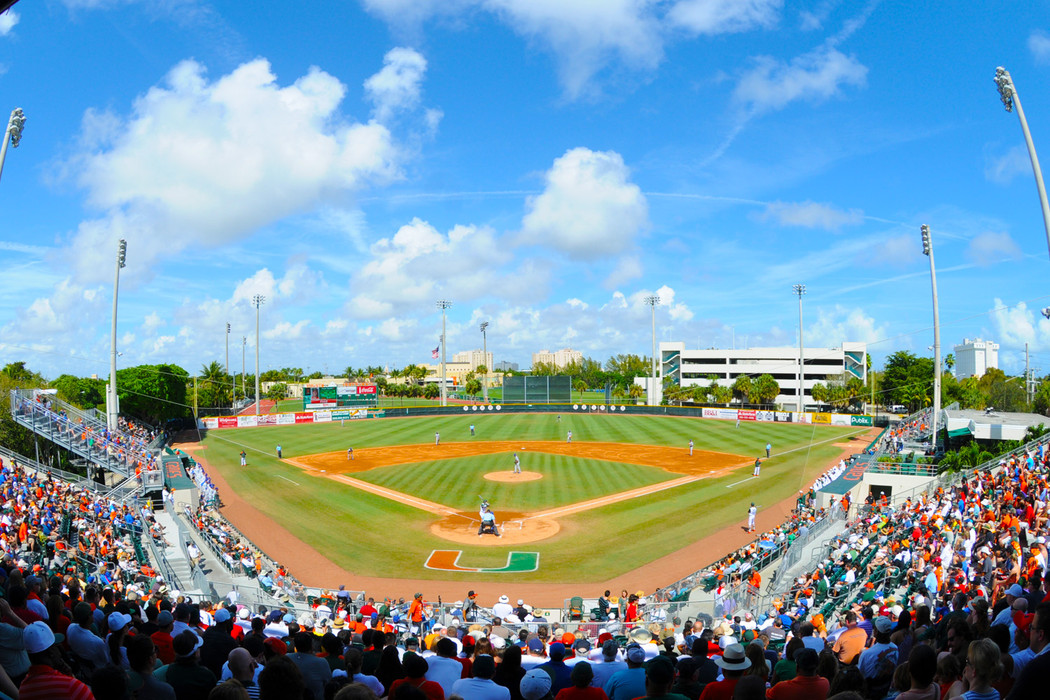 Doug Shields: Defensive Ace
 Doug Shields was an ace defensive centerfielder for Ron Fraser's Hurricanes from 1981 to 1984 and was equally impressive with his bat. In 1984, Shields won the Sun Bank Trophy (UM's MVP as voted by the Miami coaches), the Arnold Novens Memorial Trophy (UM's MVP as voted by Miami fans), and the Tony Roma's/Ron Fraser Post Graduate Scholarship Award for superior achievement in academics and athletics.

Shields, whose No. 5 is retired at Miami, he owned the school records for career games (284) and ranks third in UM history in career stolen bases (123).  A key member of the Canes' 1982 National Championship team, Shields finished with lifetime .312 batting average, 22 home runs and 182 runs batted in.
"The Happiest Team in America" Wins Miami's Second National Title
 Miami was unable to reach Omaha to defend their championship in 1983. However, the Hurricanes reached the College World Series again in 1984 before bowing out after losses to Arizona State and Cal State Fullerton.
The 1985 Hurricanes, dubbed by Fraser as "The Happiest Team in America," reached the College World Series by beating Florida, 12–9 in the final game of the Atlantic Regional. Miami began play in Omaha by thumping Stanford, 17–3 before losing to Texas, 8–4 in game 2.
The loss to Texas put the Hurricanes in the losers bracket, but Miami responded by pulling off three straight one run victories over Oklahoma State, Mississippi State and Texas. The win over Texas forced a winner take all championship game between the Hurricanes and the Longhorns.
In a game delayed a full day by inclement weather, the Hurricanes jumped out to an early 2–0 lead and never trailed the rest of the way. Miami closer Rick Raether pitched the final 2.1 innings to finish off the Longhorns, 10–6, and give the Hurricanes their second national championship. Designated hitter Greg Ellena was named College World Series MVP while catcher Chris Magno and pitcher Kevin Sheary were named to the all-tournament team.
"Spiderman"
Rick Raether, nicknamed "Spiderman" for his 6-foot-5, 184-pound frame, was perhaps the best relief pitcher to set foot on the mound for the Hurricanes.

During his two-year stint as the Canes bullpen ace in 1985 and 1986, Raether set an NCAA Division 1 record for career saves with 37. The sidearm hurler also established himself in the Hurricane record book setting the record for career saves with 37 that he held until 2016. Raether also has two of the most prolific save seasons in school history, ranking second with 20 saves in 1985 and fifth with 17 in 1986. In his two seasons, Raether won a College World Series Championship ring in 1985 and earned first-team All-America honors in 1986. He was named an All-American by Baseball America and team MVP both seasons, as well as an ABCA Atlantic Regional All-Star in 1986.
PERFECTION! Kevin Sheary Throws Perfect Game
 A senior right-hander, Miami's Kevin Sheary threw 102 pitches against Southern Illinois, striking out 12 batters as the Salukis were completely shut down. Sheary steamrolled into the ninth inning on March 14, 1987, throwing three balls to only three batters. The gem was his, but Kirk Dulom and Joe Nelson get assists.In the fifth, leadoff hitter, Jim Limperos' bid to break up Sheary's party was stabbed on a glove-side dive by Dulom at first base. In the ninth, just two outs away from history, pinch hitter Brad Hollenkamp lined a 1-2 pitch off Sheary's foot, bouncing it high into the air to Joe Nelson at third. Nelson charged, bare handed the ball and threw a dart to Dulom for the 1-5-3 putout and the 26th SIU out of the game.
Catcher Joe Hall was the only obstacle left for Sheary and a place in the record books. The Saluki catcher worked the Seminole, Fla., resident into a 3-2 count, fouling the next two pitches away before taking a called third strike from home plate umpire Barry Shulman for the final out.
 A four-year letter winner (1983-1987), Sheary's many career highlights include winning 10 games his freshman year, a UM record he shared for 15 seasons. The right-hander also won all three of his starts at the 1985 College World Series. Sheary beat Stanford, Oklahoma, and then Texas in the championship game, giving UM its second baseball National Championship in four years. Simply put, the team dubbed "America's Happiest" in 1985 wouldn't have won the national championship without Sheary's steely performances on the mound. For his success that year Sheary was named to the College World Series all-tournament team. He saved his best for last, tossing Miami's first perfect game as a senior in 1987.
 Mike Fiore Wins 1987 Dick Howser Trophy
 A four-year UM starter, Fiore rewrote the Hurricanes record books by setting 12 UM batting marks, including hits (341), runs (258), doubles (63), runs batted in (235) and total bases (506).
Fiore earned Freshman All-American honors in leading Miami to the 1985 NCAA crown and was a consensus All-American as a senior. He is the only Dick Howser Trophy winner in program history, having earned the honor in 1987 after leading the Hurricanes to an appearance in the College World Series in Omaha, Neb. Fiore also played on the 1988 gold-medal winning USA Olympic team.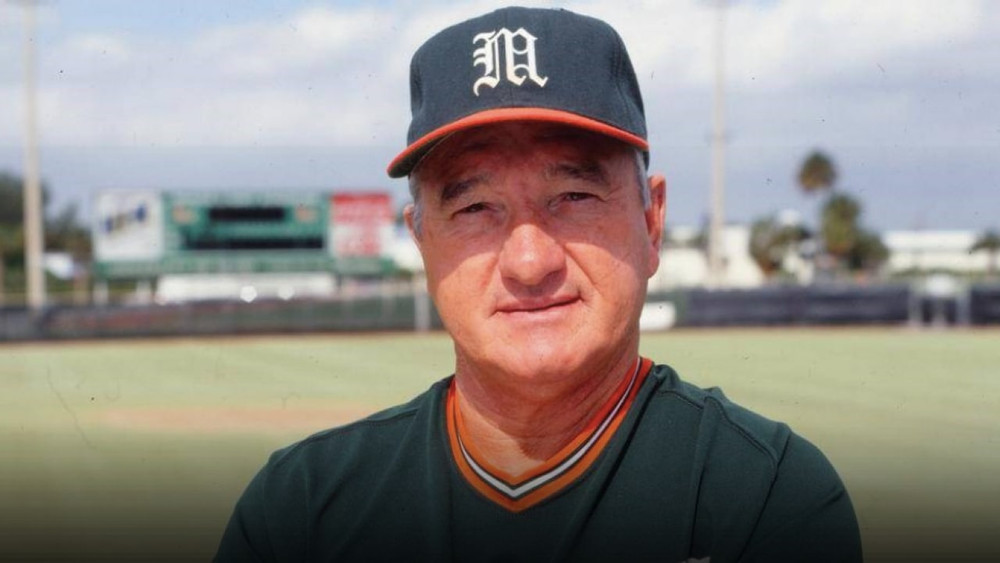 Alex Fernandez Dominates at The U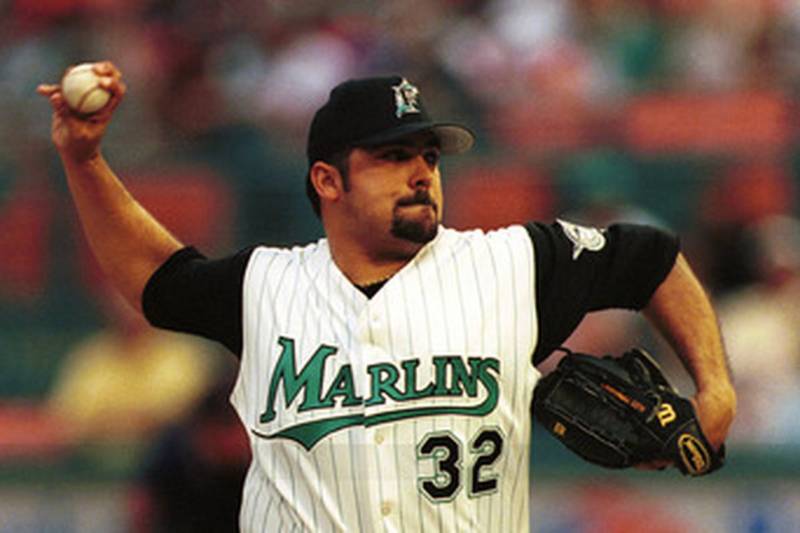 Alex Fernandez came to Miami as one of the most highly sought-after pitching recruits in the country, and in his short time in Coral Gables he lived up to that billing, and more. The 1987 Gatorade Florida State Player of the Year, he left Monsignor Edward Pace High School with state records for shutouts (24) and no-hitters (7) while compiling a four-year record of 47 wins against 4 losses. He capped a stellar senior season where he was 14-0 with a 0.56 earned run average, by pitching a complete game victory in the state championship game. Though he was a first round pick (24th overall) of the Milwaukee Brewers, he chose to join his hometown Hurricanes.
As a true freshman in 1989, Fernandez would make an impact immediately as he and his teammates shutout Central Florida in his first start. He quickly became the prime time Saturday night starter, drawing huge crowds to The Light to see him pitch. His finest game came on a chilly March evening as he pitched the 11th no-hitter in UM history — the first no-hitter by a freshman in program history — striking out 13 Maine Black Bears and allowing just an 8th inning walk. Four days later, he recorded a 15-strikeout game against rival Florida.
For the season, Fernandez won 15 games against only 2 defeats, with a 2.10 earned run average. He struck out 177 batters in 147 2/3 innings, an average of nearly 11 per 9 innings. He had 8 complete games, tossed 3 shutouts and held opponents to a miniscule .189 batting average, helping the Canes reach the College World Series.

He was named the Collegiate Baseball Freshman Pitcher of the Year, a First Team All-American by Baseball America and was a Golden Spikes finalist.
Alex then took his talents to Miami-Dade Junior College, where in 1990 he would win both the Golden Spikes Award and the Dick Howser Trophy as the nation's outstanding player en route to being the 4th pick overall by the Chicago White Sox in the first round of the Major League Baseball Draft. He would play seven seasons in the Windy City, then sign with the hometown Florida Marlins in 1997. Following an arm injury that sidelined him from the rotation, he became an inspiration to his teammates and South Florida community as the Marlins captured the World Series title that year. Fernandez sat out the entire 1998 season while rehabbing his arm, overcoming his setback to earn National League Comeback Player of the Year honors in 1999 before a second injury forced his retirement after the 2001 season. He won 107 games in his 10-year MLB career.
CJ Behind The Dish
 Charles Johnson was a three-year letterman for the Hurricanes from 1990-92 and a first-team All-American by The Sporting News in his final season. Johnson holds the single-season records for triples at Miami with nine three-base hits in 1990. Additionally, Johnson led the team in home runs in all three seasons in Coral Gables, as well as RBI in 1992. He was drafted by the Florida Marlins in the first round after his junior season in 1992 and enjoyed a MLB career that spanned 12 seasons. Johnson's No. 23 is retired at Miami.
The Wizard Retires from Coaching
 Ron Fraser retired as head coach of the Miami Hurricanes following the conclusion of the 1992 season. The Nutley, N.J., native won just about everything in his three decades at Miami, including NCAA national titles in 1982 and 1985. He left the coaching ranks as second winningest all-time coach with a 1,271-438-9 (.747) record. His UM teams set a NCAA record with 20 consecutive playoff appearances and eight trips to the College World Series. Ron Fraser's uniform No. 1 was retired on April 24, 1993.
It was Fraser's knack for marketing and promotion that drew the masses and earned him the nickname "The Wizard of College Baseball". Miami players were wearing white shoes and colored gloves before Charlie Finley tried the same with his Oakland A's. Fraser was the first to hire batgirls and was the first to wear green gloves on St. Patrick's Day. There were incredible car and vacation giveaways, income tax night and the San Diego Chicken.
Perhaps Fraser's biggest extravaganza was the baseball fundraiser dubbed "A Night With Ron Fraser" on February 16, 1977, a $5,000-a-plate gourmet dinner on the infield. Five-star chefs served a 10-course dinner of caviar, Alaskan king crab legs and pheasant under glass. A harpist in a white tuxedo played on the mound and violinists strolled among the tables. It was a huge success, covered by media from across the world.
In his 30-year career at Miami, Fraser produced a 1,271-438-9 record with a NCAA-record 20 straight postseason appearances and 12 trips to the College World Series with national championships in 1982 and 1985. He is a member of the inaugural class of the College Baseball Foundation Hall of Fame in 2006.
Brad Kelley 1993: 36-22 (.621)
Longtime baseball assistant coach Brad Kelley served one season as the head coach in 1993, following the departure of legendary UM coach Ron Fraser.
His team went 36-22 in 1993, including wins over Long Beach State, Florida, Florida State and Rice. Kelly served eight seasons as an assistant coach under Fraser, handling the UM pitching staff for six seasons. Kelly also served as an assistant coach on the United States national team as Fraser's top aide at the 1987 Pan American Games in Indianapolis. At the Games, the USA earned the silver medal to World Champion Cuba's gold medal. The USA defeated Cuba three of the seven meetings at the Games.
Jim Morris 1994-2018: 1,090-472-3 (.696)
 Following the 1993 season, new athletic director Paul Dee opened up a national search for Miami's head baseball coach. On November 4, 1993, Jim Morris was named head coach of the Miami Hurricanes and an impressive 12 seasons at Georgia Tech, where Morris won 504 games and four consecutive ACC Championships.
Known as "3," Morris was one of the most successful head coaches in college baseball history with 1,594 career victories as a Division I skipper.
In 25 seasons at Miami, Morris won 1,090 games, made the NCAA postseason in 23 straight years, reached the College World Series 13 times and won National Championships in 1999 and 2001. He also led the Hurricanes to the program's first ACC tournament championship in 2008, as well as three ACC regular season titles and four Coastal Division titles. His No. 3 is retired at Miami.
Miami was always known to produce elite baseball talent and that trend continued under Morris' leadership. Among the players Morris coached at Miami that went on to play in the Major Leagues were Ryan Braun, Yasmani Grandal, Yonder Alonso, Danny Valencia, Zack Collins, Peter O'Brien, Andrew Suarez, Chris Herrmann, Pat Burrell, Alex Cora, Bobby Hill, Aubrey Huff, Chris Perez, Cesar Carrillo, Brian Barton, Gaby Sanchez, Charlton Jimerson, Jay Tessmer, Danny Graves and Jason Michaels, among others.
 J.D. Just Wins
 J.D. Arteaga established himself as one of the greatest pitchers to ever take the mound at Mark Light Field. During his four-year career, Arteaga set school records for career starts (72) and victories (43). He is second all-time in innings pitched (458.1) and fifth in career strikeouts (343).
Arteaga ranks second in all-time College World Series starts, leading the Hurricanes to four appearances in Omaha. The left-hander was a 28th-round draft choice of the Mets in the 1997 MLB Draft. He retired in March of 2003 from professional baseball to become the pitching coach at his alma mater. Miami retired Arteaga's No. 33 on Feb. 5, 2003.
 Pat The Bat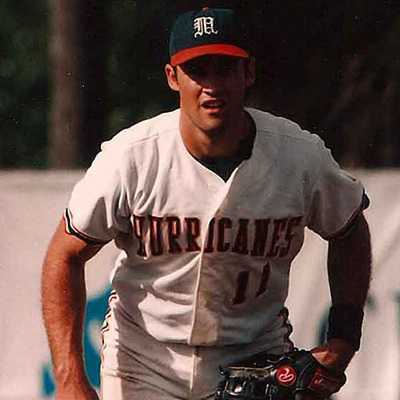 Miami's Baseball program has seen many great players, but none came to Mark Light Stadium with more expectations, or accomplished more than Pat Burrell. The 1995 California Coaches Player of the Year at San Jose's Bellarmine Prep School, he was the 43rd pick in the MLB draft by Boston, but chose Miami over the Red Sox, and Hurricane fans are grateful he did.
His 1996 season was one of the best in college baseball history.  He hit a home run in his first game in orange and green and tallied five in his first six games. He became the first freshman in NCAA history to lead the nation in hitting with a .484 batting average. He totaled 23 home runs and 64 RBI as the Canes advanced to the championship game of the College World Series, where he became only the third player ever to win the CWS' MVP award when his team did not win the title, batting .500 with two home runs and eight RBI in the tournament. He was named a First Team All-American by Collegiate Baseball and Baseball America.
The third baseman followed that with 21 home runs, 76 RBI and a .409 average in 1997, once again winning All-America honors. He toured with Team USA, hitting 12 homers in 34 games and was named Summer Player of the Year by Baseball America. In 1998, Burrell missed 38 games due to a back injury, but still compiled 17 homers with 47 RBI with a .432 average, leading the Canes to the CWS for the 3rd straight year. He became the only Hurricane to win the coveted Golden Spikes Award, presented by USA Baseball as the nation's Top Amateur Baseball Player. His .886 career slugging percentage and his .442 career batting average are both school records. In the U.M. record books, he is second in career home runs (61), second in total bases (465), seventh in RBI (187), and sixth in walks (170).
The Philadelphia Phillies made Burrell the top overall pick in the 1998 Major League Baseball draft. He joined the big league club in 2000, finishing 4th in Rookie of the Year balloting. He was co-winner of the 2005 Mike Schmidt Phillies MVP Award. In 2007, he joined Schmidt and Bobby Abreu as the only Phillies players in history to hit 20 Homers in 7 consecutive seasons. Burrell played 12 seasons in the big leagues and won two World Series titles, his first in 2008 with the Phillies and another in 2010 as a member of the San Francisco Giants. Burrell's No. 11 is retired at Miami.
Canes Beat Noles for National Championship No. 3
 While Morris never reached the College World Series in his tenure at Georgia Tech, a trip to Omaha became second nature while at Miami. The Hurricanes qualified for the College World Series in each of his first six seasons at the helm of the program and made 13 trips to Omaha under his leadership.
Miami nearly won its third national title in 1996, falling to LSU in the championship game, but Morris and the Hurricanes reached the pinnacle of college baseball for the third time in program history in 1999.
The Hurricanes relied on pitching and defense instead of home-run barrages to claim its third national championship. Miami sewed up the title with a 6-5 victory over Florida State in the championship game of the 53rd College World Series.
The Hurricanes combined the outstanding pitching of starters Alex Santos and David Gil, set-up man Vince Vazquez and closer Michael Neu with solid defense to sweep its way through nine NCAA tournament games and finish 50-13. Miami had four representatives on the CWS all-tournament team, with Neu joined by shortstop Bobby Hill, third baseman Lale Esquivel and outfielder Manny Crespo.
Back in Omaha in 2001 and Champions Again!
 Miami punctuated a championship run in 2001 with a record-tying exclamation point. The top-ranked Hurricanes left no doubts in manhandling No. 3-, 4- and 6-rated Stanford 12-1 in the championship game of the 55th College World Series. The 24,070 people who turned out at Rosenblatt Stadium were treated to a dominant performance by the Hurricanes that allowed them to tie the CWS record for the most lopsided victory in a title game.
Miami's margin of victory matched the 12-1 beating that Minnesota administered to Arizona in winning the 1956 championship. No other team in CWS history had ever recorded a double-digit win in the final game until Miami cruised to the 2001 win. Since Fullerton capped its sweep with a 9-2 win on April 1, the Hurricanes won 28 of 31 games, with two of the losses coming by one run.
The Hurricanes clubbed Tennessee 21-13 in its first game in Omaha, then outpitched Southern California 4-3 in the second round. Miami clinched its berth in the championship game by ending Tennessee's season with a 12-6 win. Miami dominated the championship game to leave 51-17 Stanford watching the celebration for the second straight year.
Outfielder Charlton Jimerson was named Most Outstanding player after helping win his second title in three years. In four CWS games, he hit .333 and hit two homers while playing outstanding defense in center field. He was joined on the all-tournament team by first baseman Kevin Borwn, designated hitter Danny Matienzo and pitcher Tom Farmer.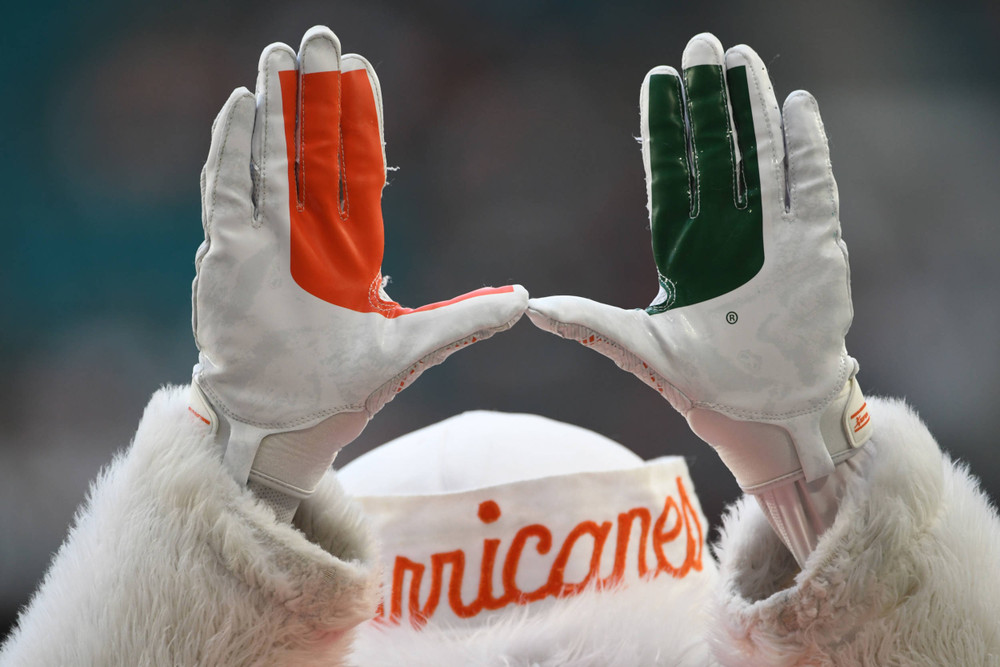 Independent to ACC Powerhouse
Along with the university's other athletic teams, the baseball team became a member of the Atlantic Coast Conference during the 2004–05 academic year. Previously, the baseball program competed as an NCAA independent, even during the school's Big East affiliation in other sports.
Ryan Braun Powers Miami's Offense
 Ryan Braun took the college baseball world by storm from the minute he arrived in Coral Gables in 2003. Braun was named National Freshman of the Year and a first team Freshman All-American by Baseball America. He was also named first team All-American by Collegiate Baseball and the Jewish Sports Review. He earned second team All-American honors from the National Collegiate Baseball Writers Association and the American Baseball Coaches Association. Braun led UM in batting average (.364), home runs (17) and broke Pat Burrell's freshman record with 76 RBI.
As a sophomore in 2004, he hit 10 home runs with 45 RBI in 45 games, including a .606 slugging average and a team-leading 21 stolen bases, all while playing through injuries in his second season in Coral Gables.

Braun had another outstanding season as a junior in 2005, hitting .396 with 18 home runs, 76 RBI and 23 stolen bases. He was named a finalist for the Golden Spikes Award as college baseball's top player, was named the 2005 ACC Player of the Year, and an All-American by Baseball America.
The fifth overall pick in the 2005 Major League Baseball Draft by the Milwaukee Brewers, Braun was named the 2007 National League Rookie of the Year and earned National League Most Valuable Player honors in 2011. He has spent all 13 seasons of his MLB career with the Brewers and is a six-time MLB All Star, five-time Silver Slugger Award winner and was the 2012 NL home run leader. Braun was inducted into the UM Sports Hall of Fame in 2017.
Cesar Carrillo Wins 24 Straight Games
 Everyone likes to make a good first impression. For right-handed pitcher Cesar Carrillo, his introduction to UM and to college baseball was long and lasting – extending nearly two years as he started his Miami career with 24 consecutive victories. That was the longest streak in school history, and one shy of the all-time NCAA record.
 
In 2004, Carrillo went 12-0, with 2 saves, a 2.68 earned run average, and 91 strikeouts in 113 innings pitched. Carrillo would pitch a complete game 3-1 victory over the Florida Gators in the Super Regionals to clinch Miami's 21st trip to Omaha and the College World Series. He was named a third team All-American by Baseball America.
Carrillo came back in 2005 and continued where he left off, winning his first 12 decisions to move to 24-0 in his career. He would end the season with a 13-3 mark and a minuscule 2.22 ERA, and 127 strikeouts against only 23 walks, in 125 innings pitched. For his efforts, Carrillo was named first team All-Atlantic ACC and selected as the ACC Pitcher of the Year.  He was named first team All-American by the National Collegiate Baseball Writers Association, and a 3-time second team All-American by the American Baseball Coaches Association, Baseball America, and Collegiate Baseball. He was also a semi-finalist for the Roger Clemens Award that honored the top college pitcher of the year.
Selected with the 18th overall pick in the first round in the 2005 MLB Draft by the San Diego Padres, Carrillo joined Braun, who went fifth overall to Milwaukee, to make Hurricanes history. It was the first time that two Hurricanes were selected in the first round of the MLB Draft. Carrillo would make his MLB debut on August 13, 2009 against the Milwaukee Brewers. Carrillo is one of eight members of the 2005 Miami Hurricanes to make the Big Leagues, joining Braun, infielders Gaby Sanchez and Danny Valencia, outfielder Jon Jay, catcher Eddy Rodriguez and pitchers Chris Perez and Scott Maine.
 Jon Jay Just Hits
 A Miami native, Jay starred at Christopher Columbus High School and helped the Explorers win the 2003 Class 6A state championship before a standout career with the Hurricanes from 2004-06. Jay produced one of the best freshman seasons in Miami history in 2004, earning Freshman All-America honors by Collegiate Baseball and Baseball America, and was selected for the All-Tournament teams of both the Atlantic Regional and College World Series. Jay was first-team All-ACC and third-team All-America after leading the Canes with a .408 batting average as a sophomore.
In 2006, as team captain, he turned in another stellar performance, leading the team with a .361 batting average, 31 stolen bases, 77 runs scored and a .490 on-base percentage. Once again, he was selected first-team All-ACC, second-team All-American by Baseball America and was voted UM's Most Valuable Player. For his UM career, Jon has the fourth-highest batting average (.378) and the fifth-highest hit total (254). He also had two 17-game hitting streaks, both listed in the top ten in school history.
Selected in the second round (74th overall) by the St. Louis Cardinals in the 2006 MLB Draft, Jay made his big league debut in 2010 and was a valuable member of the Cardinals' 2011 World Championship team.
 ACC Champions!
 Miami won its first ever conference championship in baseball when it captured the 2008 ACC Baseball Championship. The top-seeded Hurricanes won the tournament with a perfect 4-0 record, earning the Atlantic Coast Conference's automatic bid to the 2008 NCAA Division I Baseball Tournament.
Six Hurricanes were named to the all-tournament team, led by tournament MVP Dave DiNatale. First baseman Yonder Alonso, second baseman Jemile Weeks, outfielder Blake Tekotte and left-handed pitcher Chris Hernandez joined DiNatale on the 2008 all-tournament team.
 Yonder Alonso Lives His Dream
 Living the Dream. Every little boy imagines playing major league baseball, but for Yonder Alonso, whose father had played for Industriales of the Cuban National Series in Havana, that dream took a most unusual route. Alonso's parents, Luis and Damarys, defected from Cuba and settled in Miami when Yonder was just 9-years-old. He starred at Coral Gables High School, where he was a two-time All-State and three-time All Dade County selection. Drafted in 2005, he chose instead to take his talents to the University of Miami.
As a freshman in 2006, Alonso helped the Canes reach the College World Series by hitting .295 and leading the team with 10 home runs and 69 runs batted in.  He followed that up with the team "Triple Crown" in 2007, leading the Canes in batting average (.376), home runs (18), and RBI (74).  The home runs led the Atlantic Coast Conference and he was second in the conference in on-base percentage (.519) and slugging percentage (.705).
 
In 2008, Alonso was named a consensus All-American. He led the Canes to their first ACC Championship, along with another trip to the Omaha and the CWS, while once again leading the team in batting average (.370). RBI (72) and home runs (24), the second most home runs hit in a season in school history, behind only Phil Lane's 25 in 1982.
In the UM record book, Alonso finished his career third in career home runs (52), third in career RBI (215), fourth in career walks (172) and tied for fifth in career slugging percentage (.637). His 76 walks and .777 slugging percentage in 2008 are both the second most in UM history for a season.
Drafted in the first round of the 2008 Major League Baseball draft by the Cincinnati Reds, the 7th pick overall, Alonso would make his major league debut on September 1, 2010. He was joined by second baseman Jemile Weeks (No. 12, Oakland) and right-hander Carlos Gutierrez (No. 27, Minnesota) as first-round selections in 2008, giving the Canes their first time with three MLB first-round picks.
The Light is Renovated into Alex Rodriguez Park at Mark Light Field
In addition to carrying on Miami's great baseball reputation in his 25-year tenure, head coach Jim Morris personally led the charge in the construction of Alex Rodriguez Park, and logged hundreds of hours raising funds for the stadium's renovation.
Mark Light Stadium reopened as Alex Rodriguez Park at Mark Light Field in 2009 after a $3.9 million anchor gift from the 14-time MLB All-Star, the largest gift ever to the University of Miami baseball program.
The $3.9 million dollar gift for Alex Rodriguez Park allowed for UM to install state-of-the-art modifications such as a new concession area, new dugouts, new stadium lighting and new restrooms. Even with the modifications to the new concession area, fans are still able to enjoy the famous Mark Light Shakes that feature perfectly blended milkshakes coming in a variety of different flavors and toppings. The ballpark also saw an addition of a new clubhouse, weight room, training room, meeting room, video room and academic area. Further, a new press box, along with four VIP suites, were added for media members and guests. Lastly, a new locker room was built for UM baseball players.
The most recent renovations – including postseason pennants draping the main concourse and a retired numbers installation (2014), as well as a bronze statue of Ron Fraser placed outside the ballpark (2015) – contribute to South Florida's already rich baseball history.
Yasmani Grandal named ACC Player of the Year in 2010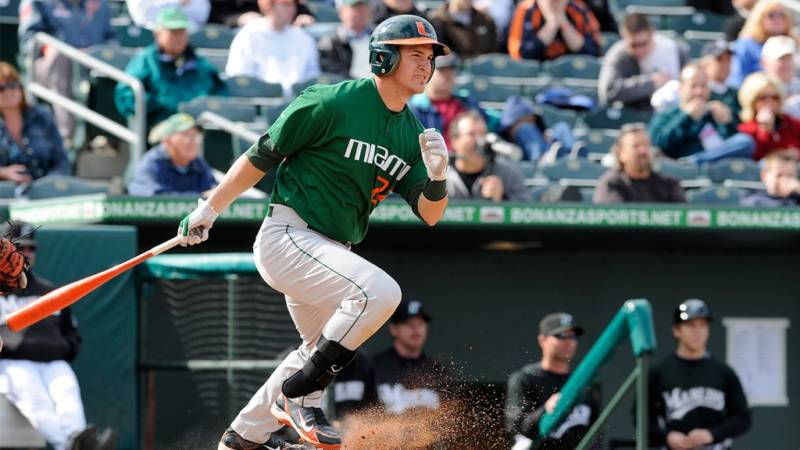 A three-year star for the Hurricanes from 2008-10, Grandal was named the 2010 Atlantic Coast Conference Player of the Year after he led the league in batting average (.401), on-base percentage (.527) and slugging percentage (.721). That year, he was named an All-American by Collegiate Baseball, Baseball America and the American Baseball Coaches Association (ABCA). Awarded the Rawlings Gold Glove Award for catchers, he was a finalist for the Golden Spikes Award, the Johnny Bench Award as the nation's top catcher, and the Dick Howser Award.
Following the 2010 season, Grandal was selected by the Cincinnati Reds with the 12th overall pick in the MLB First-Year Player Draft. He broke into the Major Leagues in 2012 with the San Diego Padres and played three seasons with them before earning his first All-Star selection in 2015, the first season of a four-year stint with the Los Angeles Dodgers. In 2019, Grandal joined the Milwaukee Brewers and was named a National League All-Star for the second time in his career. Through his first eight MLB seasons, Grandal has hit 141 home runs and tallied 416 RBI. In Sept. 2019, he was named a member of the University of Miami Sports Hall of Fame's Class of 2020.
Javi Salas throws perfect game vs. Villanova
Javi Salas made history at Mark Light Field on March 4, 2014, pitching just the 23rd perfect game in modern NCAA Division I baseball history in No. 16 Miami's 17-0 shutout of visiting Villanova.

The senior right-hander and team captain retired all 27 Wildcats batters he faced, needing just 113 pitches to get through perfection.
Salas became just the second Miami Hurricane to ever throw a perfect game and the first since Kevin Sheary on March 14, 1987. He struck out Villanova pinch hitter Derrick May Jr. for the final out of the game, sending his teammates into a frenzied celebration in front of the mound.
Chris Diaz named ACC Pitcher of the Year in 2014
Miami ace Chris Diaz was named 2014 ACC Co-Pitcher of the Year after an outstanding junior season for the Hurricanes. Diaz finished the spring with a 9-1 record and a 2.41 ERA. The Hurricanes won every 2014 regular-season game started by Diaz, who became Miami's first All-America first-team selection since Yasmani Grandal in 2010.
 
 The Pitcher of the Year Award was the first for the Hurricanes since Cesar Carrillo earned the recognition during Miami's first season in the ACC (2005). Diaz shared the honor with Virginia ace Nathan Kirby, who finished the season 8-1 with a 1.58 ERA.
With 101.0 innings pitched over his 16 starts, Diaz became just the 10th Hurricane to ever earn Louisville Slugger first-team All-America recognition. The Florida City, Fla., native struck out 86 batters compared to 41 walks, and held opposing hitters to a .236 average over the course of the season.

Diaz, who owns a career record of 18-7 with a dazzling 2.25 ERA, allowed two earned runs or less in 12 of his 16 starts in 2014. Dating back to 2013 – his first season as a starter in the weekend rotation – the southpaw yielded two earned runs or less in 24 of 32 starts.
Morris Reaches Historic Milestones
 Miami head baseball coach Jim Morris reached two coaching milestones in 2016, as he led the program to its 25th College World Series appearance in history, its third straight ACC Coastal Division title and the program's second ACC Regular Season Championship in a three-year span. The Hurricanes posted a 50-win season (50-14) for the second straight year, marking the first such instance for Miami since 1998 / 1999.
Morris became just the sixth coach in the history of Division I baseball to reach the 1,500-win plateau when Miami topped Louisville 8-4 in dramatic fashion on March 18, 2016. A walk-off grand slam from Willie Abreu gave Morris his 1,500th.

 Eight days later, Miami topped Clemson 5-4 in 11 innings – also in walk-off fashion – to send Morris to his 1,000th win at the helm of the Hurricanes.
Bryan Garcia sets UM saves record and wins Stopper of the Year Award
University of Miami junior Bryan Garcia was named the 2016 Stopper of the Year by the National Collegiate Baseball Writers Association on Saturday at TD Ameritrade Park Omaha, becoming the first Hurricane hurler to receive the award.

 Garcia was named a semifinalist for the Dick Howser Trophy and earned first-team All-American honors from the NCBWA and third-team All-Atlantic Coast Conference honors while helping Miami earn the ACC regular-season championship and the No. 3 national seed in the NCAA postseason.

 A sixth-round pick of the Detroit Tigers, the junior right-hander finished the season with 18 saves and a 2-0 record with a 1.89 ERA in 38 innings over 35 appearances. Garcia has allowed 25 hits and 18 walks while striking out 55 batters, holding opponents to a .180 batting average.
The Miami native established the school's career saves record on May 26 at the ACC Championship against NC State with his 40th save and collected three more saves during the NCAA postseason.
Zack Collins wins Johnny Bench Award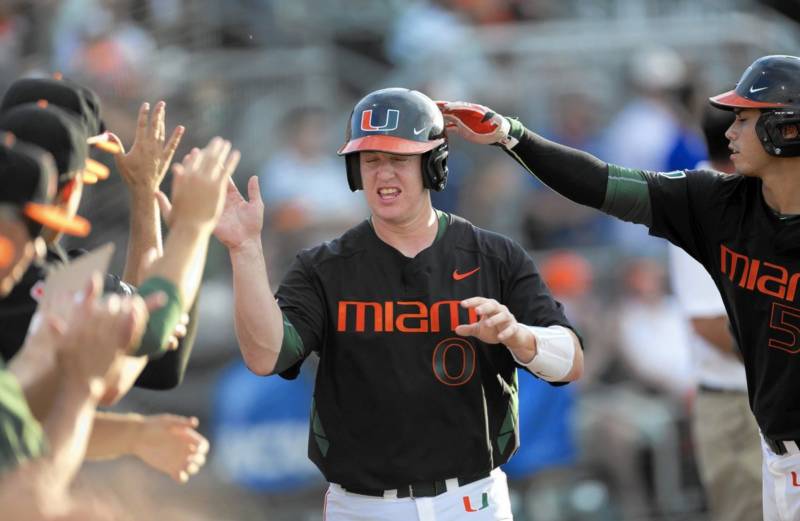 Zack Collins was announced as the recipient of the 2016 Johnny Bench Award honoring the nation's top collegiate catcher at the 19th Annual Greater Wichita Sports Banquet.

 Collins, who was selected by the Chicago White Sox with the No. 10 overall pick of the 2016 Major League Baseball First-Year Player Draft, is the first University of Miami representative to win the award, which was created in 2000.
The Pembroke Pines, Fla., native, who earned first-team All-America honors from Baseball America, D1Baseball, NCBWA, Perfect Game and Rawlings, delivered another dominant season swinging the bat and behind the plate in 2016.
Collins batted .363 for the season, leading Miami with 16 home runs and 59 RBI to go along with a nation-leading total of 78 walks. He reached base at a .544 clip, the second-highest in the country, and recorded a team-high .668 slugging percentage.
A back-to-back All-ACC First-Team selection, Collins started 62 of a possible 64 games, including 59 starts behind the plate. He just four errors as a key member of a Miami defense that tied for first nationally with a .983 fielding percentage.
Gino DiMare 2019-PRESENT: 53-24 (.688)
 After over 20 years as a player and coach with the Hurricanes, Gino DiMare became the program's ninth head coach prior to the 2019 season, which was the 75th in program history. DiMare previously served as associate head coach in charge of hitting, as well as the baseball program's recruiting coordinator. Overall, 2018 marked DiMare's 19th year as a member of the Hurricanes baseball staff. DiMare rejoined the University of Miami baseball program after three years away from the program in 2011. Prior to his exit in 2008, DiMare served as the Canes recruiting coordinator and hitting coach over his final nine seasons. He held the title of assistant head coach during the 2008 season – a year the Canes won the Atlantic Coast Conference championship before advancing to the College World Series.
Miami had an impressive first season under his tutelage, winning 41 games and returning to the NCAA postseason for the first time since 2016. The Canes earned the 46th postseason berth in program history and reached the Starkville Regional final before falling to No. 6 Mississippi State. The Hurricanes went 18-12 in ACC play in 2019, winning seven conference series and turning in their best conference record since 2016.
Four Canes were named All-ACC, while freshman Adrian Del Castillo was also one of 12 players picked for the 2019 ACC All-Freshman Team and earned Freshman All-America honors from Baseball America, D1 Baseball, Collegiate Baseball Newspaper and Perfect Game.
The 2019 Canes hit an ACC-best 85 home runs on the season, the most since Miami hit 106 in 2010. First baseman Alex Toral smashed a conference-leading 24 home runs on the season that ranked third in Division I and moved him into a tie with Yonder Alonso for the second-most home runs by a Hurricane in a single season.
Twelve different Hurricanes hit at least one home run in 2019, sparking an explosion of power from the Miami bats that matched the 2018 season home run total of 23 after just 15 games in 2019. The Canes' 85 homers were more than the combined team home run total of 58 from the previous two seasons (35 in 2017 and 23 in 2018). The 2020 season featured a preseason top 10 team that had the potential to go to Omaha before the COVID-19 pandemic ended the year after just 16 games