Located on the school's main campus in Coral Gables, Alex Rodriguez Park at Mark Light Field is home to the University of Miami Hurricanes baseball team. Winners of four national championships (1982, 1985, 1999, 2001), the program has helped produce Major League Baseball stars such as Ryan Braun, Pat Burrell, Greg Vaughn, Charles Johnson and Yasmani Grandal. The park has hosted 27 NCAA Regionals since 1977.
Recent renovations to Alex Rodriguez Park were implemented due in large part to a $3.9 million contribution by the former New York Yankees third baseman and 14-time MLB All-Star. The gift – the largest ever to the University of Miami baseball program – has assisted in the continued development of first-class facilities for the student-athletes and fans.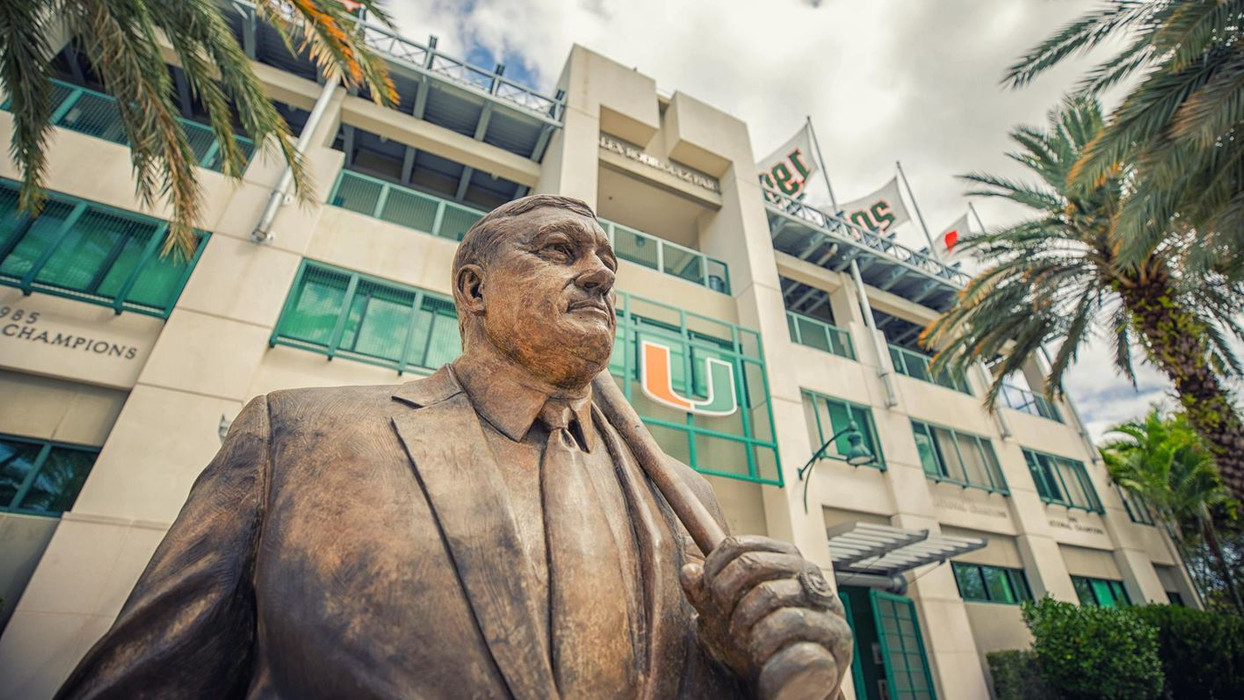 The $3.9 million dollar gift for Alex Rodriguez Park allowed for UM to install state-of-the-art modifications such as a new concession area, new dugouts, new stadium lighting and new restrooms. Even with the modifications to the new concession area, fans are still able to enjoy the famous Mark Light Shakes that feature perfectly blended milkshakes coming in a variety of different flavors and toppings. The ballpark also saw an addition of a new clubhouse, weight room, training room, meeting room, video room and academic area. Further, a new press box, along with four VIP suites, were added for media members and guests. Lastly, a new locker room was built for UM baseball players.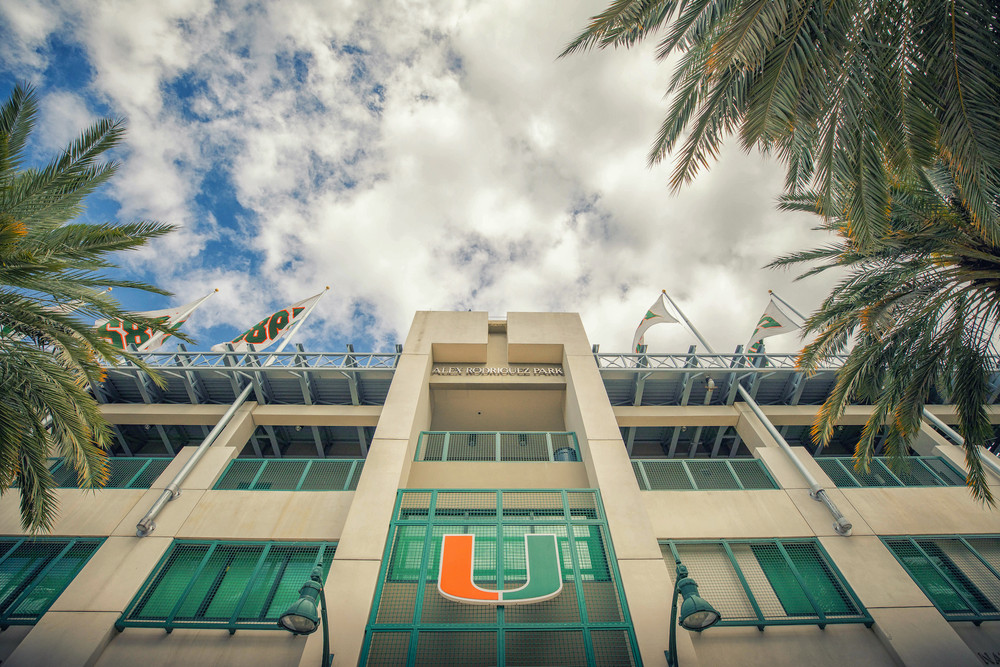 In 2019, the UM Athletics announced a $7 million project to renovate the facilities inside the park, which includes the construction of a state-of-the-art indoor hitting facility, new scoreboard, and renovations to the locker room, players' lounge and nutrition center. The construction of the hitting facility began in late 2019.
The Beginnings of The Light
In 1971, Miami coach Ron Fraser had a dream of building a state-of-the-art college baseball field and Hurricane supporter George Light came forward with the funding. In 1974, when more assistance was needed, Light again was the savior. However, Light never got to see the Hurricanes reach the College World Series. He died shortly after that second donation as the Hurricanes finished second in their first CWS. The field, dedicated in 1977, is named for Light's son, Mark, who died of muscular dystrophy.
Light's widow, Ethel, was known as "The First Lady of Mark Light Field." She was seldom missing from her seat right behind home plate. She passed away in 1994.
Improvements are part of "The Light's" legacy. A facelift courtesy of Hurricane Andrew included the installation of a new eight-foot outfield fence, a new backstop and roofs for the Ron Fraser Building and third base press box. The original fence was 10-feet high in the corners and 12′ from alley to alley. Also, new foul poles and a lighting system were installed, as were enhancements to the public address system.
Several additional renovations were made in the fall of 1996. The locker room, training room and umpire's room were each revamped. A new hitting backstop and sound system were also added. The facility currently holds 4,999 spectators.
Opening Night in 1973
On a chilly February 16, 1973, a charged up crowd of 4,235 watched UM defeat Florida State, 5-1, as the Hurricanes executed a rare triple play. Soon the folklore of this first-of-a-kind college field began to take hold.
Another sizable donation by George Light to build permanent concrete stands was matched by longtime friends of the UM program. Fraser, in return, had his own place for an opening night dedication.
$5,000-A-Plate Dinner
On February 16, 1977, 32 donors of $10,000 or more experience a four-hour, 11-course feast tabbed "An Evening with Ron Fraser." Black-tied and gowned guests (media were required to "formalize" as well) were seated comfortably with all the finest in dining on the infield of Mark Light.
International gourmet chefs prepared Iranian caviar, Alaskan King Crab legs and pheasant under glass. Guests sat among ice carvings, gold fish swimming ponds and strolling violinists who entertained late into the tropical night. The event captured the imagination of the nation and generated world-wide publicity for the UM program and college baseball.
Directions to Mark Light Field

From the City and Points North:
Take I-95 South until it becomes U.S.1. Continue south for about 5.5 miles to SW 57th Ave. (Red Road). Turn right onto Red Road and make another immediate right turn onto Ponce De Leon Blvd. At the first light, turn left onto San Amaro Drive. Mark Light Field is located on the corner of Ponce de Leon and San Amaro Drive.
From Rt. 826 (Palmetto Expressway) and Points West:
Take Rt. 826 and exit Miller Drive (SW 56th St.). Turn left and continue until it dead ends at the University of Miami and San Amaro Drive. Turn right onto San Amaro. Follow San Amaro ˝ mile. Mark Light Field will be on your left.
From Miami International Airport:
Take exit marked Coral Gables/LeJeune Road. Exit onto LeJeune and head south until it interjects Ponce de Leon Blvd. (just before the Metro Rail). Turn right and go 1.7 miles to San Amaro Drive. Mark Light Field is located on the corner of Ponce de Leon and San Amaro Drive.