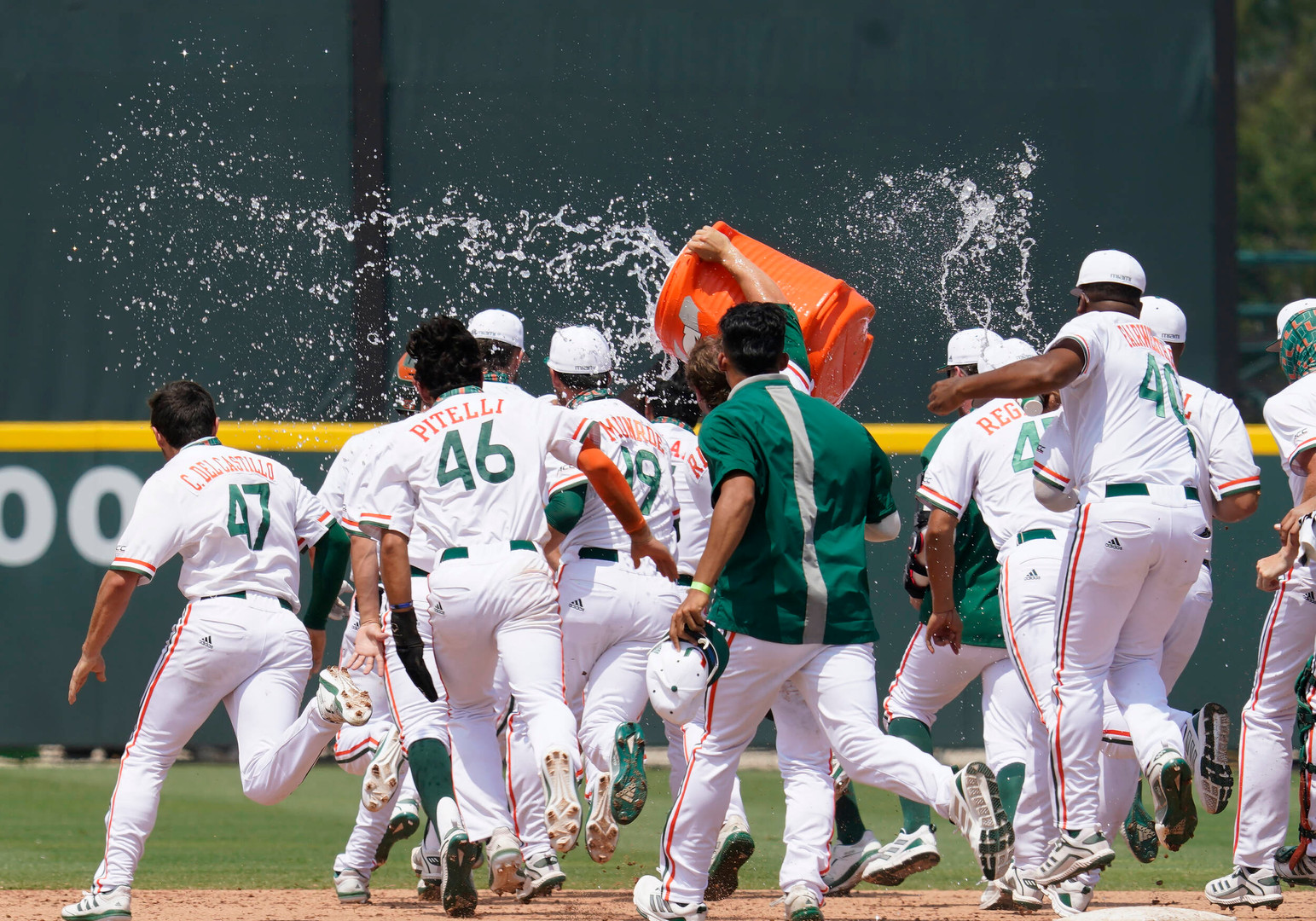 CORAL GABLES, Fla. — There's an old adage in baseball: pitching wins championships.
The four-time national champion Miami Hurricanes boast one of the strongest pitching staffs in the country heading into the 2022 season.
Miami begins its quest for a fifth title, opening up with Towson on Friday evening, anchored by a veteran weekend rotation that has pitched on some of the biggest stages in college baseball.
"In the past, our program has always been very consistent because we had a consistent rotation," said fourth-year head coach Gino DiMare. "We have talent on the mound and it's experienced. In college baseball, that's big."
The 25th-ranked Hurricanes, who finished 33-21 a season ago, will turn to sophomore right-handed pitcher Alejandro Rosario on Opening Day. The 2021 Perfect Game Freshman All-America second team honoree recorded a 6-4 mark with 55 strikeouts in 11 starts in his debut season.
Third-years Carson Palmquist, Jake Garland and Alex McFarlane will follow Rosario on the bump against the Towson Tigers.
Palmquist, who finished third in the nation with 14 saves a season ago, is slated to make his first career start. The left-handed pitcher was tabbed a consensus preseason All-American after posting a 2.22 ERA and 75 punchouts last year.
Garland made a team-leading 13 starts in his second year in the orange and green. The Jupiter, Fla., native tossed a team-high 68 innings en route to a 6-4 record in 2021.
McFarlane, who is considered one of the top pitching prospects in the upcoming Major League Baseball First-Year Player Draft, appeared as both a starter and reliever last season. The flame-throwing right-hander notched a 2-1 record with a 4.50 ERA in 34 innings.
"Their job is to give us the chance to win, where the bullpen wins or loses every game for you. They have to give us six to seven strong innings and give us a chance to win," associate head coach/pitching coach J.D. Arteaga said. "Hopefully, it's the same rotation all season. That means they're all doing their job, they all stayed healthy and we're having a good season."
All in all, on the mound, Miami returns seven of its 10 pitchers who tossed at least 18 innings over the Hurricanes' 54 games in the 2021 season.
Right-handed pitcher Andrew Walters headlines Miami's bullpen after tallying a 1.46 ERA across 24.2 innings in 2021. Fourth-years Anthony Arguelles and Jordan Dubberly provide more experience in the Hurricanes' pen.
Rookies Gage Ziehl, Rafe Schlesinger and Karson Ligon will also add to the backend of the bullpen. 
While the Hurricanes' weekend rotation will showcase plenty of familiar faces, Miami's lineup will feature a new look.
Only two hitters who made more than 20 starts come back from last year.
Sophomore Yohandy Morales, who was tabbed a Collegiate Baseball Freshman All-America selection, enters the season as one of the most prolific hitters in the ACC.
The 6-foot-4, 208-pound power-hitting infielder led the Hurricanes with 13 doubles, three triples, 11 home runs, 45 RBI, a .532 slugging percentage, 44 runs scored and 13 multi-RBI games.
Fellow second-year Dominic Pitelli flashed the leather in his first campaign. Pitelli quickly made a name for himself as one of the top defensive shortstops in the nation. 
Miami's newcomers were ranked as the No. 1 recruiting class in the ACC, according to Baseball America. The Hurricanes have 19 rookies on the roster with 11 freshmen, five transfers, two JUCO transfers and one graduate transfer joining the 15 returning letterwinners.
Freshmen Lorenzo Carrier, Dorian Gonzalez Jr. and Renzo Gonzalez, as well as transfers Maxwell Romero Jr. and Jacob Burke, figure to play key roles early.
"Burke is going to have a dynamic impact. He plays with his hair on fire," said assistant coach Norberto Lopez, who works with Miami's hitters and catchers. "You can't go without mentioning Lorenzo Carrier, who is another new incoming guy as well. Just by walking out onto the field, that guy is going to stick out. He's going to stand out a lot. When he hits the ball, it sounds a little different. These guys want to work. These guys have really motivated me."
The Hurricanes are 27-5 on Opening Day Since 1990 and have won 13 straight Opening Day contests at Mark Light Field. Miami has not lost an opening weekend series in 15 seasons.
The four-game set against Towson begins at 7 p.m. on Friday followed by a doubleheader on Saturday and the series finale on Sunday at 1 p.m.
And while the Hurricanes are locked in on starting the season strong, the expectations inside the clubhouse, haven't changed.
"Our expectations are the same that they've always been," DiMare said. "I know on the outside they're different. Some years we might be ranked in the top-5 in the preseason. This year, we're somewhere like 20-25. At the end of the day, those polls don't mean anything. It's the last poll that matters. We certainly need to find a way to get into that last one."