University of Miami Athletics
Norberto Lopez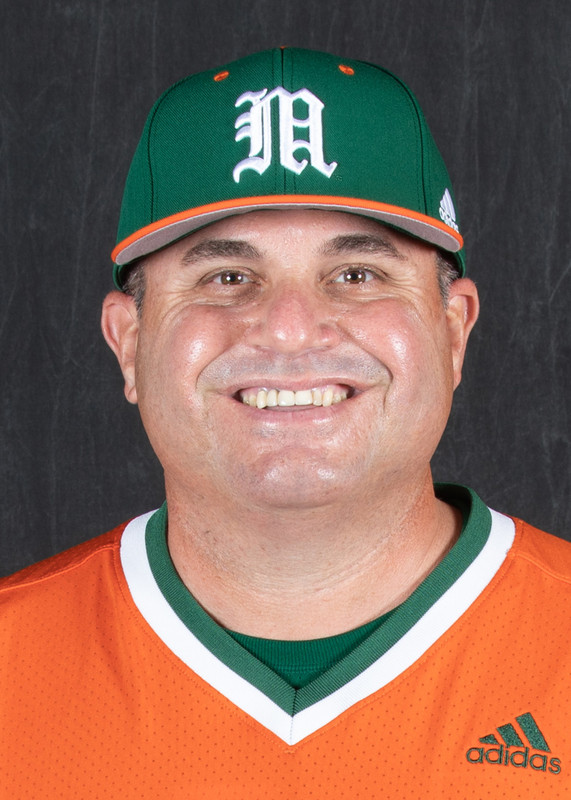 Norberto Lopez joined the Miami Hurricanes baseball program prior to the 2016 season and he has quickly made an impact on the program.
Lopez, who works with Miami's hitters and catchers, was promoted to recruiting coordinator in July 2018 after three seasons working with the Canes.
In 2021, catcher Adrian Del Castillo was selected in the second round of the MLB Draft by the Arizona Diamondbacks, closing out a stellar career in Coral Gables. A 2021 All-ACC second-team selection, Del Castillo was joined by his brother, outfielder Christian Del Castillo, and infielder Anthony Vilar as hitters selected to the All-ACC team. Infielder Yohandy Morales also stood out, earning Freshman All-America plaudits and ACC All-Freshman honors.
The 2019 season marked the first with Lopez as Miami's hitting coach and the Canes responded to his tutelage.
The Hurricanes hit an ACC-best 85 home runs in 2019, the most since Miami hit 106 in 2010. First baseman Alex Toral smashed a conference-leading 24 home runs on the season that ranked third in Division I and moved him into a tie with Yonder Alonso for the second-most home runs by a Hurricane in a single season.
Twelve different Hurricanes hit at least one home run in 2019, sparking an explosion of power from the Miami bats that matched the 2018 season home run total of 23 after just 15 games in 2019. The Canes' 85 homers were more than the combined team home run total of 58 from the previous two seasons (35 in 2017 and 23 in 2018).
Three Miami hitters were named All-ACC, as redshirt sophomore Michael Amditis and freshman Adrian Del Castillo were selected to the All-ACC Second Team, while sophomore Raymond Gil was named to the All-ACC Third Team. Del Castillo was also one of 12 players picked for the 2019 ACC All-Freshman Team and earned Freshman All-America honors from Baseball America, D1 Baseball, Collegiate Baseball Newspaper and Perfect Game. 
Del Castillo had an outstanding freshman campaign, finishing the season batting .331 with 78 hits, 22 doubles and 72 RBI, all team-bests. Del Castillo also scored 58 runs and clubbed 12 homers, while striking out just 24 times in 236 at-bats.
In 2018, catcher Isaac Quiñones was named a Freshman All-American by Collegiate Baseball Newspaper after an outstanding debut campaign in which he started 44 games for the Hurricanes and ranked third with a .291 batting average. He totaled 10 doubles, one home run and 24 RBI and reached base at a .380 clip. The Miami native assumed starting catcher responsibilities two weeks into the season and made just one error behind the plate.
In 2016, junior catcher Zack Collins became the first Hurricane in program history to win the Johnny Bench Award, honoring the nation's top collegiate catcher. Collins, who was selected No. 10 overall by the Chicago White Sox in the 2016 Major League Baseball First-Year Player Draft, became Miami's first first-round selection since 2010 after a stellar final season with the Hurricanes.
Lopez got his start playing baseball at Monsignor Pace High School in Hialeah, Fla., before moving on to Broward College and Nova Southeastern. After being drafted by the Los Angeles Angels of Anaheim in 1999, he spent three years in the organization. Lopez advanced to AAA and made an appearance in the Angels' major league camp.
Most recently, Lopez served on the UTPA Broncs coaching staff from 2009-2015. He was promoted to the position of Broncs associate head coach prior to the 2015 season.
Lopez was an assistant coach for FAU where he helped the Owls compile a .341 batting average with 93 home runs in 2007, and a .321 batting average with 99 home runs in 2008.
Prior to his time at FAU, Lopez spent two years at Broward Community College from 2004 through 2006 where he led the team to a third place finish at the National Junior College Athletic Association World Series. Serving as the hitting and catching coach, Lopez saw his team hit .301, set the home run record at the state tournament and win the Florida Community College Activities Association state title.
Lopez graduated from Nova Southeastern University with a bachelor's degree in business administration in 1999. In 2006, he earned a master's in exceptional student education from Nova Southeastern.
Lopez and his wife, Cheryl, have two sons, Niko and Mason.