University of Miami Athletics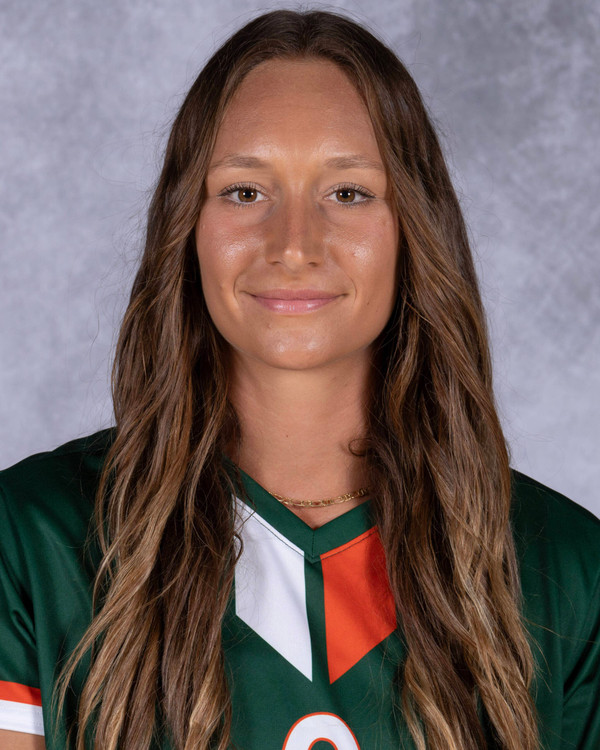 NIL Opportunities
Powered By

Engage with Melissa today!
2022 (Senior): Started all 16 matches in net … Registered 77 saves … Totaled five-plus stops eight times … Guided Hurricanes to five shutouts, including four straight to begin campaign … Played all but 17 minutes, logging team-best 1,423 minutes … Went wire-to-wire 15 times … Led ACC in saves per game (4.81) and finished second in saves … Posted season-high 11 stops in clean sheet against Mississippi State (8/18) … Earned first win of season with 1-o shutout over Alabama (Aug. 21) … Recorded six saves in clean sheet at FAU (Aug. 25) … Turned away lone shot in shutout vs. North Florida (Aug. 28) … Tallied eight stops at Louisville (Sept. 17) …  Notched seven saves at Pitt (Sept. 22) …  Mounted at least seven stops for third straight match at Syracuse (Sept. 25) … Made six stops in 1-0 victory against Boston College (Oct. 20) … Racked up seven saves vs. North Carolina (Oct. 23).
2021 (Junior): Started all 16 matches in goal … Notched 86 saves, which is tied for seventh in a season in program history … Posted five-plus stops 10 times … Guided the team to four clean sheets… Played team-best 1,382 minutes and 27 seconds … Off the field for fewer than 94 minutes all season … Went the distance 12 times … Placed second in ACC in saves and saves per game (5.38) … Made two stops in season-opening shutout against FAU (8/22) … Recorded seven saves in 1-0 overtime win over Florida (8/29), helping the Hurricanes secure first victory over the rival Gators for the first time since 2012 … Led Miami to third clean sheet in first five matches with 3-0 result versus FIU (9/9) … Earned ACC Co-Defensive Player of the Week after registering eight saves in a 1-0 win at Boston College (10/2) … Totaled a career-high 14 saves at No. 1 Florida State (10/10), which is tied for the second-most stops in a match in program history.
2020 (Sophomore): Played in four matches and earned three starts … Logged 317:27 minutes and notched 20 saves with four goals against … .833 save percentage on the season, including .905 in her three starts … Took the pitch for the first time in the second half against Virginia Tech (10/15), recording three saves, with two goals against .. Earned her second career start and first of the season at FGCU (2/17), notching a team and career-high 10 saves while going the distance in the double-overtime affair … Played the full 90 minutes at FAU (2/28) and made a save … Played the opening 72 minutes in a 4-0 victory over FIU, collecting her first career shutout and win. Also collected six saves in the contests.
2019 (Freshman): Playing her first match for the Hurricanes, aiding Miami to a 4-0 victory with 45:00 minutes played against UTRGV (8/22) … Tallied 45 minutes against Fairleigh Dickinson, facing seven shots and collecting three saves (8/25) … Tallied one save and no goals against in 31 second half minutes against FAU (8/29) … Notched her first career start in goal and registered a save against San Diego State (9/7) … Made her first career ACC start against Boston College (9/26) recording three saves.
Bio: A 6-foot, 1-inch goalkeeper from Saint-Hubert, Quebec, Canada, Dagenais hails from Heritage Regional High School. Following the 2017 season, she was awarded the golden glove by the federation of soccer of Quebec, while leading Champlain College to a national championship. Dagenais closed out her high school career garnering a trio of awards, including athlete of the year, best defensive player and an award of excellence for soccer.