Miami Remains Unbeaten with Draw Against Florida
CORAL GABLES, Fla. — The University of Miami soccer team picked up its second clean sheet in its first three matches, playing the Florida Gators to a 0-0 tie Thursday evening at Cobb Stadium.
"It was a fast-paced and physical game," Miami head coach Sarah Barnes said. "It threw some challenges that we haven't quite seen yet. The biggest thing for us is continuing to improve on our ability to recognize what the opponent is giving us and execute at a higher level, so that we can be more dangerous on our attack. There were times where the recognition and execution got away from us, so that's what our focus will be."
The Hurricanes (1-0-2) not only had to battle the Gators (2-0-1), but also the elements as inclement weather surrounded South Florida.
In the first half, Florida fired six shots, including four on target, but Miami goalkeeper Melissa Dagenais dazzled in her 10th career shutout.
After the Gators were awarded a free kick just outside the 18-yard box, Florida midfielder Oakley Rasmussen blasted a shot toward the net.
Dagenais corralled the rocket for her third save of the night, becoming the first Hurricane to eclipse 200 career saves since Phallon Tullis-Joyce in 2018.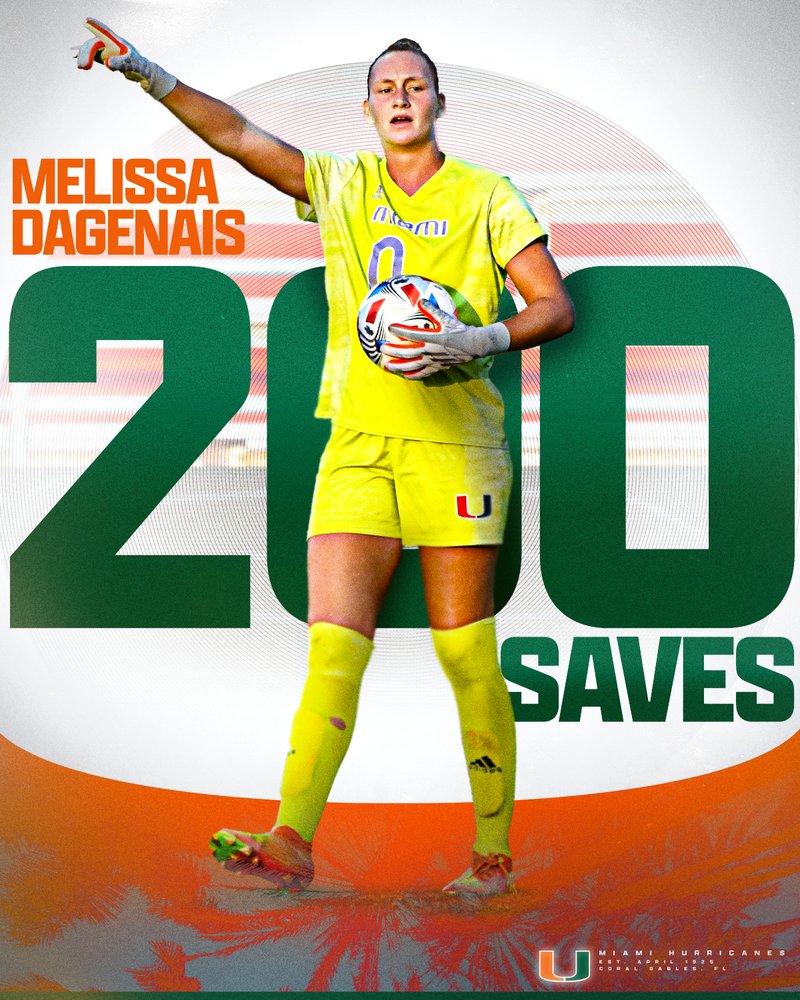 "I worked really hard for two years to get my starting spot, so it's definitely fun to attain a goal to hit a big milestone like that," Dagenais said. "I take it day-by-day and aim to be the best goalkeeper in the ACC."
Inclement weather was the only thing that could slow down Dagenais from climbing up Miami's all-time saves list.
Less than three minutes out of the halftime intermission, the officials suspended play due to lightning.
Following an 85-minute delay, Dagenais continued to shine.
The graduate student finished with a season-high five saves, tacking on two more stops in the second half to silence the Gators for the first time this season.
Up next, Miami wraps up its three-match homestand, as the Hurricanes host Georgia Southern Sunday. Kickoff is slated for 1 p.m. at Cobb Stadium.
To keep up with the University of Miami soccer team on social media, follow @CanesFutbol on Twitter, Instagram and Facebook.