Hurricanes Soar Past Ospreys
CORAL GABLES, Fla. — The University of Miami soccer team continued its undefeated start Sunday evening, flying past the North Florida Ospreys, 1-0, at Cobb Stadium.
"Of course, we're happy with the result," Miami head coach Sarah Barnes said. "I thought we played much better in the second half. We possessed the ball better and played more attack minded. They came out and competed and put us under a lot of pressure. They made the game difficult, but I thought we adjusted to what they presented."
After a scoreless first half, the Hurricanes (2-0-2) stormed out of the break.
In the 51st minute, redshirt junior Jackie Koerwitz broke the stalemate.
With the Ospreys (1-2) looking to move the ball out of their own defensive third, Koerwitz clamped down on the opposing backline.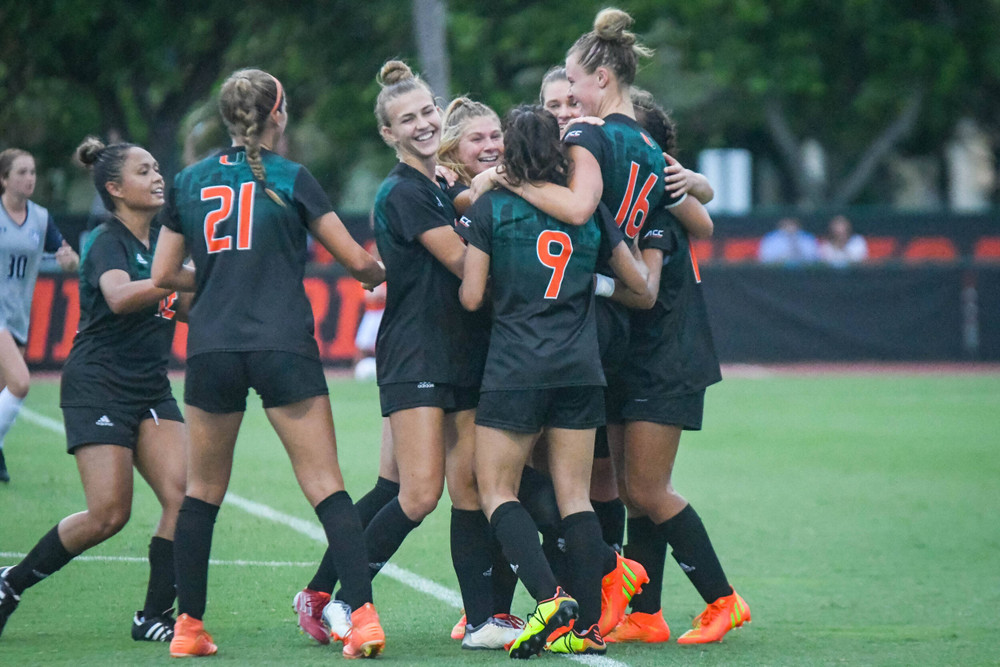 Miami's captain picked UNF defender Zara Siassi's pocket and floated the ball towards the far post to put the Canes ahead, 1-0.
"We definitely came into the season wanting to press higher up the field and turn teams over more often," Barnes said. "That was great execution of what we've been working on and obviously a fantastic finish."
Koerwitz's first goal of the fall was all the homestanding Hurricanes would need.
Senior Melissa Dagenais and Miami's defense extended its shutout streak to 360 minutes, picking up the team's fourth consecutive clean sheet.
The Hurricanes only surrendered one shot on goal and one corner kick. Meanwhile, Miami tallied eight corners and outshot the Ospreys, 11-7, overall.
"The team did a pretty good job of cleaning up a lot of their through balls," Barnes said. "They were very aggressive, and I thought we managed their players well in that way. So, certainly credit to the defense and Mel in terms of the clean sheet."
With the shutout, Miami has now posted a clean sheet in its first four contests for the first time in program history. The Hurricanes last recorded four shutouts in a row in 2012.
Up next, Miami kicks off the month of September, welcoming crosstown foe FIU to Cobb Stadium. The backyard battle is set for 7 p.m. Thursday.
To keep up with the University of Miami soccer team on social media, follow @CanesFutbol on Twitter, Instagram and Facebook.