University of Miami Athletics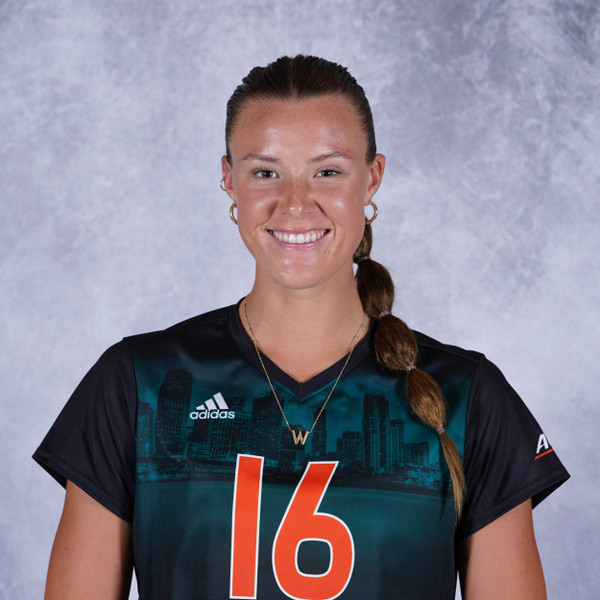 2021 (Redshirt Sophomore): Appeared in 16 matches and earned 15 starts … Logged 1,128 minutes … Played at least 60 minutes 14 times … Posted two goals and two assists … Ranked second on team with six points … Recorded 19 shots with five on target … Scored first tally of campaign against FIU (9/9) … Also fired a career-high six attempts against Panthers … Notched first career assist in ACC opener versus Louisville (9/17) … Registered game-winning goal in 90th minute to secure Miami's first-ever road win over Boston College (10/2) … Added assist at No. 2 Virginia (10/24).
2020 (Redshirt Freshman): One of just five Hurricanes to appear in all 13 contests, while collecting nine starts … Logged 898 minutes in her first season of collegiate action … Led the team with two goals and four points … Started the first four matches of the season, and collected her first career shot on goal against Clemson (9/12) … Went the distance in the midfield against Wake Forest (10/1) and notched a shot on goal … Registered a season-high three shots at Virginia Tech (10/15) … Headed home her first career goal in a set back against Duke (11/1) … Notched a goal in back-to-back matches, helping Miami earn its first point of the year in a 1-1 draw against FGCU (2/17) … Played all 110 minutes against the Eagles … Played in 375 of the possible 380 spring minutes … Capped the year with a team-high 12 shots and eight shot on target.
2019 (Freshman): Redshirted (injury)
Bio: Koerwitz, a 6-foot, 1-inch midfielder/forward, comes to Miami from Sacramento, Calif., after playing internationally with Norcal PDP in Japan and Sweden in 2016 and 2017, where her team captured the gothic cup. In 2017 and 2018, she competed with ECNL PDP. Over the past four years, Koerwitz attended the U.S. Soccer training center.