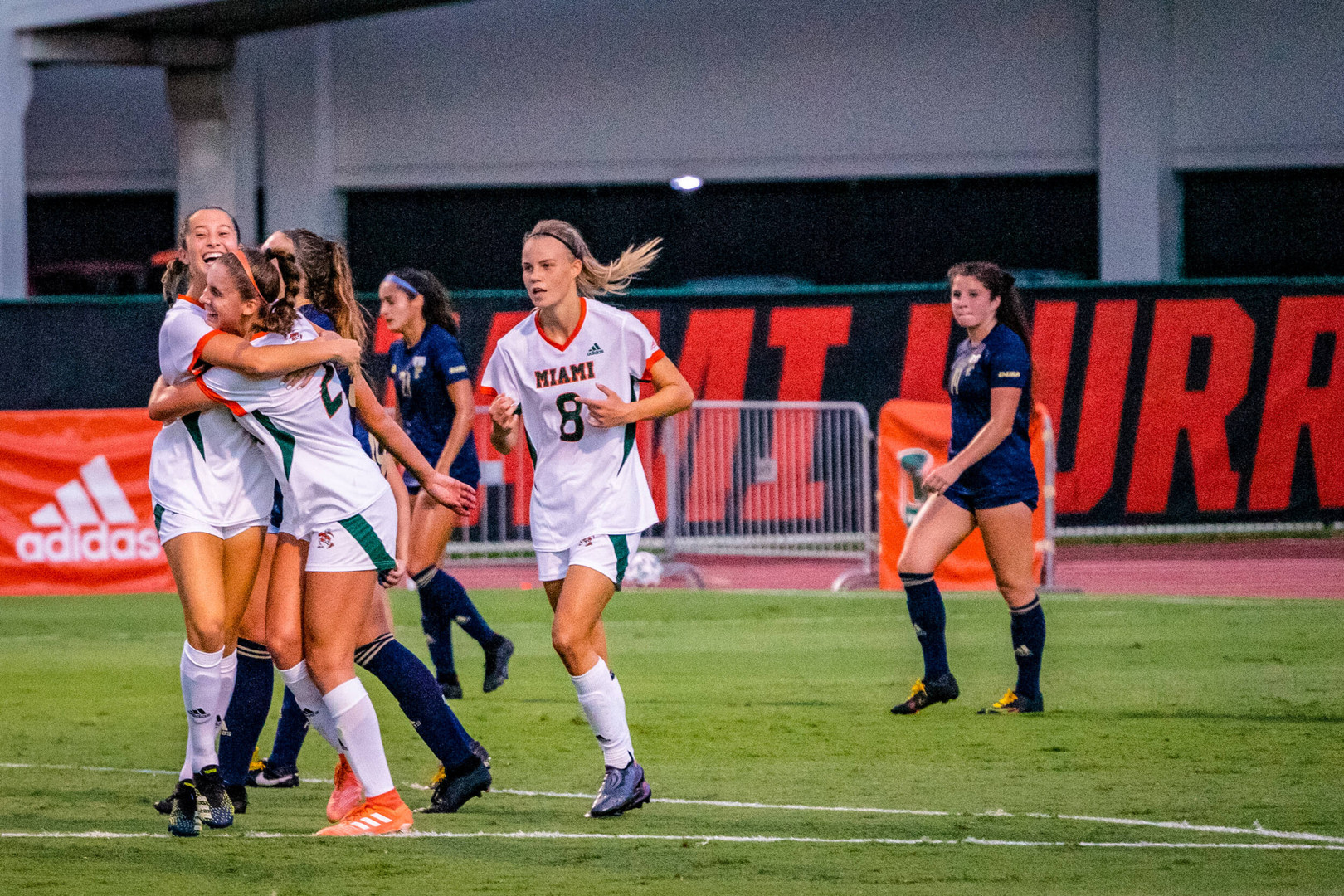 CORAL GABLES, Fla. – The Hurricanes soccer team cashed in plenty of Miami magic Thursday evening.
Facing crosstown foe FIU, the University of Miami scored early and often, defeating the Panthers, 3-0, at Cobb Stadium.
"I thought we did a pretty good job at figuring out how to break them down around the edges," Miami head coach Sarah Barnes said. "We started to get better central options once we got it wide, which helped us go back in. Once we started to do that consistently, we were able to put a lot more pressure on them. All of a sudden, we were having chance after chance after chance, and creating more opportunities, which makes it difficult for a team to defend."
The Hurricanes (3-2) struck first and never looked back.
In the 25th minute, midfielder Maya Rogers streaked free down the left sideline and sent a ball to the top of the box. Fellow freshman Lauren Meeks broke free past FIU's defense and tucked a dart into the bottom left corner for her first-career goal.
"We found a way to get around the edge, drove in and got good numbers into the box," Barnes said. "Lauren did a good job of staying composed despite some pressure. It helped set up what we were able to do in the second half."
Miami came out of the halftime break in a fury. The Canes registered nine shots in 15 minutes, controlling play in the Panthers' end.
After Katerina Molina worked her way through FIU's defense and knocked a ball off a Panther to earn a corner kick.
Sophomore Gabriela Rusek stepped up to take the opportunity and looped a cross towards the back post. Jackie Koerwitz leaped above the defense and headed home her first tally of the season, doubling Miami's lead in the 68th minute.
Despite being ahead, 2-0, the Hurricanes remained relentless.
Less than seven minutes later, María Jakobsdóttir slipped a picture-perfect through ball, leading Gudrun Haralz inside the box. Haralz side-stepped FIU's goalkeeper, Ithaisa Vinoly, and buried it into the back of the net, capping the scoring.
"We talked a lot about finding that one inch where you can be a little bit more relentless," Barnes said. "We fought hard. We competed hard and that gives you a chance in every game. Then it comes down to execution, understanding the game plan and taking advantage of what the defense gives you."
Miami, which has now won seven of its last eight contests against the Panthers (1-6), outshot FIU, 17-5, including an 11-0 margin in shots on goal. With the shutout, the Hurricanes have recorded four clean sheets in their last seven matches, dating back to last season.
Twenty-two different Canes appeared in the match, including sophomore Hannah Dawbarn, who made her collegiate debut.
"We have tremendous depth on the team and there are a lot of players who we'd love to play more minutes," Barnes said. "When the opportunity came, more than anything, we just wanted to give them as much experience as possible heading into ACC play so that they're ready for the moment when their number is called."
Up next, the Hurricanes wrap up their non-conference slate Sunday as Miami welcomes USF to Cobb Stadium. Kickoff is scheduled for 2 p.m.