University of Miami Athletics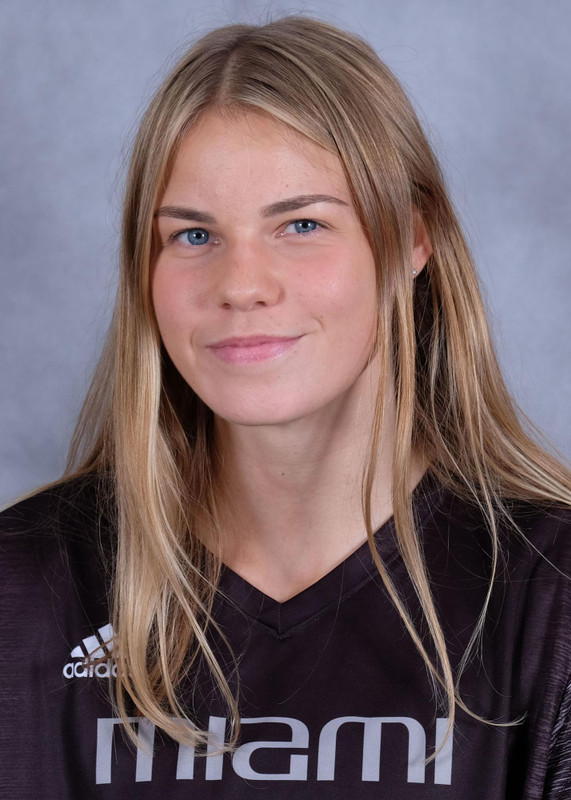 2021 (Redshirt Junior): One of four field players to start all 16 matches … Played 878 minutes … Netted two goals on 10 shots, including six on target … Logged 66 minutes in season-opening win over FAU (8/22) … Fired first shot of campaign at Missouri (9/2) … Registered tally and three shots on goal against FIU (9/9) … Totaled two attempts in ACC opener against Louisville (9/17) … Scored second goal of season at No. 1 Florida State (10/10).
2020 (Redshirt Sophomore): One of five Hurricanes to earn an appearance in all thirteen contests … Logged 789 minutes at center forward … Earned 10 starts, and tallied a goal in the Hurricanes' victory over FIU … Returning from a season-ending injury in 2019, played 74 minutes in the 2020 season opener against Clemson … Notched her first shot of the season against Duke (11/1) … Tallied a goal in the 4-0 shutout victory over FIU (2/28).
2019 (Sophomore): Redshirted (Injury)
2018 (Freshman): One of two freshmen to see action in all 18 matches and one of four field players to start every match … Logged 1,098 minutes in her opening campaign … Played at least 50 minutes in 15 matches, including 70-plus in six contests … Led the Hurricanes with seven goals, 16 points and two game winning goals, while adding a pair of assists … Registered 28 shots, 15 of which were on target … Posted a .536 shot on goal percentage, the second highest mark on the team of players with multiple shots … Became only the second UM student-athlete to register a hat-trick in the second half of play, matching Laura West record set against Florida Atlantic on Aug. 30, 2000 … Notching two shots on goal in her collegiate debut, posted a goal and two assists for four points against Florida Atlantic (8/17) … Tallied a goal against FIU (8/19), finishing the game with one shot on target … Posted a goal for the third consecutive match, while registering a shot on goal against Vanderbilt (8/24) … Attempted two shots and a shot on goal against Lipscomb (8/26) … Fired off three shots against both Jacksonville (9/6) and Stetson (9/9), along with a shot on goal in both … Registered her first ACC goal, and her first collegiate match-winner against Syracuse (9/29) … Registered a hat-trick in the second half against Pittsburgh (10/4), while posting a career-high six shots and four shots on goal in 71 minutes of action … Played a season-high 93 minutes against eighth-ranked Boston College, notching two shots on goal … Tallied a shot on goal against NC State (10/18).