University of Miami Athletics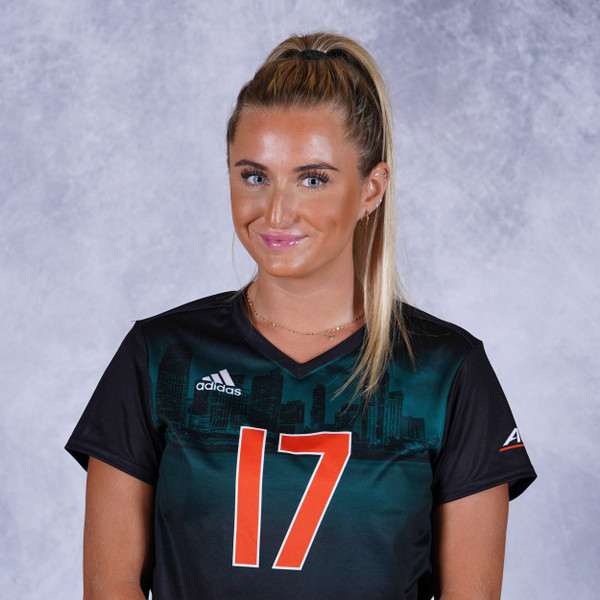 2021 (Junior): Appeared in 16 matches and earned 13 starts … Logged 942 minutes … Played at least 55 minutes 11 times … Registered one goal and team-best three assists … Also tallied 10 shots, including five on target … Assisted game-winning goal against rival Florida (8/29), helping the Hurricanes secure their first win over the Gators since 2012 … Recorded two shots on net and first career multi-assist performance versus FIU (9/9) … Notched season-high 88 minutes in ACC opener against Louisville (9/17).
2020 (Sophomore): Played in seven matches and earned four starts … Traveled back to Iceland for a family reasons after the third match of the fall, and didn't return until the spring due to travel and COVID-19 restrictions … Tied for the second most points with three … Logged 477 minutes in the midfield … Earned her first start of the season against FGCU, playing 97 minutes and registering her first shot of the year … Notched a season-high two shots at Florida Atlantic (2/28) and played 75 minutes … Went the distance against FIU (3/14) and tallied both a goal and an assist in the 4-0 win … Played 85 minutes against Florida to cap the spring.
2019 (Freshman): Logged 974 minutes as a freshman, started 10 matches and appeared in all 16 matches … Tallied two goals and two assists and registered 16 shots on the year with nine hitting the target … Got her first start for the Hurricanes, collecting a shot and an assist against Fairleigh Dickinson (8/25) … Scored Miami's lone goal in the match against FAU, tallying two shots on target (8/29) … Recoreded two shots on goal and tallied both a goal and her first career assits against Stetson (9/12) … Notched a co-match-high four shots against Syracuse (10/13), resulting in one on target … Played 52 minutes off the bench against third-ranked UNC, notching an assist against the Tar Heels (10/31).
Bio: Jakobsdóttir comes to Miami from Garðabær, Iceland, where she attended Fjölbrautaskólinn í Garðabæ. A 5-foot, 4-inch midfielder, she competed with Grindavík for two seasons before joining her current homegrown club Stjarnan FC. Jakobsdóttir competed in the Pepsi League with both clubs, the highest tier in Iceland.
While competing with Grindavík in 2018, Jakobsdóttir was chosen as the most promising player among her peers. In 2012 and 2015 she was named the best player for the Stjarnan U-20 team. Jakobsdóttir also played for Iceland's U-17 Women's National Team.