University of Miami Athletics
Gabriela Rusek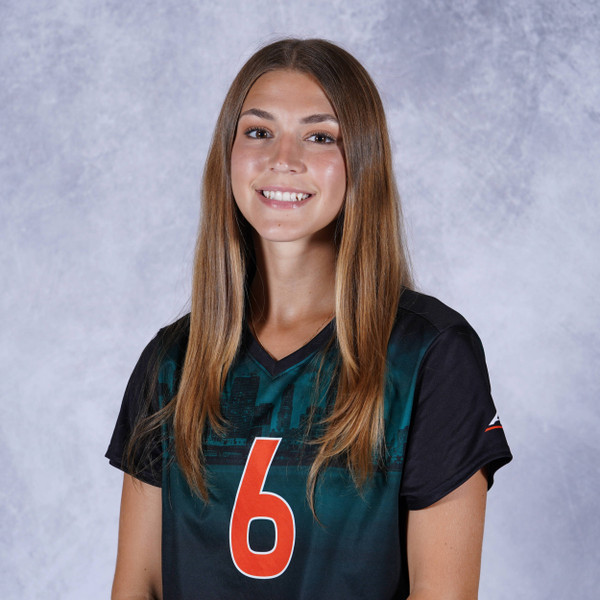 2021 (Sophomore): Appeared in all 16 matches and earned seven starts … Logged 938 minutes … Played at least 60 minutes in 10 contests … Registered two assists … Logged season-high 90 minutes in season-opening 1-0 victory over FAU (8/22), dishing out helper on team's first goal of campaign … Tallied second assist against crosstown foe FIU (9/9) … Made first ACC start of season versus Pittsburgh (9/26) … Drew sixth straight starting nod in conference action at Virginia Tech (10/21).
2020 (Freshman): Appeared in five matches in the fall, while dealing with injuries … In the Hurricanes' four spring matches, started all four at center back and logged 334 of her 438 career minutes … Opened the season on the attack, registering 16 minutes against Clemson (9/12) … Saw 14 minutes of action against Louisville (9/17) and 21 minutes against Notre Dame (9/20) … Returned from injury in the final match of the fall against Duke (11/1) and played 43 minutes … Went the distance in a double overtime affair against FGCU, collecting her first career start and shot in the process … Went the distance again at Florida Atlantic (2/28) while playing center back … Collected an assist in the Hurricanes first win of the season, while playing through the first 71 minutes of action ,,, Played 63 minutes against Florida (4/3).
Bio: Rusek is a four-year varsity starter for Warwick Valley and a two-time NPL Champ with Quickstrike FC … In 2019 she led Quickstrike FC to the semifinals at Nationals for NPL and was an All-State First Team member.