Two Hurricanes Represented on All-ACC Academic Team
CORAL GABLES, Fla. — A pair of University of Miami soccer student-athletes garnered All-ACC Academic Team recognition, the Atlantic Coast Conference office announced Thursday.
For the second straight season, senior defender Selena Fortich earned the prestigious accolade, while junior goalkeeper Melissa Dagenais collected the first such honor of her career.
A native of Glen Head, N.Y., Fortich graduated in December 2021 with a bachelor's degree in political science and criminology. Fortich boasted a nearly perfect 3.968 GPA over her undergraduate career, being named to the President's Honor Roll (4.0 GPA) four times. The two-time team captain was inducted into the esteemed Omicron Delta Kappa National Honor Society and Mortar Board National Honor Society.
On the pitch, Fortich led the Hurricanes' field players with 1,316 minutes played this past season, going the distance in 11 matches. As a junior, the 5-foot-9 defender received ACC Offensive Player of the Week distinction after scoring her third career goal against crosstown foe FIU. Since arriving on campus in 2018, she played in 59 matches, making 57 starts, anchoring Miami's backline.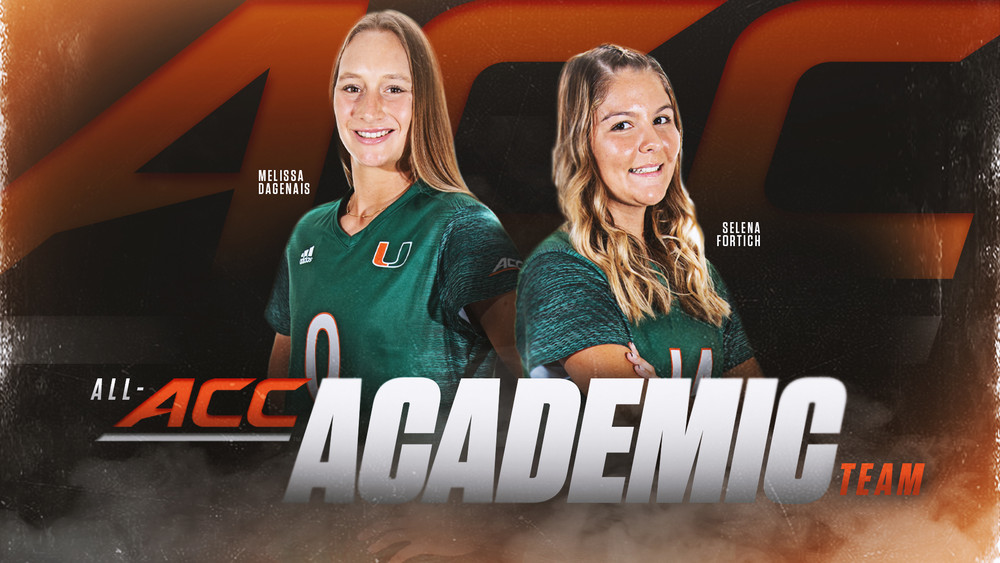 A rising star in the ACC, Dagenais posted a breakout campaign during her third year in the orange and green. The Saint-Hubert, Quebec, Canada, native finished second in the conference with 86 saves and 5.38 saves per match. Dagenais recorded a career-high 14 saves at No. 1 Florida State, which tied the second-most stops in a contest in program history. The 6-foot-1 goalkeeper was tabbed ACC Co-Defensive Player of the Week after leading the Hurricanes to their fourth clean sheet of the season against Boston College.
In the classroom, Dagenais has totaled a remarkable 3.95 GPA in her five semesters at Miami. The exercise physiology major has appeared on the President's Honor Roll (4.0 GPA) once and the Provost's Honor Roll (3.75) four times. Dagenais was initiated into the Omicron Delta Kappa National Honor Society in October.
Minimum academic requirements for selections to the All-ACC Academic Team are a 3.0 grade point average for the previous semester and a 3.0 cumulative average during one's academic career. Athletic achievements during the most recent season are also considered in selecting the All-ACC Academic Team.
The team was chosen from a pool of ACC soccer student-athletes who were nominated by their schools.