University of Miami Athletics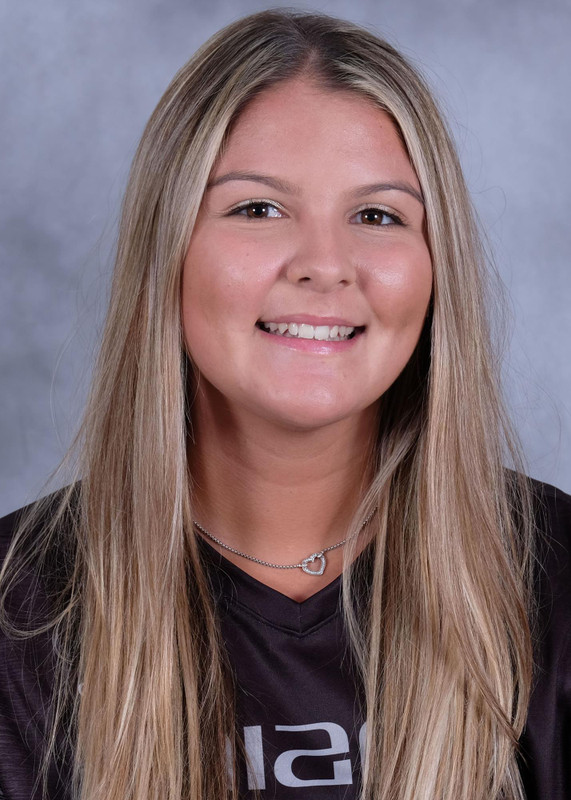 2021 (Senior): Second-year team captain, starting 15 consecutive contests after missing season opener … Logged team-high 1,316 minutes … Went the distance in 11 matches … Recorded four shots, including one on goal … Registered pair of shots in Miami's first win over rival Florida (8/29) since 2012 … Notched shot on target at Missouri (9/2) … Played season-high 104 minutes in ACC opener against Louisville (9/17) … Attempted shot versus Pittsburgh (9/26).
2020 (Junior): Miami's team captain, she appeared in 12 matches and earned 11 starts … Missed one match and two starts due to COVID-19 protocols … Logged 969 minutes, going the distance in a team-high eight matches … Earned a shot from the center back position against Syracuse (10/29), as well as a shot on goal against Duke (11/1) … Tallied a goal and helped lead Miami to a 4-0 shutout victory over FIU (3/14).
2019 (Sophomore): Only stepped off the field for 44 minutes in 16 matches, playing a team-high 1,441 minutes … Earned the start in all 16 matches, notching two goals, seven shots and one match-winner. Playing center back for the Hurricanes, aided Miami to its first shutout of the season against UTRGV (8/22) … Tallied a full 90 minutes in a 4-1 victory against Fairleigh Dickinson (8/25) … Registered her first shot on goal against San Diego State (9/7) … Playing center back for Miami, aided the Hurricanes to their second shutout victory of the season, defeating Stetson (9/12) … Notched a shot against Florida (9/15) … Playing center back, registered her first career goal against Pittsburgh (9/29) … Making her 12th start at center back, registered a shot and helped Miami collect its first ACC victory of the season (10/13) … Headed home her second career goal and first match winner at the 109:19 minute mark of a 3-2 victory over No. 15 Clemson (10/24).
2018 (Freshman): Saw action in 16 matches, earning the start in 15 … Attempted six shots on the season … Played over 40 minutes in 13 matches, including 70-plus six times … Made her first collegiate start in the season opener against Florida Atlantic (8/17), going the distance in the victory … Registered two shots in a 4-1 victory over FIU (8/19) … Contributed to a shutout win over Lipscomb (8/26) … Attempted two shots and aided the Hurricanes to a clean sheet against Syracuse (10/25) … Assisted Miami in a shutout victory over ninth-ranked Florida State (10/25).
High School: Four-year letter winner and two-time soccer captain at North Shore … Garnered Long Island Player of the Year and Newsday Player of the Year accolades … Newsday Super 5 for Top Athlete in the Fall (Boys & Girls) … Led her team to a 14-4-2 record, a first-place conference finish and an appearance in the State semifinal … As a junior, led the team to the quarterfinals and earned All County and New York All-State fifth team honors … Five-year letter winner for basketball after being pulled up to Varsity in the eighth grade … Led the team to five conference titles and two county titles, reaching the semifinals in all five seasons … Named top 100 players for Lacrosse in 2017, and garnered All County accolades in 2018 … Member of the National Honor Society, National Language Honor Society and National Science Honor Society.
Club: A member of the U13, U17 and U18 Fast Meadow Soccer Club … U18-U19 ECNL All-Conference Team … Competed with the U14, U15 and U16 ISA team … Participated on the Long Island FC U11 and U12 teams.
ODP: Three seasons with the NY State ODP team.
Personal: Full name is Selena Jade Fortich … Born March 1, 2000 … Daughter of Maria and Alan Fortich … Father is a consultant and mother is a hair dresser … Has an older sister, Olivia and younger sister, Demi … Majoring in Biology … Favorite athlete is Derek Jeter because he was a team player and played for the Yankees … Best sports memory was winning the Long Island Championships during her senior season of high school … Chose Miami because of the school atmosphere, the academic standards of the school and the high competitiveness of the ACC … Committed to Miami over Duquesne, Mississippi State and Western Kentucky.