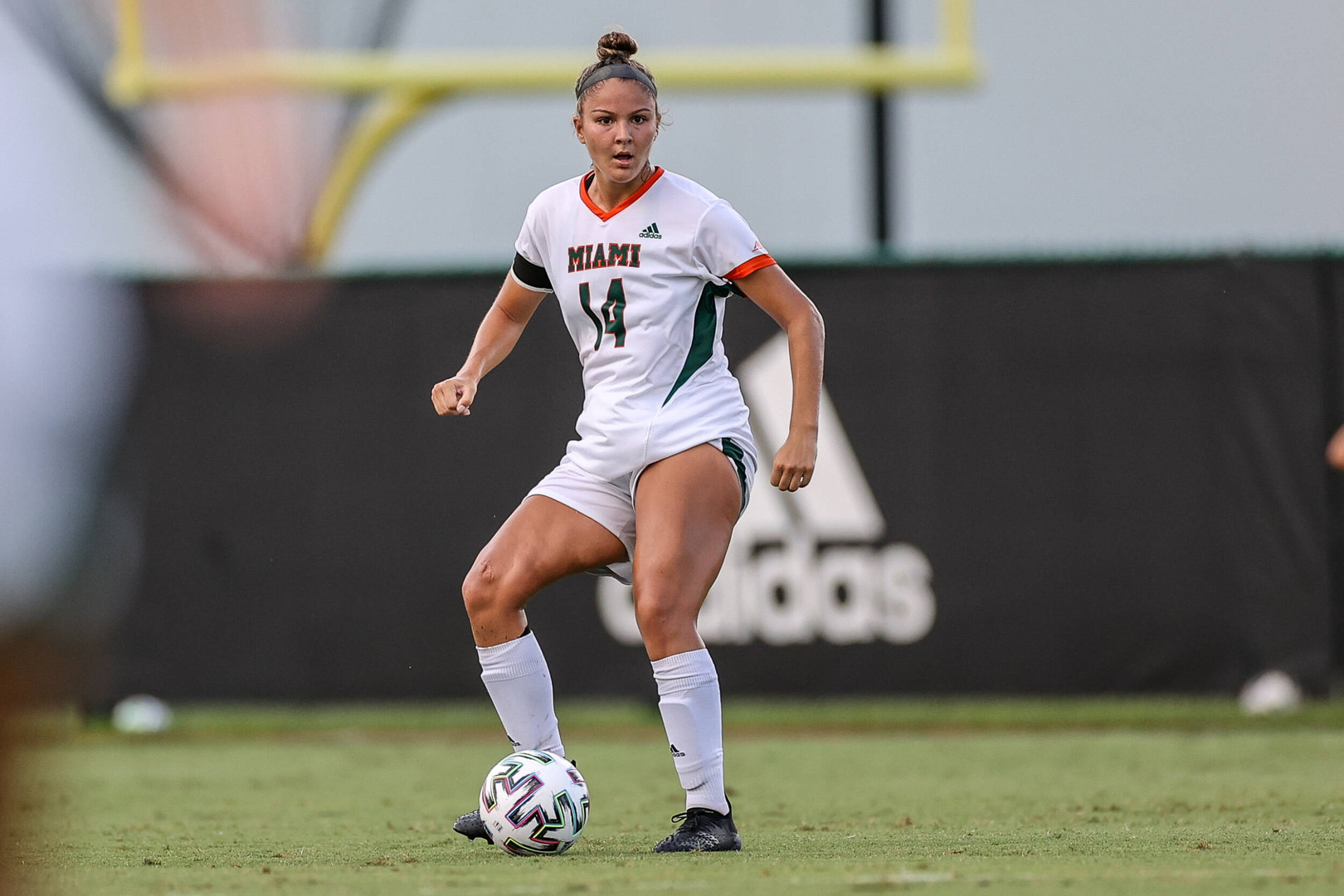 CORAL GABLES, Fla. – Selena Fortich's soccer career didn't kick off so smoothly.
"I was crying on the field," the senior defender said. "I refused to go on the field without my dad."
Fortich began playing soccer in kindergarten and after some initial tears, fell in love with the sport.
Now, more than 15 years later and a lifetime full of memories, she's paying it forward to the next wave of Miami Hurricanes.
"When they say, 'time flies,' it really does," Fortich said. "The fact that I'm a senior, it's crazy. I remember being my first game and being a freshman. I was nervous but now I'm a veteran and I'm teaching the young ones."
When Miami hosts the Pittsburgh Panthers at 3 p.m. Sunday at Cobb Stadium, Fortich is expected to start her 50th career match — a milestone that has sparked self-reflection.
"As a soccer player, I've gotten smarter. I remember being a freshman and trying to be everywhere at once and trying to do everything," Fortich said. "As a person, I've learned how to help others and be that role model that I had when I was a freshman. It's been nice to see that transition."
The 5-foot-9 defender was a three-sport star at North Shore High School, shining on the pitch, lacrosse field and basketball court.
Fortich garnered numerous accolades across the board, but there was something about soccer that stuck with the Glen Head, N.Y. native.
"I can't not have soccer in my life. During lacrosse recruiting, that was the moment where I knew mentally this is what I wanted to do," she said. "I can't imagine being back in kindergarten hating soccer. Now, where would I be without it?"
In three-plus seasons in the orange and green, Fortich has appeared in 51 matches, earning 49 starts. The two-time Hurricane captain has played in all but four affairs since she arrived on campus in 2018.
As a sophomore, Fortich only stepped off the pitch for 44 minutes in 16 contests, playing a team-high 1,441 minutes. She recorded her first career goal against Pittsburgh before heading home the game-winner in extra time to help the Hurricanes upset No. 15 Clemson a few weeks later.
However, her biggest impact doesn't show up on the stat sheet.
"She is a confident young woman who has a lot of natural leadership qualities," Miami head coach Sarah Barnes said. "She is probably one of the more competitive players I've worked with over the years. Every time she steps on the field, she demands more and holds really high standards. Each year, she's elevated herself even more and it's had a really positive impact on what we're building here."
After learning from standouts such as Dejah Cason, Kristina Fisher and Bayleigh Chaviers, among others, Fortich understands the importance of her role.
She strives to instill confidence and belief in her teammates.
"I've learned a lot. She's a very good leader and I've always looked up to her," sophomore defender Delaney Brown said. "Playing next to her has always helped me. When she graduates, I want to be able to take that role and make the same impact she has.
Fortich has made her mark on the University of Miami soccer program.
And with a little more than a month remaining in her collegiate career, she wants to help the Hurricanes take the next step in the most competitive conference in the country.
"We know we have the personnel, we know we have the talent and now we have the belief that comes with it," Fortich said. We are going to come out, compete, give it our all and know we left it all out on the field."