University of Miami Athletics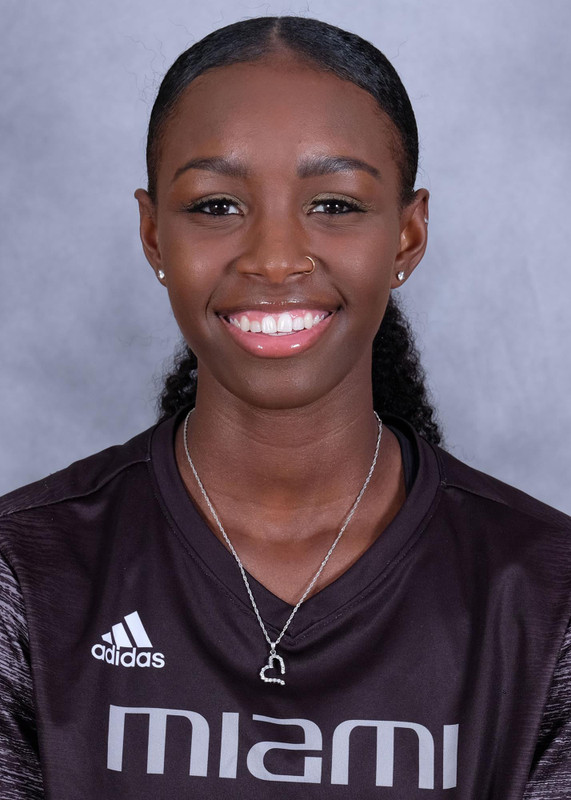 2018 (Junior): Saw action in 15 matches, earning the start in 13 … Logged 1,138 minutes … Played at least 70 minutes in 10 matches, going the distance in four … Registered both one shot and one shot on goal … Tallied two assists on the season … Notched an assist in a 4-1 victory over FIU (8/19) … Playing on the backline, aided Miami to a shutout victory over Lipscomb (8/26) … Went the distance against Jacksonville (9/6) … Helped Miami collect the second clean sheet of the season against Syracuse (9/29) … Posted a shot on goal and tallied an assist against Pittsburgh (3-2) … Contributed on the defensive side of the pitch, in a shutout victory over ninth-ranked Florida State (10/25).
2017 (Sophomore): Team co-captain … Among the nine Hurricanes who started all 16 matches … Tallied one goal and two points … Registered four shot attempts, putting all of them on goal … One of two Hurricanes with multiple shots to notch a 1.000 shot on goal percentage … Tied for fifth on Miami in shots on goal … Recorded 1,322 minutes of playing time, good for seventh-most on the team … Played at least 80 minutes 13 times, including the full 90 on nine occasions … Headed in a goal on her birthday in the season opener against St. Francis (PA) (8/18), finishing on her first shot of the season … Posted two shots on goal at FIU (8/20) … Made the move to the back line and was on the field for all 90 minutes at Yale (9/1) … Went the distance at Quinnipiac (9/3) … Played the entire 90 minutes at No. 11 Virginia (9/21) … Earned the full 90 minutes of playing time in the ACC opener at Louisville (9/24) … Versus Clemson, was on the field for the whole 90 minutes for the fifth match in a row … Went the entire 90 minutes against Boston College (10/8) … At Syracuse (10/11), played the whole 90 minutes … Saw the full 90 minutes of action at fourth-ranked Duke (10/15) … Moved back to a forward spot against Pittsburgh (10/19) and notched one shot on goal … Went the distance versus Notre Dame (10/22).
2016 (Freshman): HERO Sports Hero of the Week Nominee (8/30) … ACC Offensive Player of the Week (10/4)
One of eight Hurricanes to play in all 19 matches, including one of two freshmen to do so … Ranked second on Miami among freshmen with 13 starting nods, including opening each of the final 12 contests … Concluded the year with two goals, four assists and eight points … Tied for fourth on the team in goals, tied for third in assists and tied for fourth in points … Notched 13 shot attempts, six of which were on goal … Tied for third on the team with a pair of game-winning goals … Tied a program record with three assists in a half, becoming the first Hurricane to do so in the second half … Tied for the most assists in a match by an ACC player with three … Recorded 1,255 minutes of playing time … On the field for 90-plus minutes three times, going the distance once … Played 80-plus minutes eight times and 60-plus 12 times, including in each of the final 11 matches of the year … Made her Hurricane debut at North Florida (8/19), logging four shots and one shot on goal … Posted her three-assist half against Jacksonville (8/28), doing so in a span of 30 minutes … Made the first start of her career versus Miami (OH) (9/2) and scored the match's lone goal on a header in the 16th minute … Tallied one shot on goal against Florida Atlantic (9/4) … Notched one shot on goal at third-ranked Florida State (9/18) in the first ACC match of her career … Played 85 minutes in the victory over second-ranked Virginia (9/22) … Against Wake Forest (10/2), notched both an assist and a goal in a match for the first time in her career, scoring the match-winning goal in the 58th minute … Posted one shot on goal while playing all 105 minutes, a new career best, at Pittsburgh (10/9) … Earned 93 minutes of playing time in the win over No. 25 Virginia Tech (10/23) … Played 92 minutes in the ACC Championship quarterfinals at No. 14 Clemson (10/30).
High School: Three-year starter at American Heritage (Plantation) School … Won the district title and 3A state title all three of her years at American Heritage … Team compiled a 72-2-3 (.935) overall record over the three seasons and was ranked in the top five by MaxPreps each time … Finished her three-year career with 51 goals and 41 assists  … Named to the Sun Sentinel All-Broward County 3A-2A-1A Team and Miami Herald First Team All-Broward County 3A-1A all three years … Attended Somerset Central Academy as a freshman and did not play soccer, as the school did not have a team … Team captain and MVP as a senior … Logged 20 goals and 10 assists as a senior, leading team to a 22-1-0 record, including a perfect mark in conference play … Earned Florida Dairy Farmers 3A Player of the Year distinction after her senior campaign, plus both Florida-South All-Region Team and Florida State Star accolades … Team captain and Offensive Player of the Year as a junior,  tallying 17 goals and 16 assists to help the team to a 21-1-2 mark … Scored the golden goal in overtime of the state championship as a junior … Recorded 14 goals and 15 assists as a sophomore en route to Newcomer of the Year honors, as the the team went 29-0-1 … Former Florida men's basketball standout Kenny Boynton and Eric Hosmer of the Kansas City Royals also attended American Heritage.
Club: Played with Lauderhill Lions for her U-17 year, West Pines United from U-14 to U-16 and Cooper City Cobras from U-11 to U-13.
Personal: Full name is Dejah Lanell Cason … First name is pronounced DAY-Zhuh … Nickname is Dej … Born Aug. 18, 1998 … Parents are Dwaymon and Latoya Cason … Father is a police officer and mother is a finance director … Has a younger sister, Taniyah, and a younger brother, CJ … Cousin, Krystal Saunders, played basketball at Miami … Majoring in Psychology … Career goal is to be a forensic scientist or doctor … Favorite athlete is LeBron James because of his versatility … Best sports memories are winning state titles her final three years of high school … Chose Miami because it seemed like the best fit … Committed to Miami over USF.