University of Miami Athletics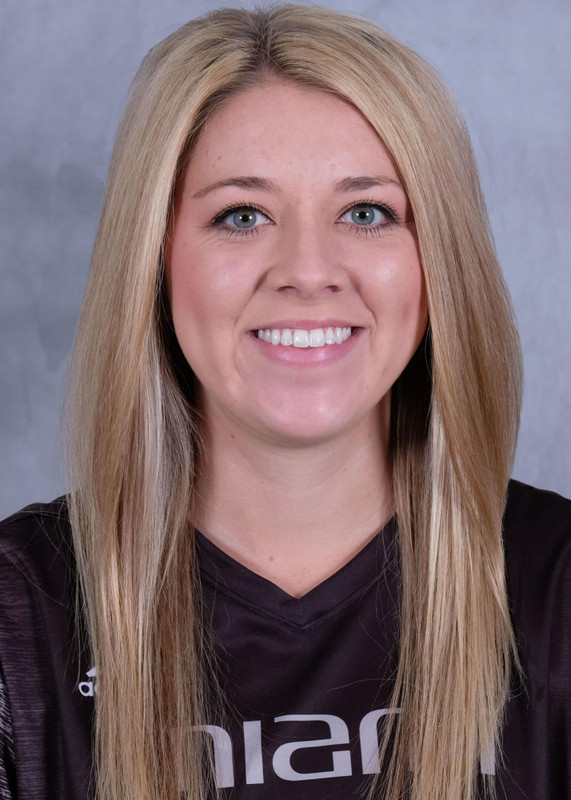 2018 (Junior): One of four field players to start every match … One of only two players (Phallon Tullis-Joyce) and lone field player to go the distance in all 10 ACC matches, logging 930 minutes in conference play … Played the second most minutes amongst field players, with 1,553 minutes played on the backline … Registered 13 shots on the season and six on target … Tallied three assists on the season … Aided the Hurricanes to a shutout victory over Lipscomb (8/26) … Registered five shots and one on goal, going the distance on the back line against Jacksonville (9/6) … Assisted on the match-winning goal and directed a shot on target against Syracuse (9/29), as the Hurricanes recorded a clean sheet … Assisted the match winner against Pittsburgh (10/4), and tallied two shots and a shot on goal … Connected with Mallory Olsson in the sixth minute of extra time, to secure a 1-0 shutout victory over ninth-ranked Florida State 10/25).
2017 (Sophomore): Made the transition to defender in the offseason … One of nine Hurricanes to start all 16 matches … Posted four shots, putting them all on goal … One of two Miami players with multiple shots to have a 1.000 shot on goal percentage … Tied for fifth on the team in shots on goal … Among the four Hurricanes who played all 1,440 minutes during the season … Logged her first-career start in the season opener against St. Francis (PA) (8/18) and aided Miami to a shutout … At FIU (8/20), helped the team record a clean sheet … At Miami (OH) (8/25), part of the in the Hurricanes' third consecutive shutout … Recorded one shot on goal at Yale (9/1) … At Quinnipiac (9/3), posted one shot on goal … Helped Miami hold No. 11 Virginia (9/21) to one goal on the road … Notched a shot on goal against Clemson (9/29) … Recorded one shot on goal at Syracuse (10/11) … Aided the Hurricanes to a shutout victory against Pittsburgh (10/19).
2016 (Freshman): Played in 18 of 19 matches, ranking third among Miami freshmen … Registered one assist … Ranked fifth on the team in both shot attempts (19) and shots on goal (11), placing second among freshmen in both categories … Saw 556 minutes of action on the season … Played 40-plus minutes four times and 25-plus minutes 13 times, including in each of the first nine outings of her career … Recorded an assist and three shots on goal in a season-best 53 minutes during her college debut at North Florida (8/19) …Tallied three shot attempts at Stetson (8/21) … Logged three shots, all on goal, against Jacksonville (8/28) … Notched two shot attempts, including one on goal, in the win over Miami (OH) (9/2) … Recorded one shot on goal versus FGCU (9/8) … Tallied a pair of shot attempts against FIU (9/11) … Saw 50 minutes of action and tallied one shot attempt in her first-career ACC match at third-ranked Florida State (9/18) … Notched a co-match-high two shots on goal against Syracuse (9/25) … Logged one shot on goal in the win over Louisville (10/20).
High School: Four-year starter at Stephenville High School … Team went 78-23-10 (.703) in her career … Recorded 12 goals and 14 assists as a senior to lead team to a 22-6-2 record that included district, bi-district and area championships … Named District MVP, first team all-district and consensus academic all-state as a senior … Logged eight goals and 11 assists as a junior, aiding team to a 23-5-1 mark, as well as bi-district and area titles … As a sophomore, tallied seven goals and nine assists, earning District Offensive MVP and first team all-district honors  … Selected as an honorable mention all-district pick as a freshman … Four-year letter winner in track and three-year letter winner in basketball … Earned academic all-district honors after each of her 11 letter-winning athletic seasons … As a senior, was a THSCA Academic All-State Honorable Mention in track … Earned district and area championships in the 4x400m and 800m as a sophomore, plus a district crown in the long jump, the 800m regional title and a second straight 800m UIL state championship … Also as a sophomore, when she was named team MVP, was both a regional and area qualifier in in the 4x200m, 4x400m, 800m, long jump and triple jump … Won district area titles in the 4x100m and 800m as a freshman, while also winning the UIL state title in the 800m … In basketball, was first team all-district as a senior and junior, starting both years, and was second team all-district as a sophomore … Chosen as Stephenville's Defensive Player of the Year each season … Led team in rebounding and assists as a senior, and was named TABC All-Region and consensus academic all-state … Member of the National Honor Society, Spanish Honor Society, Student Council and Texas Scholars … Notable Stephenville alumni in athletics include Brock Holt of the Boston Red Sox, Cody Davis of the Jacksonville Jaguars and former NFL quarterback Kevin Kolb.
Club: Played for Dallas Texans ECNL from U-16 to U-18, Texas Lightning from U-15 through U-16, Sting-Fort Worth from U-12 to U-14 and Fort Worth FC for her U-10 and U-11 years … Finished in second place at ECNL Nationals with the Dallas Texans in at the U-16 level 2014.
Personal: Full name is Bayleigh Ann Chaviers … Last name is pronounced CHAY-Vurrs … Born Oct. 5, 1997… Parents are Shawn Chaviers and Dolly Auvenshine … Father is a construction contractor and mother is an office manager … Has two older brothers, Trey and Dillon Auvenshine … Trey played soccer at Ranger College (Texas) and Dillon was on the USA Gymnastics Men's World Team in 2010 as a power tumbler … Cousin, Alex Sanchez, played football at Tarleton State (Texas) … Majoring in biology … Career goal is to be a nurse … Favorite athlete is Mia Hamm, who was the first women's soccer player she knew about growing up and the reason why she wanted to keep playing the sport … Best sports memory is scoring a goal on a corner kick in a high school playoff game … Enjoys sewing … Chose Miami because of its nursing program, the coaching staff and players, the warm weather and its proximity to the beach … Committed to Miami over Arkansas, Auburn, Baylor, FIU, Houston, Kentucky, UL-Monroe and Texas State.