University of Miami Athletics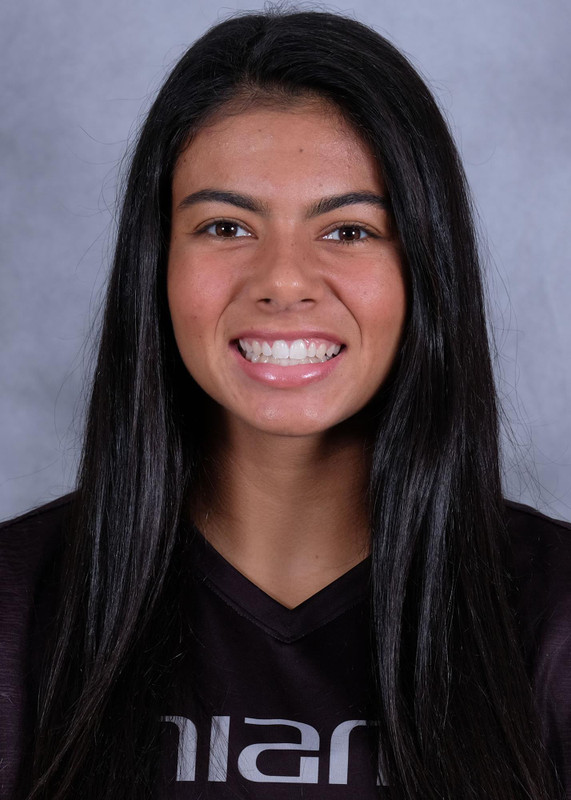 2018 (Junior): Started all 18 matches for the Hurricanes in her junior campaign … Attempted a team-high 43 shots and 16 shots on target … Tallied one goal and two assists on the season … Played 1,490 minutes, seeing 70-plus minutes of action in 15 matches … Posted three shots in the opening half of a blowout victory over FIU (8/19), while picking up an assist off of a free kick … Scored the match-winning goal against Lipscomb (8/26), with three shots and two shots on goal … Registered four shots against UTRGV (8/30) … Posted a then-season-high six shots against Jacksonville (9/6), with two directed on target … Matched her season high for shots against Stetson (9/9), with six and two on goal … Posted five shots and three shots on goal against No. 12 Duke (9/20) … Tallied four shots and three shots on goal at NC State (10/18) … Assisted on the match-winning goal against ninth-ranked Florida State (10/25).
2017 (Sophomore): One of nine Hurricanes to start all 16 matches … Registered two goals, five assists and nine points … Led Miami in assists, ranked second in points and tied for third in goals … Finished the year with 36 shot attempts, including 16 shots on goal, both second-most on the team … Finished eighth in the ACC assists per game (0.31) … Played 1,428 of a possible 1,440 minutes on the season to rank fifth on the team … Went the distance in each of the final 15 matches of the year … Tallied the first three-assist outing of her career in the season opener versus St. Francis (PA) (8/18), as well as finished with three shots, including a pair on goal … At FIU (8/20), assisted on the match-winning goal for the second contest in a row and notched her first goal of the season, finishing with four shots, including two on goal … Moved into sole possession of No. 10 on Miami's all-time assists list by logging the 11th of her career at Miami (OH) (8/25), also posting a pair of shots … Recorded one shot on goal at Cincinnati (8/27) … Posted a co-game-high three shot attempts, including one on goal, at Yale (9/1) … Logged season highs in shot attempts (six) and shots on goal (three) at Quinnipiac (9/3) … Registered two shots, including one on goal, versus Clemson (9/29) … Against Boston College (10/8), scored a goal on a penalty kick, co-led all players with a co-season-high six shot attempts and paced Miami with two shots on goal … Logged a pair of shots at Syracuse (10/11) … Posted one shot on goal in the win over Pittsburgh (10/19) … Against Notre Dame (10/22), led Miami in shots (three) and led all players in shots on goal (three) … Tallied a pair of shots at No. 21 Wake Forest (10/26).
2016 (Freshman): ACC All-Freshman Team … All-ACC Academic Team … NSCAA College Player of the Week (8/23)
Ranked as the No. 47 freshman in the nation by Top Drawer Soccer … One of eight Miami players, including the lone freshman, to start all 19 matches … Posted seven goals, six assists and 20 points … Ranked second on the team in goals, first in assists and second in points, leading Miami freshmen in each category … Placed third, including first among freshmen, in both shot attempts (48) and shots on goal (20) … Tied for the team lead with three game-winning goals, tied for the eighth-most in a season in program history … Ranked seventh in the ACC in assists per game (0.32), tied for seventh in points per game (1.05), eighth in points, tied for ninth in assists and tied for No. 10 in goals per game (0.37) … Attempted both of Miami's penalty kicks during the regular season, converting on each one … Tallied 1,396 minutes of playing time, most among Miami freshmen … Went the distance twice, played 80-plus minutes seven times and surpassed 70 minutes on 14 occasions … Recorded two goals, one assist and six shots in just 49 minutes of play during her Miami debut at North Florida (8/19), including logging the team's first shot and goal of the season … Became the fifth player in program history, and just the second freshman, to score multiple goals in a season opener, as well as just the second Hurricane with at least five points in the first match of the year … Scored one goal, assisted on the other two and had three shots on goal at Stetson (8/21) … Notched an equalizing goal versus Ohio State (8/26) in her first-career home match … Tallied a match-high nine shot attempts against Jacksonville (8/28), putting four on goal and scoring twice, including once off a penalty kick … Assisted on the match's lone goal against Miami (OH) (9/2) and also logged a co-match high three shots, with two on goal … For the second consecutive outing, had an assist on the only goal of the match in the win over Florida Atlantic (9/4) and also recorded four shot attempts, including one on goal … Versus FIU (9/11), notched three shot attempts, with one on goal … In her first-career ACC match, at third-ranked Florida State (9/18), notched one shot on goal … Played all 90 minutes and scored the match-winning goal on a penalty kick against second-ranked Virginia (9/22) … Logged a match-high five shot attempts versus Syracuse (9/25) … Tallied an assist on the match-winning goal and logged a co-team-high three shots against Wake Forest (10/2) … Logged two shots, including one on goal, while playing all 90 minutes at No. 15 North Carolina (10/6) … Recorded two shots, with one on goal, at Pittsburgh (10/9) … Had one shot on goal in 86 minutes of play in the ACC Championship quarterfinals at No. 14 Clemson (10/30).
High School: Graduated early from Jupiter High School and enrolled at Miami in January 2016 … Did not play high school soccer … Ranked as a four-star recruit and the No. 80 player in the nation by Top Drawer Soccer … Three-time letter winner in track … Broke the school's record in the 4x100m … Regional finalist as a junior in the 400m … Member of the National Honor Society, National Spanish Honor Society, National Technical Honor Society and National Social Studies Honor Society … Notable Jupiter alumni in athletics include former MLB All-Star Dante Bichette, Miami alumnus Matt Bosher of the Atlanta Falcons and Cody Parkey of the Cleveland Browns.
Club: Played for Orlando City ECNL at the U-18 level, the Albion (Texas) Hurricanes ECNL at the U-17 and U-16 age groups, Boca United for U-15 and U-14 and FC Florida for her U-13 and U-12 years … Won the 2012 Florida Youth Soccer Association State Cup with FC Florida … Competed in the Nike National Training Camp ECNL in Beaverton, Ore., in the summer of 2015 … Played in the ECNL Player Development Program Texas Conference in March 2014.
International: Participated in a U.S. Soccer U-23 camp in March 2018 (Portland, Ore.) . . . In 2017, took part in a U.S. Soccer U-20 camp in November (Sunrise, Fla.), a U-23 camp in July (Seattle), a U-19 camp in May (Carson, Calif.) and a U-23 camp in April (Orlando, Fla.) … Participated in U.S. Soccer U-15 national camps in May 2013 (Dallas) and February 2013 (Chula Vista, Calif.) … Took part in U.S. Soccer U-14 national camps in October 2012 (Cary, N.C.) and August 2012 (Carson).
ODP: Member of the Florida State Team in both 2011 and 2012 … Played with the Region III Team in 2012 and was invited to travel to a tournament in Costa Rica … Also was a Region III Thanksgiving Interregional ODP invitee that same year.
Personal: Full name is Kristina Elizabeth Fisher … Goes by Krissy and nickname is Fish … Born July 1, 1998 … Parents are Steve and Kea Fisher … Father is an engineer and mother is a veterinarian … Father played football at Louisiana Tech and earned his master's degree at Miami … Has an older sister, Kayla … Majoring in finance with a minor in economics … Career goal is to play professional soccer … Favorite athlete is Lionel Messi because of his humility, passion for the game and play on the field … Best sports memory is winning the state cup in 2012 … Enjoys reading, running, traveling and doing puzzles … Chose Miami because of its academic prestige, location and conference … Committed to Miami over Auburn, Boston College, Notre Dame, USF and Tennessee.