Dagenais Delivers in Scoreless Draw Against Mississippi State
CORAL GABLES, Fla. — Senior Melissa Dagenais vaulted herself into the conversation as one of the top goalkeepers in the ACC during the 2021 season.
And as the University of Miami soccer team kicked off its 2022 campaign, Dagenais looked like she was in midseason form.
Dagenais posted her third career double-digit save performance, helping the Hurricanes secure a 0-0 draw against Mississippi State Thursday evening at Cobb Stadium.
"It all starts with preparation leading up to the game," said Dagenais, who made 11 saves against the Bulldogs. "Being gritty in training is translating into the game. I know what I can do, so just trying to keep that inner confidence. There are stressful moments, but it's a part of the game."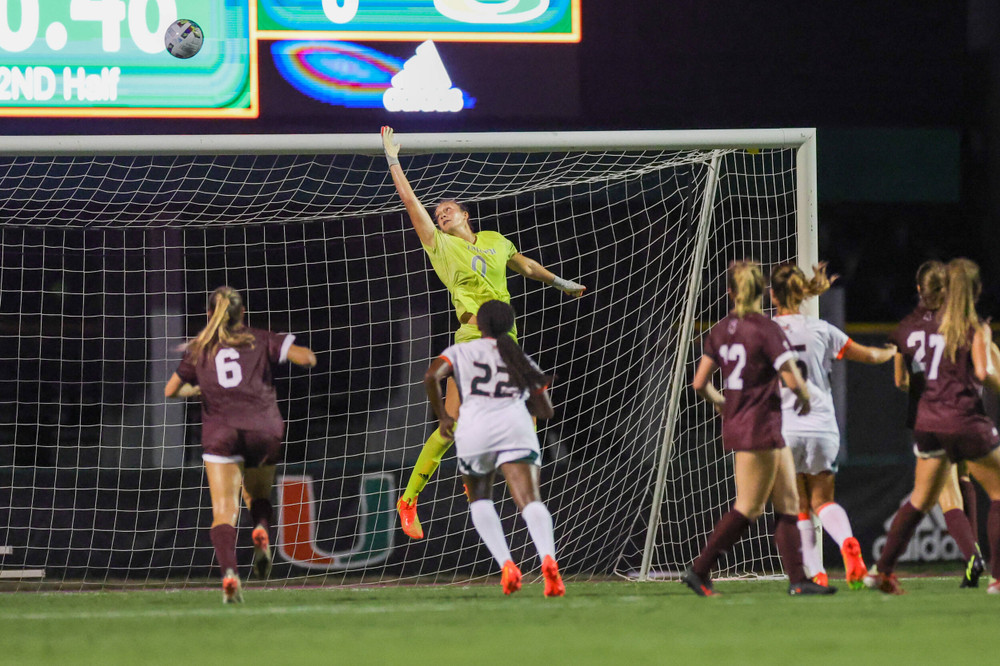 Mississippi State (0-0-1) fired 26 shots, including 16 attempts before the break, but Dagenais delivered dazzling stop after stop.
"Mel was amazing," sophomore defender Adrianna Serna said. "She was flying in the air saving us. She set the tone for us tonight."
In the 28th minute, the Bulldogs mounted a prime opportunity just outside the box. Mississippi State veteran midfielder Alyssa D'Aloise curled a shot ticketed for the top-right corner. Dagenais leaped and made an acrobatic sprawling save to push the right-footed rocket above the bar.
With Dagenais putting together a highlight-reel worthy first half, keeping the Hurricanes (0-0-1) level through 45 minutes, the Canadian netminder picked up where she left off after the intermission.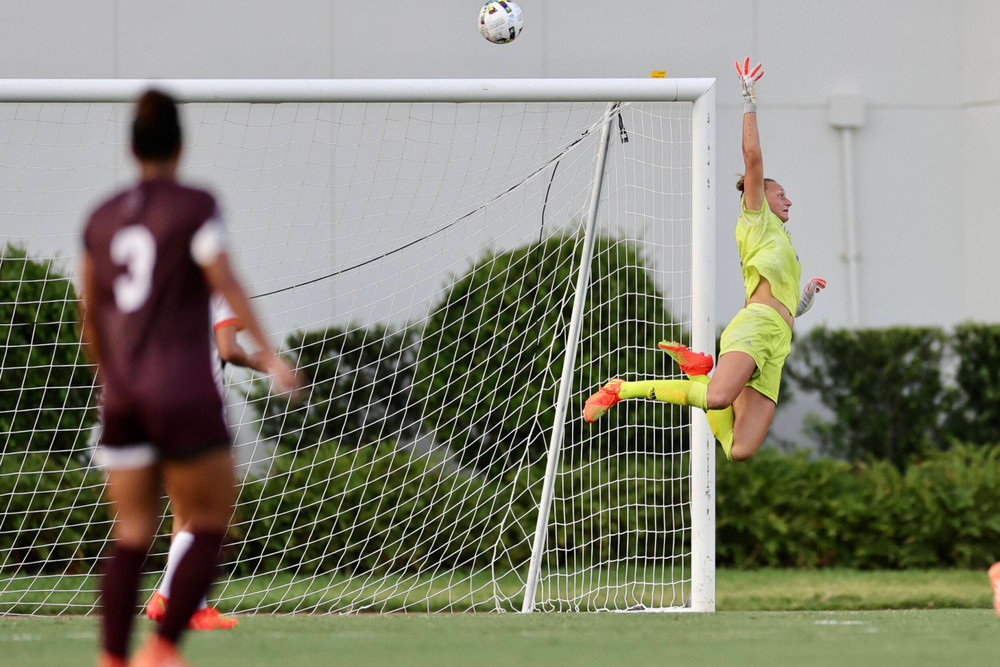 Less than four minutes into the second half, the Bulldogs streaked through Miami's backline. The 6-foot-1 goalie denied freshman forward Maggie Wadsworth on the doorstep to preserve the clean sheet.
With Dagenais silencing the Bulldogs, the Hurricanes' attack began to build in the final 45 minutes, with their best chance coming in the 85th minute.
Senior Taylor Shell broke free, creating space wide of Mississippi State's defense. Shell served a cross towards the back post, soaring just inches above forward Jackie Koerwitz.
"The team fought and competed," Miami head coach Sarah Barnes said. "They were relentless with their attitude in the second half, getting out and getting pressure on the ball. We're excited with our ability to apply information from the first half to the second half and change the game to benefit us."
The Hurricanes and Bulldogs combined for 21 fouls and four yellow cards across the gritty 90-minute stalemate.
Following their season-opening tie against Mississippi State, Miami looks towards another SEC foe, as the Alabama Crimson Tide visit Coral Gables Sunday. The match is scheduled for 5 p.m. and will air on ACC Network Extra.
To keep up with the University of Miami soccer team on social media, follow @CanesFutbol on Twitter, Instagram and Facebook.