Takeaways from Miami's Win over Georgia Tech
ATLANTA – All week long, the Hurricanes faced tough questions.
They were asked about injuries. About the emotional state of the team after a rough loss to rival Florida State. About their offensive production. Their future. So much.
But Miami's players and coaches put their heads down, went to work and on a chilly Saturday afternoon in Atlanta, answered some of those questions when they faced Georgia Tech.
A week after a frustrating night against the Seminoles, the Hurricanes jumped to a quick lead against the Yellow Jackets, ran the ball effectively and forced a series of turnovers in what was eventually a 35-14 win over Georgia Tech at Bobby Stadium.
"I think it's important to note that that team was coming off a big victory and that team was also fighting for victory No. 5," Miami head coach Mario Cristobal said of the Yellow Jackets. "A lot of respect for them and their coaches and their players. Obviously know a lot of them through recruiting and those things. But all the focus [was] on us just getting better, you know? And today was a really nice step in that direction."
The Hurricanes, who have played well on the road this season, will now begin preparing for one of their biggest road tests of the year: a game Saturday at ninth-ranked Clemson.
Before that, though, here's a look at what the team said they can take from their win over Georgia Tech…
1. The Canes showed their ability to bounce back
After the loss to Florida State, Cristobal did not mince words or sugarcoat anything.
In his postgame comments, he made it clear the Hurricanes had played poorly and needed to build toward becoming the team and program he knows Miami can be.
"We have work to do. We have to build," he stressed.
And while that work isn't finished, against Georgia Tech the Hurricanes showed their ability to drown out a lot of noise, focus on improving themselves and making big plays.
"In a world where everybody's always head faking and BSing, we just deal with reality. We just talk about the facts. We didn't play well last week," Cristobal said. "We didn't. We allowed ourselves to get in a whole and we didn't shake ourselves out of it. Can't do anything about that anymore. Going to have to wait until next year for that game.
"What we could do is show up to practice on Tuesday and show up to meetings early and get to work on the things that allow us to get better. And if you sugarcoat that, you're setting yourself up for disaster. So we won't do that. We're developing. We're growing as a football program. We're building and that's a really nice way to take a step in the right direction, by the way the guys responded and played tonight."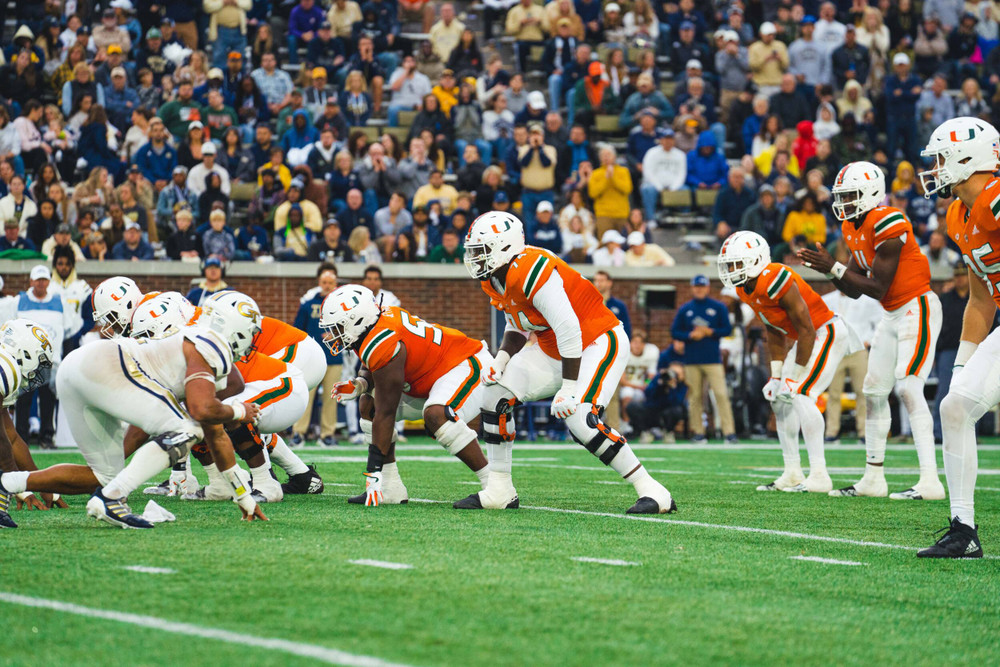 2. Jacurri Brown's big day
Freshman quarterback Jacurri Brown has seen his role grow as the season has progressed.
He's led the scout team in practice and signaled in calls from the sideline. He's been utilized in multiple wildcat packages in short-yardage situations. And last week, when starter Tyler Van Dyke was unable to finish the game against Florida State because of an injury, Brown was called on to try and spark the Miami offense in a rivalry game.
Saturday, though, marked another step in his Miami journey.
With Van Dyke still recovering, Brown got his first collegiate start and threw the first of what the Hurricanes are many touchdowns during his Miami career.
Brown finished the day completing 15 of 19 passes for 136 yards with three touchdowns and rushed for another 87 yards.
Making the day even more memorable? The fact the Valdosta native made his first start in front of family and friends who made the drive to Atlanta.
"It felt amazing, felt like everything I went through from being younger to up until this point was worth it," said Brown, who became the first Miami true freshman to throw three touchdowns in his first start since Gino Torretta did the same thing in 1989. "All the hard coaching and everything like that, it was all worth it."
Said Cristobal of Brown's performance, "If you watch his high school tape, he does a good job throwing it. He does a good job running it and he runs it with power and he has great ball security. Always has. He did a real nice job today."
3. Kam Kinchens adds his name to the record book
Brown wasn't the only Hurricane to turn in a big performance against the Yellow Jackets.
Safety Kam Kinchens had three interceptions, tying a school record last accomplished in 2006 by Kenny Phillips. Kinchens, the 12th Hurricane to nab three picks in a game, returned one of those for a 99-yard touchdown and now has a nation-leading six interceptions on the season.
He also had a team-high eight tackles, was in on a tackle for loss and broke up a pass.
"He's trying to score on the onside kick, too now. He's got the appetite for getting in the end zone," Cristobal said. "That guy, if you walk into our facility throughout the course of the week at night, late into the night, he'll be there. Just watching [film], studying, bringing in guys with him. He's exactly what you want on your football team. All that stuff pays off, man. People forget he's only a sophomore, okay? He's only a sophomore, but he does a great job."
Said Kinchens of his afternoon, "After the second one, I wasn't really thinking too much about another one. Then [running back Lucious Stanley] came up to me and was like 'You already got two and you dropped one. You might as well catch another one.' I went out there and it came."
4. Jaylan Knighton delivers
It's been a season of ups and downs for running back Jaylan Knighton, who has dealt with injury issues and turnovers this year.
But on Saturday at Georgia Tech, Knighton had a game-high 118 rushing yards and averaged 7.4 yards per carry. He also scored on a 2-yard run that pushed Miami's lead to 28-7 with a little more than four minutes remaining in the game.
Knighton's approach, and work ethic, were something worth noting, Cristobal said.
"The best part about him is that, you know, he has a lot of pride and he fumbled, right, earlier this season. Everybody's all like 'Well, play this,' but no. Let him earn it back and he did," Cristobal said. "And he did it by spending a ton of time on ball security, running harder, understanding protection better. I don't think people realize how well he protected tonight as well…Just really fired up about Rooster – we affectionately call him Rooster, right? – about how he played tonight, but more importantly, how he approached adversity because that's what our team needs to keep growing. We've got to face this, our circumstances and adversity. We've got to face it, come out and just punch right back."
5. A depleted offensive line steps up
All season long, Miami's offensive line has dealt with injuries.
Fourth-year junior Zion Nelson has been hampered by a knee injury all season. Justice Oluwaseun has been hurt. So, too, is Jalen Rivers.
That meant at Georgia Tech, Miami's starting offensive line included redshirt freshman Laurance Seymore and true freshman Anez Cooper beside veterans John Campbell Jr., Jakai Clark and DJ Scaife Jr.
The unit stepped up in a big way.
The Hurricanes totaled 353 yards, with 217 of those coming on the ground. Brown, meanwhile, was sacked just once.
"Well, you've got a lot of new starters up, right? We mentioned it, three or four offensive linemen that are new, right? We miss [tight end] Elijah Arroyo, man. I mean, that guy's a really, really good football player and [with] a freshman quarterback on the road, it was going to be necessary to protect him to get the ground game going," Cristobal said. "Proud of the offensive line and really, the coaching staff for putting together a game plan that allowed us to be successful and execute it really well."
Added Clark, "[The running game] was a big emphasis for us this game. The guys really brought it today. Real proud of the guys up front. They dominated the majority of the night and that's what we really needed."
6. Another fast start sets the tone
The Hurricanes have, in recent weeks, struggled to get in the end zone.
They were held to just a field goal against Florida State and while they beat Virginia 14-12 on Oct. 29, that scoring came on the strength of four field goals from kicker Andy Borregales and a 2-point conversion from Jake Garcia in overtime.
Against Georgia Tech, though, Miami was able to end its touchdown drought, doing so on its first possession of the day.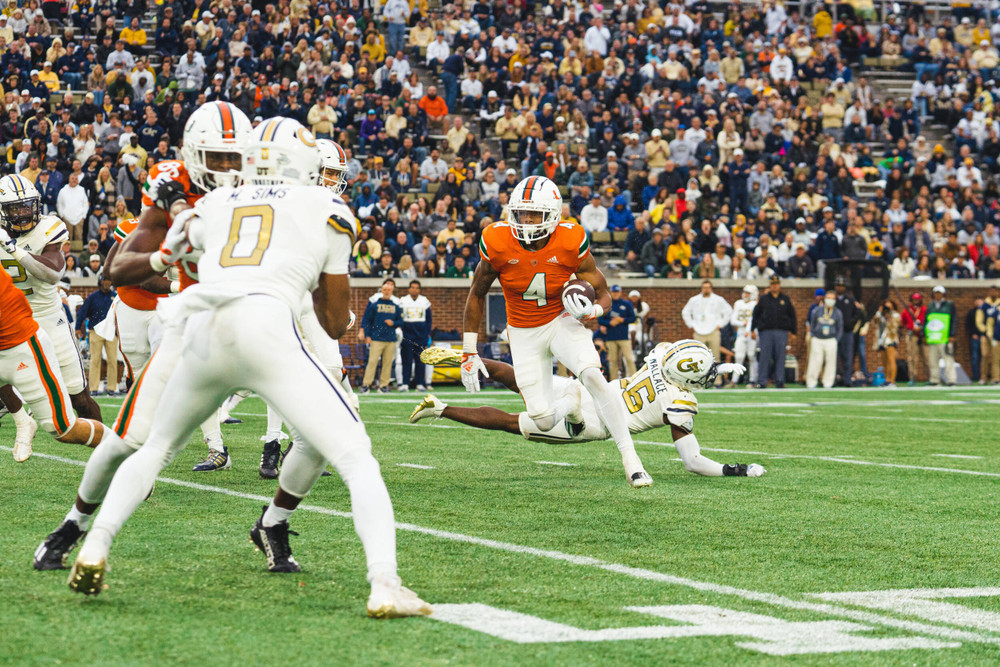 Brown led the Hurricanes on a methodical 11-play, 75-yard drive that culminated when he connected with Will Mallory on a 22-yard touchdown.
The Hurricanes would never look back. Instead, they scored another touchdown on their third possession of the day before finishing the day with four offensive touchdowns.
7. Defense does its part
There's no doubt Kinchens had an impact in Saturday's win.
But the rest of Miami's defense did its part, too.
Along with Kinchens' three interceptions, the Hurricanes forced another Georgia Tech turnover with an interception by Tyrique Stevenson and held the Yellow Jackets to 4 of 12 on third-down conversion opportunities.
The Hurricanes also totaled nine tackles for loss and held the Yellow Jackets scoreless in both the first and third quarters.
8. Lou Hedley a "monster"
Hurricanes fans have loved punter Lou Hedley since he signed with Miami in 2019 and throughout his career, the big-legged Australian has been a difference-maker for the Hurricanes.
That continued against Georgia Tech.
Hedley averaged 46.0 yards on his five punts and pinned the Yellow Jackets inside their own 20-yard line three times. Two of those landed inside the 10-yard line and another was a touchback.
Understandably, Cristobal had some high praise for his punter.
"Monster. Lou Hedley's a monster. I don't know if anyone's ever referred to a punter as a monster, but that guy…It's hard to tell where he's going to put the ball because he could roll both ways," Cristobal said. "He could roll. He can roll, he can kick it right, he can kick it left. He's a directional kicker that can do it stationary or on the run. And he's like a pitching wedge when you're in that pooch area, where he can put it down there. He does all that…He had a couple bounces [that went] the right way for us."
9. Canes fans showed out, too
The Hurricanes weren't the only ones who were a force Saturday night in Atlanta.
Miami's fans turned out in a big way and effectively took over a corner of Bobby Dodd Stadium. They made their presence felt throughout the afternoon, even as temperatures dropped, and were a large part of Miami's post-game celebration.
After the win, several of the Hurricanes noted how much they appreciated the support, especially since it came on the road.
"They brought us a lot of energy," Clark said. "I mean, seeing our fans travel well and being loud…I mean, it was pretty cold out there. They didn't have to stick around, but they did and you know, we appreciate it a lot."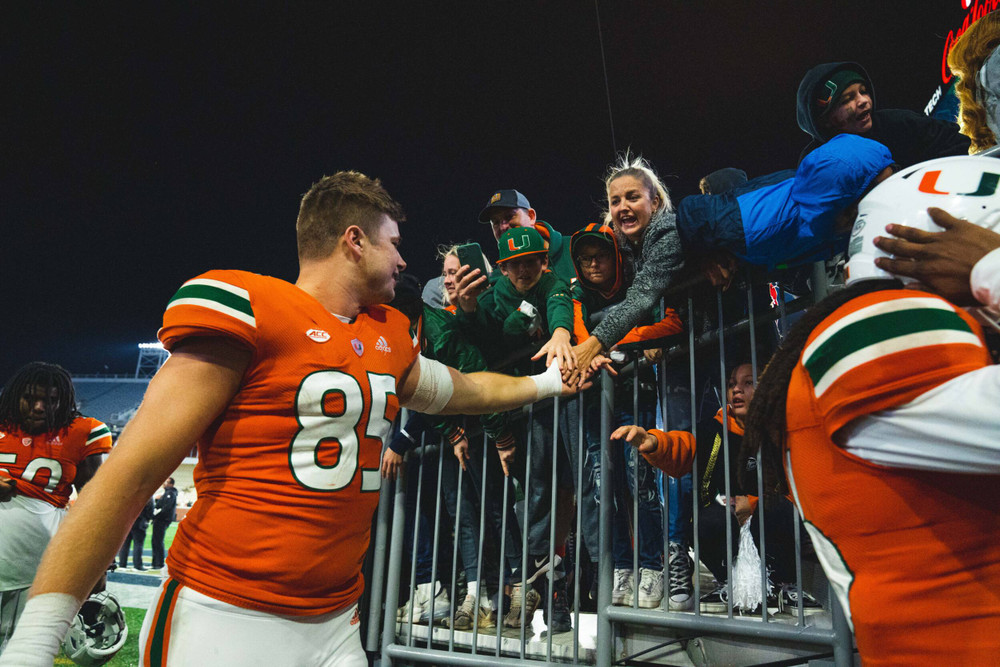 10. On to Clemson
The Hurricanes have played well on the road this season, picking up three conference wins and holding their own in front of more than 107,000 fans at Texas A&M earlier this year.
This week, though, they'll face one of their toughest tests of the season: a trip to Death Valley to face ninth-ranked Clemson.
The Tigers have won two national championships since 2016 and four ACC titles in that span.
After its loss to Notre Dame, Clemson is considered a longshot for this year's College Football Playoff, but the Tigers are still in contention – meaning they'll look to give the Hurricanes all they can handle.
It will be a tough test for Miami, but one the Hurricanes will be able to go into on a positive note after the win over Georgia Tech.
"I think everybody in there is proud of our team for bouncing back the way they did and just being resilient, showing up to work and putting together a really good game, almost a complete game," Cristobal said of the victory over the Yellow Jackets.