University of Miami Athletics
Mario Cristobal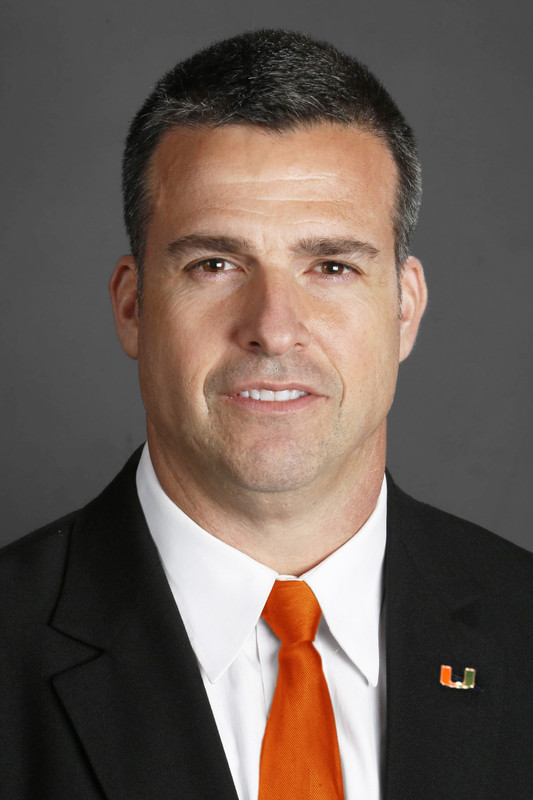 Mario Cristobal has returned home to Miami.
Cristobal, who helped lead the University of Miami to two national championships in 1989 and 1991 as a standout offensive lineman, was named the University's 26th football head coach on December 6, 2021.
One of college football's most highly regarded coaches, Cristobal returned to his alma mater after leading the University of Oregon to three straight Pac-12 Conference championship game appearances and two Pac-12 titles. He is the only coach in the nation whose team has played in a Power Five conference championship game in each of the past three seasons.
"We are incredibly excited to welcome Mario, his wife, Jessica, and their sons Mario Mateo and Rocco home to Miami," UM President Julio Frenk said. "Mario's legacy as a student-athlete at the U is well established. And the standard for competitive excellence that he and his teammates helped establish is one to which we continue to aspire. Our selection, however, was not one based in nostalgia for a proud past, but rather in a bold vision for a promising future.
"The characteristics that helped Mario excel as a national championship-winning player—drive, determination, and discipline—continue to propel his success as a coach. In Mario we have found a head coach who shares our belief in providing student-athletes with the very best opportunities to succeed on and off the field, and our commitment to winning at the highest level."
"My family and I are excited to return home to the University of Miami, which has been so instrumental in shaping me as a person, player, and coach," Cristobal said. "This program has an unparalleled tradition and an exciting future ahead of it. I can't wait to compete for championships and help mold our student-athletes into leaders on and off the field who will make our University, our community, and our loyal fan base proud."
Cristobal brings more than 20 years of FBS coaching experience to Coral Gables, including 10 as a head coach. He compiled a 35-13 record at Oregon, leading the Ducks to consecutive Pac-12 titles in 2019 and 2020. Oregon advanced to three straight conference championship games from 2019 to 2021 and earned bowl-game appearances in each of Cristobal's seasons in Eugene, highlighted by a Rose Bowl victory that capped a 12-win season and No. 5 ranking in the final Associated Press and AFCA Coaches polls in 2019. Cristobal was named the Associated Press Pac-12 Coach of the Year for his efforts that season.
Over Cristobal's first three seasons in Eugene, Oregon players earned 44 all-conference selections and 14 players were selected in the NFL Draft, including first-round selections in each of the past three drafts. With the selections of Kayvon Thibodeaux (2022), Penei Sewell (2021) and Justin Herbert (2020), Cristobal is one of only two active head coaches to produce top-10 picks in each of the last three drafts.
During his tenure as both an assistant and head coach at Oregon, two players—Noah Sewell and Thibodeaux—earned Pac-12 Defensive Freshman of the Year honors, and three players—Thibodeaux, Penei Sewell, and Tyrell Crosby—earned the Morris Trophy, awarded to the Pac-12's best offensive and defensive linemen. Cristobal served as Oregon's co-offensive coordinator, run-game coordinator, and offensive line coach during the 2017 season before being elevated to head coach.
Cristobal's national title-winning pedigree isn't limited to his time as a player. At Alabama, where he served as assistant head coach, offensive line coach, and recruiting coordinator, he helped lead the Crimson Tide to the national championship in 2015 and a runner-up finish the following season.
During his four years in Tuscaloosa, from 2013 to 2016, five Alabama offensive linemen were selected in the NFL Draft and, with Cristobal's tutelage, the 2015 offensive line unit won the inaugural Joe Moore Award, given to the most outstanding offensive line unit in the nation.
Considered one of the country's elite recruiters and evaluators of talent, Cristobal, during his tenures at both Alabama and Oregon, helped assemble national top-15 recruiting classes eight straight years, with seven of those classes rated in the top 10. The 2018 class at Alabama produced three NFL first-round draft picks. At Oregon, he constructed the Pac-12's top-rated recruiting classes in 2019, 2020, and 2021.
Cristobal's move to Miami brings his coaching career full circle. A son of South Florida who played prep football at nearby Christopher Columbus High School, he launched his coaching career as a graduate assistant coach at Miami from 1998 to 2000 under head coach Butch Davis. He served as an assistant coach at Rutgers from 2001 to 2003 and then returned to Miami as an assistant coach from 2004 to 2006 under head coach Larry Coker.
In 2007, Cristobal was named head coach at Florida International University, becoming the first Cuban American head coach in FBS history. He inherited a struggling FIU program that had been winless the year before his arrival and, in just his fourth season, led it to the Sun Belt Conference title and a bowl-game victory. That season, 2010, he was named Sun Belt Coach of the Year. In total, he coached six seasons at FIU, from 2007 to 2012.
Cristobal, who played his Hurricanes career under coaches Jimmy Johnson and Dennis Erickson, was an All-Big East selection in 1992. He is a double-alumnus of the University of Miami, earning a bachelor's degree in business administration and a master's degree from the University. Cristobal was born in Miami on Sept. 24, 1970. He and his wife, Jessica, married in June 2006 and are the parents of two sons, Mario Mateo and Rocco.