Miami Hurricanes Football History
1926-1936
THE BEGINNING
Before competition even took place on a freshman level, plans for a 50,000-seat on-campus stadium were proposed in 1926 by the school's first president, Dr. Bowman Ashe. Work began on a temporary, 8,000-seat structure on campus, but one day later, on September 17, 1926, a hurricane leveled much of South Florida, killing more than 130 people, damaging over 10,000 homes and shelving plans for the stadium.
Due to the storm, classes started late and it wasn't until October 23 that UM played its first game: a 7-0 win over Rollins in front of 304 spectators. The season included two wins over the University of Havana, with a Thanksgiving Day game in Miami and a Christmas Day meeting in Cuba.
The first varsity competition came in 1927 and coach Howard Buck guided the Hurricanes to a 3-6-1 record with a 39-3 win over Rollins in the first game.
Miami first road victory
Burton Rix, who had coached at Texas and Southern Methodist, arrived in time for the 1929 season and Miami's first varsity road games. The team traveled via the city's private car, The Spirit of Miami on the Eastern Seaboard Railroad.
Miami's first intersectional game
An indoor contest against Temple University in Atlantic City, New Jersey. It was Miami's first intersectional game and the UM players presented their opponents with coconuts prior to the contest; in return Temple handed Miami a 34-0 defeat. Also that season, the Hurricanes played one of the nation's first night games on October 31, 1930 game vs. Bowden College in Miami.
Hurricanes First Bowl
UM entered the bowl business, upsetting Manhattan in the Palm Festival on January 1, 1933, at Moore Park in Miami. The next year, UM went 5-0-2 but lost in the Palm Festival to a Duquesne team coached by Elmer Layden (one of the famed Four Horsemen of Notre Dame).
Beginning of the Famed Orange Bowl
UM plays Bucknell on New Year's Day following the 1934 season in the Wooden Bowl. A halftime parade that included an orange-colored bowl was the humble beginning of the famed Orange Bowl extravaganzas produced by Seiler.
1937-1942; 1945-1947
THE JACK HARDING ERA
Jack Harding comes in to serve as both head coach and athletic director in 1937. In nine seasons as head coach (with a two-year break for service in World War II), Harding moves the Hurricanes from the ranks of small time into major college status. In 1937 UM also moved into the Roddy Burdine Municipal Stadium (later renamed the Orange Bowl).
Hurricanes First Win over Gators
Miami wins the first meeting against Florida and that same year captured the Southern Intercollegiate Athletic Association championship for the first time.
Hurricanes during WWII
Eddie Dunn, a running back out of Pittsburgh, starred for the Hurricanes in the late `30s and took over as head coach for two years (1943-44) during World War II. When Harding returned just prior to the 1945 season, it appeared that UM would suffer through another miserable season after going 1-7-1 in 1944.
But enrollment began to swell as hundreds returned from the service. The Canes forged a 9-1-1 record that included one of the most memorable Orange Bowl games in history. On January 1, 1946, UM and Holy Cross had battled to a 6-6 tie with just a few seconds remaining. Crusader quarterback Gene DeFilippo threw a desperation pass that went in and out of the arms of an open receiver and wound up in the hands of the Hurricanes' Al Hudson. A former Miami Edison High track star, Hudson juggled the ball and sprinted 89 yards for the winning score as time ran out.
The First Hero
Eddie Dunn, a running back who served as captain of the 1938 team, is generally considered the Hurricanes' first football hero. He set several game, single-season and career records for rushing, scoring and punt returns. He became interim head coach and athletic director when Jack Harding was called to serve in World War II in 1943 and 1944.
1948-1963
THE ANDY GUSTAFSON ERA
In 16 seasons, Andy Gustafson's teams went to four bowls and appeared on national television nine times. He developed the "Miami Drive Series", a form of the belly option generally considered the forerunner of the wishbone and coached Al Carapella as UM's first major college All-American (1950). Gustafson's 1950 squad went 9-1-1, defeated Purdue one week after the Boilermakers had broken Notre Dame's unbeaten streak at 39 games and earned an Orange Bowl bid against Clemson.
UM's First Top 10 Ranking
A No. 9 ranking by both UP and INS in 1954 marked UM's first Top 10 ranking at the end of the season. In 1956, on the strength of an 8-1-1 mark, the Hurricanes finished sixth in all three wire service polls.
Hurricanes and Integration
UM breaks a Southern tradition by playing against African-American players in a 14-6 defeat of Iowa in the Orange Bowl. In the late 1950s, UM had won a battle with the city to open seating to African-Americans in the entire Orange Bowl, and on January 31, 1961, the UM trustees voted unanimously to open the door to all students.
First African-American Hurricanes
In December 1966, the University of Miami signed an African-American athlete, Ray Bellamy, a 6-5, 210-pound wide receiver from Palmetto, Florida, who chose Miami over Florida State, Florida A&M and a number of major colleges in the Midwest. Miami became the second major college in the South with an African-American football player on scholarship, and Bellamy became a standout both on and off the football field. Tom Sullivan, a tailback from Jacksonville, became the second African-American signee in 1968 and was followed one year later by future pro stars Burgess Owens and Chuck Foreman.
1964-1969
THE CHARLIE TATE ERA
Charlie Tate was tabbed as head man in early 1964 and after two years at .500 under Tate, another star emerged to lead UM to back-to-back bowl games.
Hendricks Emerges
Born in Guatemala and raised in South Florida, Ted Hendricks, nicknamed "The Mad Stork," became one of the most feared pass rushers in college football. He became the school's first and only three-time All-American (1966, 1967 and 1968).
1970-1978
HURRICANES FIND THEIR WAY
Five different coaches guided UM from 1970-78, with Walk Kichefski (1970), Fran Curci (1971-72), Pete Elliot (1973-74), Carl Selmer (1975-76) and Lou Saban (1977-78) combining to go 37-61 in nine seasons. Elliott had the most success of the group, going 5-6 in '73 and 6-5 in '74. During the 1974 season — one of only two winning seasons for UM in the `70's — the `Canes won road contests at No. 19 Houston and West Virginia, in addition to picking up home victories over Virginia Tech and Syracuse. UM's other winning season of the `70's came in 1978 when Saban guided UM to 6-5 campaign with road wins at Kansas, at No. 19 Auburn and at Florida to close out the season. The bad times were eased some when Miami pulled a stunning 14-13 upset of Florida in Gainesville.
Fifth Down Play
After three games in 1972, the Hurricanes were winless and playing at home against Tulane when a fifth down play gave Miami a 24-21 win. The Hurricanes had started with a first-and-10 from Tulane's 12-yard line late in the game. After four plays (plus a nullified penalty down), Miami was exiting the field, still trailing 21-17. But the officials called the UM offense back onto the field for another down, which resulted in a 32-yard touchdown pass from quarterback Ed Carney to split end Witt Beckman.
1979-1983
THE HOWARD SCHNELLENBERGER ERA
In January 1979, UM hired Dolphins offensive coordinator Howard Schnellenberger as its eighth head coach since 1963. Schnellenberger installed a pro-style passing attack, and in his first year at the helm UM became known as the "Jet-Lag Kids." The team traveled more than 28,000 miles in 1979, an NCAA record, including trips to the Japan Bowl, San Diego State, Penn State and Syracuse, posting a 5-6 record.
Turning Point under Schnellenberger
A year later, Schnellenberger's Hurricanes went 8-3 and were invited to the Peach Bowl. They posted a 20-10 victory over Virginia Tech to finish 9-3 for the season. That game is cited by many as the turning point in the UM football program. UM went 9-2 in 1981 and 7-4 in 1982, both respectable seasons. Still, nobody knew what was coming next. By Schnellenberger's fifth and last season of 1983, UM had traveled even further – to the national championship of college football. Behind the passing wizardry of freshman quarterback Bernie Kosar, the Hurricanes upset Nebraska 31-30 in the 50th Orange Bowl Classic to cap a storybook 11-1 season and a No. 1 spot in both wire-service polls.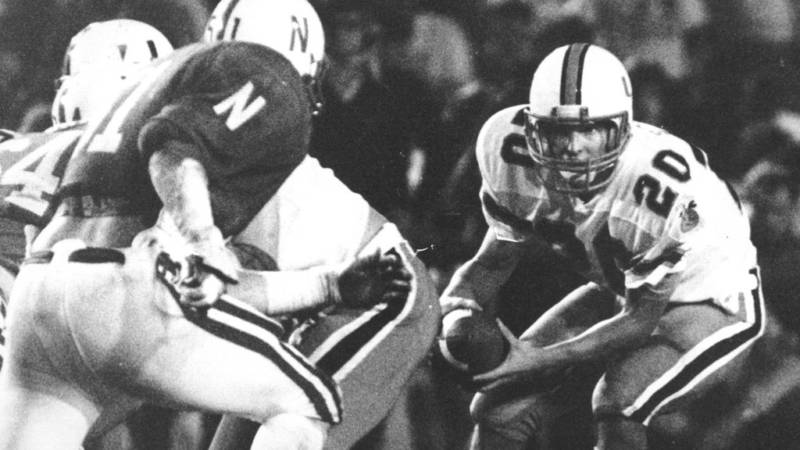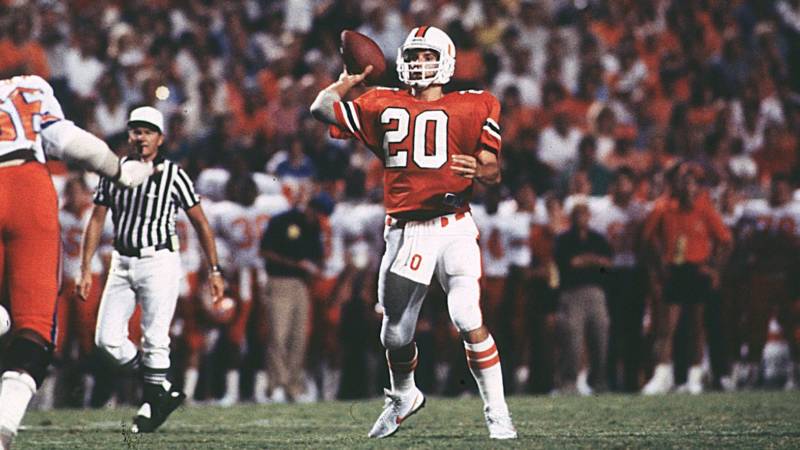 In May 1984, UM athletic director Sam Jankovich plucked Jimmy Johnson away from Oklahoma State. Johnson's first campaign resulted in an 8-5 record, including the "Hail Flutie" loss to Boston College and an appearance in the Fiesta Bowl.
1984-1988
THE JIMMY JOHNSON ERA
In May 1984, UM athletic director Sam Jankovich plucked Jimmy Johnson away from Oklahoma State. Johnson's first campaign resulted in an 8-5 record, including the "Hail Flutie" loss to Boston College and an appearance in the Fiesta Bowl.

First Heisman Winner Testaverde Leads UM
In 1986, the 60th year of UM's varsity football history, the Hurricanes fielded what many consider to be one of the best college football teams ever. Led by Miami's first Heisman Trophy winner – Vinny Testaverde – the Hurricanes swept through the regular season with a perfect 11-0 mark. Miami held down the No. 1 national ranking for 15 weeks in the fall of `86 on the strength of a record-breaking offense and the nation's No. 5 ranked defense, a unit that featured first-team All-Americans Jerome Brown and Bennie Blades.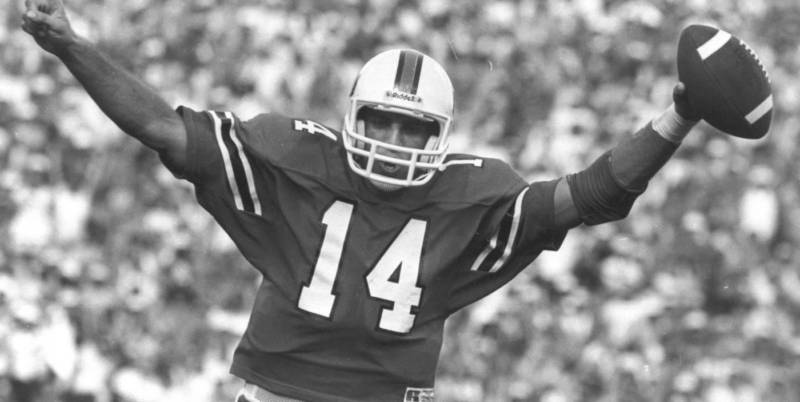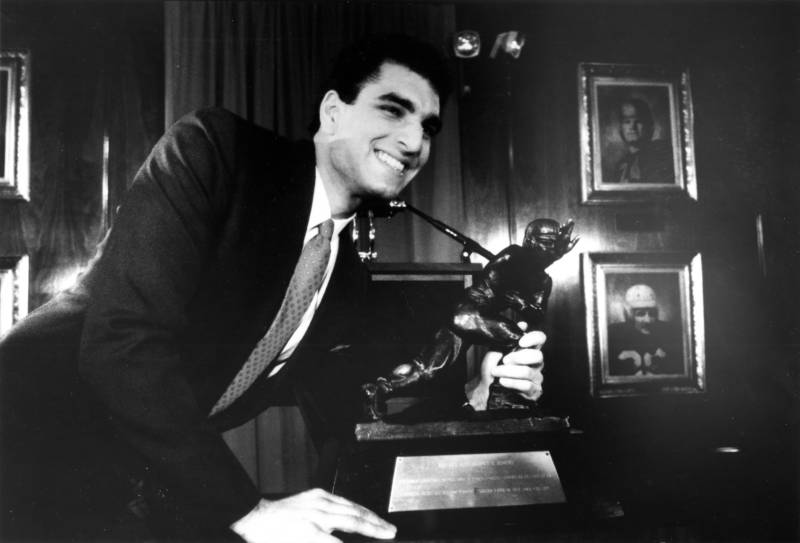 Three Hurricanes taken in first nine picks
The Hurricanes of 1986 appeared on network TV in eight of its 12 games, and in the spring of 1987, three Hurricanes (Testaverde, Alonzo Highsmith and Eddie Brown) were selected in the first nine picks of the National Football League draft.
Second Title in 1987
The Hurricanes firmly established themselves as the Team of the 1980s in 1987 by winning the school's second national championship in five years. The season was highlighted by "The Game of the Year," as it was later called, on October 3 in Tallahassee, as No. 3 Miami faced No. 4 Florida State on national television (CBS). Miami overcame a 19-3 deficit behind three Steve Walsh touchdown passes and Bubba McDowell knocked down an FSU two-point conversion attempt to preserve a 26-25 Hurricanes victory.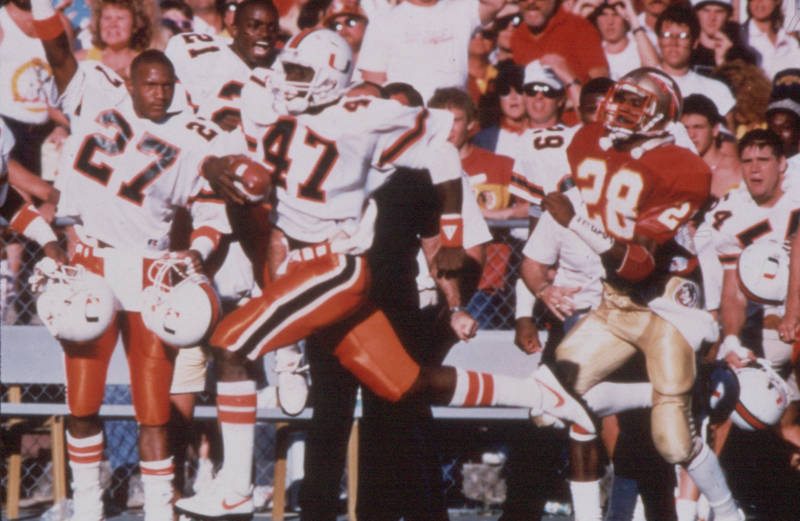 The First Unbeaten Set of Canes
In the 1988 Orange Bowl, Miami, for the third consecutive season dealt the powerful Sooners their only defeat of the year, 20-14. Miami completed a 12-0 season, the first undefeated record by a UM varsity team.
Blades and Stubbs Shine
At season's end, safety Bennie Blades, Miami's all-time interceptions leader, was named consensus All-American for the second straight year and in January 1988 he was named co-recipient of the Jim Thorpe Award, which honors the nation's finest defensive back. Defensive end Daniel Stubbs, Miami's all-time sack leader, also closed out his memorable career as a consensus All-American and finished as a finalist for the Outland Trophy.
First Trip to the White House
On January 29, 1988, the Hurricane players and coaches were honored guests of President Ronald Reagan at the White House, a first for any collegiate athletic team in the state of Florida.
1989-1994
THE DENNIS ERICKSON ERA
Dennis Erickson of Washington State was named UM's 18th head coach on March 5, 1989. Erickson earned the distinction of being only the second Division I head coach to win a national title in his first season at a school, leading the Hurricanes to an 11-1 record and the school's third national championship in seven seasons. Truly the "Team of the `80s", Miami stormed to the crown with a 33-25 win over Alabama in the Sugar Bowl. Quarterback Craig Erickson won Sugar Bowl MVP honors.
The 1990 edition of the Hurricanes went on to set school records in total offense (482.9 yards per game) and in passing yardage (324.8 ypg). A powerful defensive unit anchored by All-Americans Russell Maryland (who went on to become the Hurricanes' first Outland Trophy winner and was the first overall pick in the NFL draft) and Maurice Crum (a Butkus Award finalist) allowed just 79.7 yards per game rushing. Miami finished the season with a 10-2 record and a 46-3 victory over Texas in the Mobil Cotton Bowl (UM's eighth straight New Year's Day Bowl). With its No. 3 final ranking, it became only the second team in college football history to finish No. 1, 2 or 3 for five straight seasons.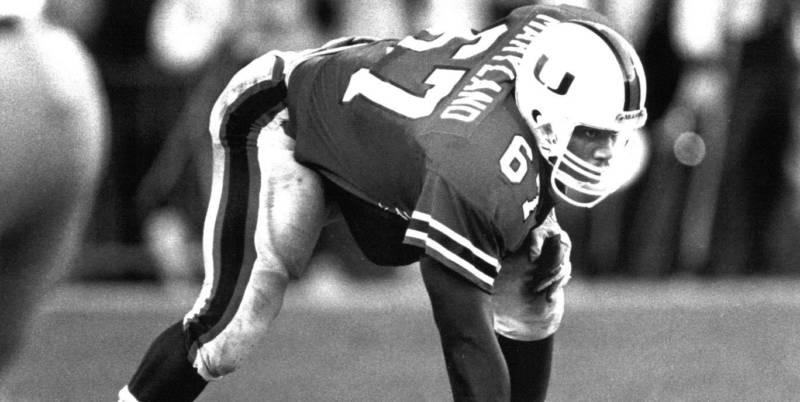 UM Joins BIG EAST Conference
Following the 1990 season, Miami officially became a charter member of the BIG?EAST Football Conference, joining Boston College, Syracuse, Pittsburgh, Rutgers, Temple, Virginia Tech and West Virginia.
Undefeated Again
In 1991, Miami went 12-0 for only the second time in its history, winning the Associated Press National Championship, while Washington, which also finished 12-0, was voted National Champion by CNN/USA Today (coaches). It was the second title in Dennis Erickson's three years (a feat matched by only one other coach), the third for the school in five years, and fourth in nine.
58 in a Row
Miami opened the 1994 campaign by etching its name atop an NCAA record that may never fall. With a 56-0 victory over Georgia Southern, the Hurricanes recorded their 58th consecutive victory in the Orange Bowl, a streak that began in 1985. After posting a road victory at Arizona State, the Canes returned home to face another Pac-10 foe, Washington. The Huskies capitalized on a series of UM miscues early in the third quarter to produce 22 points, and the Miami home win streak ended with a 38-20 defeat.
Huerta's Record
Kicker Carlos Huerta set an NCAA record with 157 consecutive extra points and set or tied 13 Miami records. He finished with 397 career points, third on the NCAA career list, and was one of five UM first-team All-Americans, joining defensive back Darryl Williams, offensive lineman Leon Searcy, linebacker Darrin Smith and receiver/kick returner Kevin Williams.
White House Again
The season ended with a third visit to the White House in five years, this time to see President George H.W. Bush, following a convincing 22-0 win over Nebraska in the Federal Express Orange Bowl.
NCAA Record Set
A 41-17 defeat of Memphis State in the 1993 season finale gave the Canes their 57th consecutive home victory, tying the NCAA record set by Alabama, and sent a senior class to graduation without a loss in the Orange Bowl during their careers.
The Sapp
Defensive tackle Warren Sapp etched his name among the great defensive linemen in UM history as he was named a consensus All-American and Miami's first Lombardi Award winner in 1994.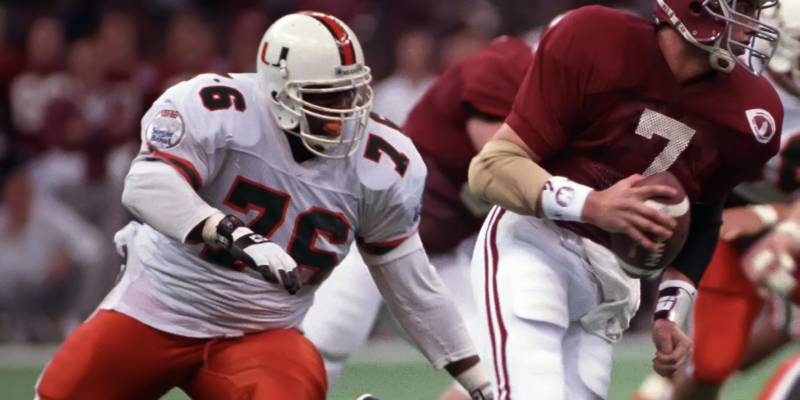 Hurricane Andrew Strikes
The 1992 season saw the Hurricanes face a level of adversity previously unimagined. Just prior to the season, on August 24, South Florida was devastated by Hurricane Andrew causing Erickson, five other coaches and several staff and players' families to move out of their severely damaged homes. The Miami football team was forced to move nearly 200 miles north to Dodgertown in Vero Beach to complete preseason drills before playing the season opener.
The 24-7 road victory at Iowa was the first positive symbol for a ravaged Miami community. Head coach Dennis Erickson was named the BIG EAST Coach of the Year, while quarterback Gino Torretta earned college football's highest individual honor, becoming Miami's second Heisman Trophy winner. Torretta became the most honored college player in history and was joined by linebackers Micheal Barrow and Darrin Smith and cornerback Ryan McNeil as first-team All-Americans.
Double Fumblerooskis
The opponent in UM's first two national championship games at the Orange Bowl Classic successfully pulled off a "fumblerooski" trick play. In 1984, Nebraska quarterback Turner Gill purposely fumbled and guard Dean Steinkuhler picked up the ball and rumbled 19 yards for its first touchdown in the Hurricanes' 31-30 victory. In 1988, Oklahoma quarterback Charles Thompson deliberately fumbled and guard Mark Huston rambled 29 yards for a touchdown. But it wasn't enough as Miami won 20-14.
1995-2000
THE BUTCH DAVIS ERA
Former UM assistant Butch Davis returned to Coral Gables following six seasons as an assistant coach with the Dallas Cowboys in January of 1995. By mid-October, Miami found itself with a 1-3 record, including a 0-1 mark in conference play, Miami regrouped and reeled off seven straight wins to finish the season with an 8-3 record. Junior middle linebacker Ray Lewis finished second in the balloting for the 1995 Butkus Award and was honored as a first-team All-American by the Associated Press.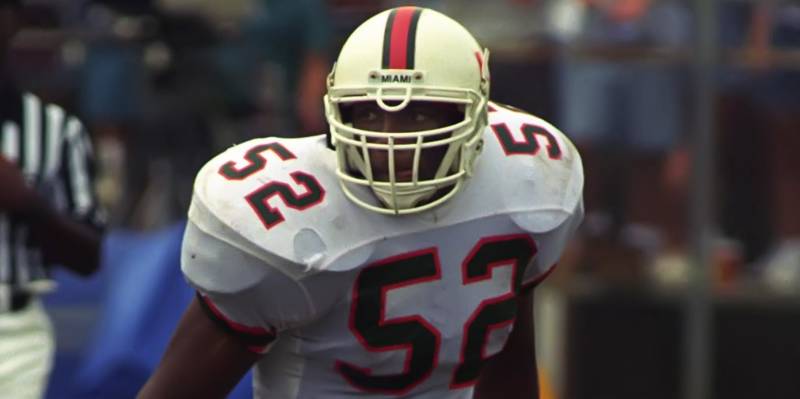 3 for 300
The 1997 Hurricanes became the first team in the history of the program to put together three consecutive games of rushing for more than 300 yards. Miami accomplished the feat in wins over Boston College, Temple, and Arkansas State. In the thrilling, double-overtime victory over BC, running back Edgerrin James set what was then a Big East and University of Miami single-game rushing record with 271 yards in the 45-44 win.
Back to the Top
In 1998, the Hurricanes began their ascent back to the top of college football. A team that featured 71 sophomores and freshmen battled to a Big East Conference title showdown with Syracuse in the conference finale. Miami rebounded from a bitter defeat at Syracuse to ruin UCLA's national title hopes in the regular-season finale. In a game that was originally scheduled to be played in the Orange Bowl on September 26 but was rescheduled for December 5 as Hurricane Georges set its sights on South Florida, Miami hosted the third-ranked Bruins and their 20-game winning streak. When Cade McNown's "Hail Mary" pass fell through the back of the end zone as time expired, fans stormed the Orange Bowl field to celebrate UM's dramatic 49-45 victory. The Hurricanes had sent notice to the college football world that the program was headed back in the right direction. Miami finished 1998 with a 9-3 mark and a No. 20 final ranking following a 46-23 dismantling of NC State in the Micron PC Bowl at nearby Pro Player Stadium.
Back on Top
The 2000 Hurricanes tallied big victories over top-ranked Florida State and No. 2-ranked Virginia Tech on their way to being acknowledged nationally as college football's hottest team at season's end, but were not given a chance to play for the national championship. UM laid an impressive 37-20 win on Florida in the Nokia Sugar Bowl to make a case for a fifth championship and setting the stage for another title run in 2001.
BC Comeback
The Hurricanes produced the largest comeback in UM history at Boston College in 1999, erasing a 28-0 third quarter deficit to win, 31-28. That win provided UM with momentum as the Canes would win seven of their final eight games, the only loss coming to No. 2 Virginia Tech.
2001-2006
THE LARRY COKER ERA
Larry Coker was named as UM's 19th head football coach on February 3, 2001. The 2001 season started with Coker facing coaching legend Joe Paterno and the Penn State Nittany Lions. A crowd of 109,313 — the largest ever for a Miami game — watched the Hurricanes open the season with a resounding statement. Miami raced to a 30-0 halftime lead on the way to a 33-7 victory before a national television audience. Quarterback Ken Dorsey orchestrated a 344-yard passing performance and the Hurricanes were stifling on defense in the victory.
"Break History and Make History"
The Seminoles were riding a 54-game home unbeaten streak (37 straight wins), and had not lost on their home turf since a UM victory in 1991. Miami's mission to "Break History and Make History" was accomplished in spectacular fashion with a 49-27 defeat of the Seminoles. Another national television audience watched the Hurricanes' defense cause six FSU turnovers. Miami scored via offense, defense and special teams en route to one of its largest points-total ever against the Seminoles, a victory that returned UM to the top of the rankings.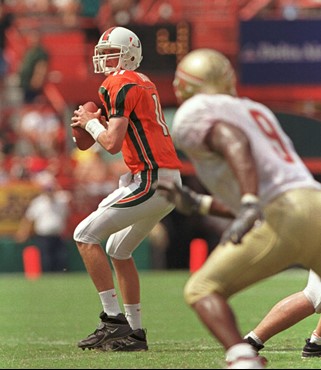 No. 5 Takes the Rose
The Rose Bowl game hosted the Bowl Championship Series (BCS) title game for the first time, the first time in 56 years that teams from conferences other than the Pacific Ten Conference and the Big Ten Conference were competing in the game. Miami left little doubt about which team was college football's best, racing to a 34-0 halftime lead behind a huge first half performance by game co-MVPs Dorsey and Andre Johnson. Dorsey and Johnson connected for two touchdowns and 199 yards in the game with Dorsey throwing for a career-best 362 yards. Portis added another score on a brilliant 39-yard touchdown run and the Hurricanes were able to enjoy the second half of their national title victory. Miami's fifth national title team in 19 years ranked among its most dominating, setting a school and Big East record with 475 points in the regular season. Miami's 37-point outburst in the Rose Bowl gave the team 512 points overall. In Big East games, the 2001 Hurricanes scored 290 points, second to 2000's 310. During the 2001 regular season, UM outscored its opponents by an average margin of 43.2 to 9.4. The total included a 239-33 (21.7-3.0) advantage in the first half and 236-70 (21.5-6.36) mark in the second half.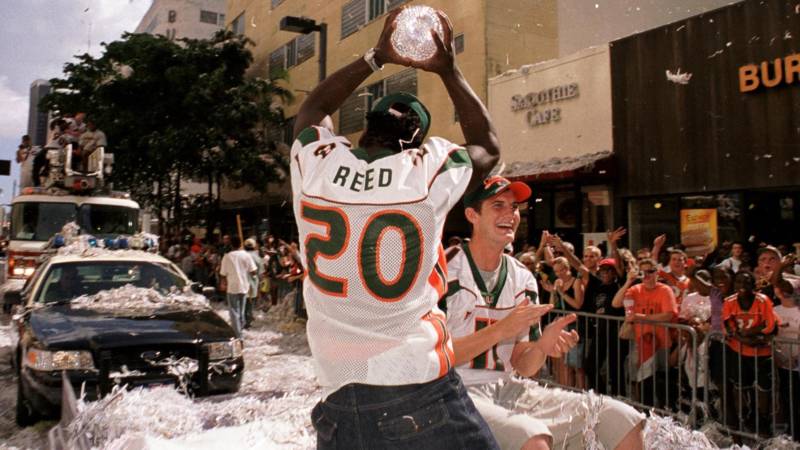 Coker Makes History
Coker became the first rookie head coach to lead his team to a national title since 1948. He earned two national Coach of the Year honors, winning the "Bear" Bryant Award from the National Sportswriters and Sportscasters Association, and sharing the American Football Coaches' Association honor with Maryland's Ralph Friedgen.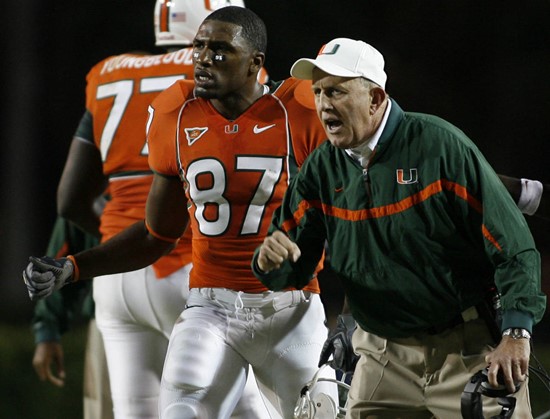 Lopsided Win in the Swamp
The first regular-season meeting between UM and UF in 16 years was a matchup of a pair of teams ranked in the nation's top 10 in 2002. The top-ranked Hurricanes dominated the sixth-ranked Gators with an impressive show of offensive versatility and defensive force in a stunningly easy 41-16 victory. The outcome was the most lopsided UF home loss in more than 20 years. Quarterback Ken Dorsey threw for four touchdowns, tailback Willis McGahee rushed for 204 yards and the Miami defense created three turnovers.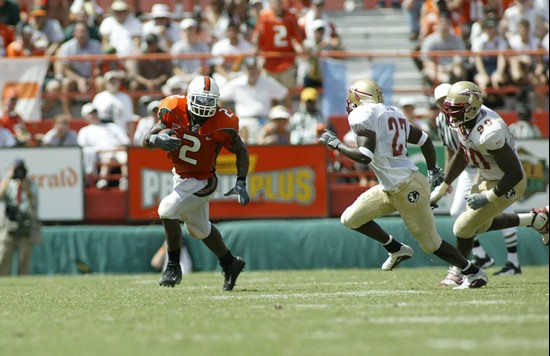 Just Shy of No. 6
The Hurricanes had earned a shot at their sixth national title with a berth in the 2003 Tostitos Fiesta Bowl where they would face Ohio State in Tempe, Ariz., and the matchup provided one of college football's most dramatic games. Miami overcame a 17-7 second-half deficit to tie the game when Todd Sievers nailed a 40-yard field goal as time expired. Miami took the lead 24-17 in the first overtime when Dorsey connected with tight end Kellen Winslow for a score. Ohio State responded with a touchdown to send it to a second overtime, a score made possible by a controversial pass interference call in the end zone on a fourth-down play that kept the Buckeyes' drive alive. OSU took a 31-24 lead, a lead they held when Miami's final possession ended on an incompletion from the two-yard line on fourth down.
Rally against the Gators
Miami opened with Florida in 2004 and fell behind the Gators 33-10 midway through the third quarter. A packed house at the Orange Bowl was in disbelief but the Hurricanes rallied behind the hot hand of quarterback Brock Berlin who compiled one of the most amazing performances in Miami history in the second half. Berlin led Miami to a 38-33 comeback win by completing 19 of his final 21 passes over the game's final 21 minutes, leading four touchdown drives and taking the Hurricanes to the winning score with just over a minute remaining.
Miami closed its season in the FedEx Orange Bowl against rival Florida State. The unusual rematch played out much like the first meeting after Miami fell behind early. After trailing 14-3 early in the second quarter, Miami physically took over the game with its running game to mount a comeback. Jarrett Payton rushed for 131 yards on 22 carries to earn game Most Valuable Player honors. His 46-yard run set up Miami's first touchdown. Jon Peattie nailed three field goals and Miami's defense held FSU to 206 total yards while limiting Chris Rix to 6-of-19 passing for only 96 yards. A missed FSU field goal attempt in the fourth period continued Miami's roll in the series, as the Hurricanes ended 2003 with a five-game win streak over their rivals from Tallahassee.
Eight Hurricanes earned first-team All-Big East honors in 2003, led by Conference Defensive Player of the Year Sean Taylor. Taylor and tight end Kellen Winslow were consensus first-team All-Americans while linebacker Jonathan Vilma was mentioned on several All-America squads and was a finalist for the Butkus Award. Winslow continued Miami's string of award winners as he was named winner of the John Mackey Award as college football's top tight end.
Hurricanes Join the ACC
After having six players selected in the first round of the NFL draft in April, the most ever of any college, the Hurricanes embarked on their first season as members of the Atlantic Coast Conference. UM played on Labor Day night against Florida State in the Orange Bowl in front of a nationally televised ABC audience. However, the arrival of another Hurricane — this one called Hurricane Francis — closed down the campus and delayed the game four days. On September 10, a Friday night, the Hurricanes hosted the Seminoles and were trailing 10-3 in the fourth quarter. With 4:09 remaining, the Seminoles attempted a 34-yard field goal that would have iced the victory. But Devin Hester blocked the kick, giving the Hurricanes a chance. Not long after, Brock Berlin led Miami on an 80-yard drive, throwing a 30-yard touchdown pass to Sinorice Moss with 30 seconds remaining. The game went into overtime and Miami's momentum held. The Hurricanes forced a fumble on Florida State's first possession, and two plays later Frank Gore scored on an 18-yard run for a 16-10 victory.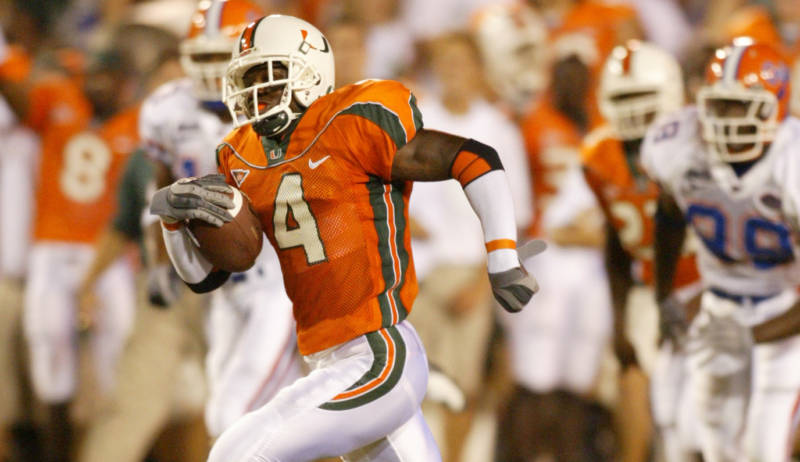 2007-2010
THE RANDY SHANNON ERA
The Randy Shannon era began on Sept. 1, 2007, with the Hurricanes knocking off Marshall, 31-3, to jumpstart a 2007 season that was a building year for the mighty Hurricanes. One of the two highlight games of the 2007 season occurred on a Thursday night at the Orange Bowl, as a stifling Miami defense wreaked havoc on Texas A&M's triple-option attack, limiting one the nation's top rushing teams to less than 100 yards on the ground. The Hurricanes' offense moved through the air and on the ground as Miami won, 34-17.
Miami had a thrilling 37-29 win at in-state rival Florida State. The Hurricanes showed the ability to rally late — using a late touchdown pass in the closing minutes and a fumble return to seal the win. UM closed the Orange Bowl with a loss to Virginia.
In his second season, Shannon guided the Hurricanes to the program's 34th bowl appearance as UM played California in the 2008 Emerald Bowl. Miami also made Dolphin Stadium its new home when it opened up the season with a 52-7 win over Charleston Southern. UM went on to win seven games in 2008, which included a five-game win streak (UCF, Duke, Wake Forest, Virginia and Virginia Tech). Freshman linebacker Sean Spence was named ACC Defensive Rookie of the Year. Kicker/punter Matt Bosher was given the Jack Harding MVP Award and was a semifinalist for the Lou Groza Award.
Shannon's process of bringing Miami back to the top continued in 2009 as the Hurricanes went 9-4 – the most wins since the 2005 season. The Hurricanes impressed many by going 3-1 during a daunting opening four-game stretch which included wins over three Top 25 teams. UM knocked off No. 18 Florida State, 38-34, in an ESPN classic in Tallahassee. The `Canes followed that up with a 33-17 win over eventual ACC champion Georgia Tech at home. One of the brightest moments of the season was when a raucous crowd at Land Shark Stadium wtinessed the Hurricanes knock of No. 8 Oklahoma, 21-20. Miami went on to finish 6-2 the rest of the way and made its 35th Bowl appearance at the Champs Sports Bowl against Wisconsin.
Several Hurricanes were honored as sophomore defensive back Brandon Harris earned All-America honors. Four `Canes – Allen Bailey, Jason Fox, Brandon Harris, Natt Bosher – earned first team All-ACC honors and another two – linebackers Colin McCarthy and Darryl Sharpton were second team selections.
Postseason under Shannon
Miami's hiatus from postseason was shortlived as Randy Shannon's first bowl appearance as a head coach came true in 2008 after a one-year hiatus in 2007. The Hurricanes used a a gutsy come-from-behind performace led by freshman quarterback Jacory Harris to knock off Virginia in overtime giving UM its sixth win of the season. Miami became bowl eligible with a Thursday night win over Virginia Tech. Miami went on to take on California in the 2008 Emerald Bowl.
In 2009, Shannon led his team back to postseason play as the Hurricanes made an appearance in the Champs Sports Bowl where they faced Wisconsin.
In 2010, the Canes again saw themselves reach postseason play in a rebirth of the 1980s "Catholics vs. Convicts" rivalry between UM and Notre Dame in the Sun Bowl. Miami lost the contest 33-17.
2010-2015
THE AL GOLDEN ERA
Al Golden was named the University of Miami's 22nd head football coach in December 2010. From 2010 to 2011, the Canes improved 19-plus spots among the nation's FBS schools in turnover margin (+19), fewest penalties per game (+63) and fewest yards penalized per game (+85). The Miami defense finished the season ranked No. 21 in the nation in scoring defense and tied for ninth in red zone defense. In his second season at the helm, Golden led the Hurricanes, which were picked to finish fifth in the ACC Coastal Division, to a 7-5 record and a 5-3 league mark, earning a share of the 2012 ACC Coastal Division title.
Golden led the Hurricanes to a 9-4 record in 2013 and a berth in the Russell Athletic Bowl in Orlando – Miami's first bowl appearance since 2010. The 2013 season began with a 7-0 start, including a win over No. 12 Florida as the Hurricanes jumped as high as No. 7 in the BCS rankings. . The 2014 campaign saw the emergence of true freshman quarterback Brad Kaaya. In his rookie campaign with the Hurricanes, Kaaya broke several Miami rookie records, including the school standard for passing yards and touchdowns. Kaaya closed the year with 3,198 yards passing, 26 touchdowns and just 12 interceptions en route to being named ACC Rookie of the Year and received Freshman All-America honors. He became just the third Miami signal-caller to surpass 3,000 yards passing in a single season since 2003.
The start of the 2015 season opened on a high note for the Hurricanes as they posted a 3-0 record for the 17th time in the previous 60 years. Miami would then go on to drop three of its next four games and fell to 4-3 on the year, which led to the dismissal of Golden.
Assistant coach Larry Scott took over head coaching duties on Oct. 25 and would go on to lead the Canes to a 4-1 record over the final five games of the season and helped Miami to an appearance in the Hyundai Sun Bowl.Following the year, defensive backs Artie Burns (Pittsburgh Steelers) and Deon Bush (Chicago Bears) were picked in the first and fourth rounds of the draft.
2016 – 2018
THE MARK RICHT ERA
A new era in Miami Hurricanes football began on Dec. 4, 2015 as Director of Athletics Blake James named Mark Richt as the 24th head coach in program history. Richt, a 1982 Miami alum, returned home to South Florida following a 15-year career at Georgia where he compiled a 145-51 overall record and an 85-40 mark in Southeastern Conference play. In his first season at Miami, Richt guided the Hurricanes to an impressive 9-4 record. Miami finished tied for second in the ACC Coastal, won its final five games and won its first bowl game in 10 years, defeating West Virginia 31-14 in the Russell Athletic Bowl in Orlando, Fla. The Hurricanes finished 20th in the final AP Top 25 rankings and 23rd in the final Amway Coaches Poll, their first season-ending rankings since 2009.
Nine Hurricanes were selected in the 2017 NFL Draft, the most since 2006, including first-round selection David Njoku to the Browns. Richt helped the Hurricanes improve upon his debut season and then some in 2017 – a year where Miami's "turnover chain" took over college football.
The Hurricanes won 10 games in 2017, climbing as high as second in the College Football Playoff rankings. Miami captured the Atlantic Coast Conference's Coastal Division for the first time in its history and earned an invitation to the Capital One Orange Bowl for the first time in 13 years. Richt won 2017 ACC Coach of the Year honors and was also named the 2017 Walter Camp Coach of the Year. The Hurricanes, who won 10 straight games to open the season, extended their winning streak to 15 straight games dating to 2016 – their longest since 2002.
The Hurricanes ranked first in team sacks per game (3.38), and ranked third the nation in turnovers forced in 2017 (31). Junior quarterback Malik Rosier accounted for 31 total touchdowns, breaking Vinny Testaverde's single-season school record, and helping Miami rank 15th in the nation in red zone offense (90.7 percent). Overall, 10 Hurricanes earned All-ACC honors, including kicker Michael Badgley, who was named first-team All-ACC.
Off the field, Richt energized the program, from supporting the fundraising efforts for the Carol Soffer Indoor Practice Facility to launching The U Network, which assists former Hurricanes in networking and career placement after their playing careers have concluded. Miami was one of three schools, along with Stanford and Northwestern, to earn the 2016 American Football Coaches Association (AFCA) Academic Achievement Award. In addition, the Hurricanes ranked first among all FBS programs in 2016 in the NCAA Team Works Helper Helper Community Service Competition.
With Richt's support, the Carol Soffer Indoor Practice Facility opened during training camp of the 2018 season, before a grand opening ceremony in October. Richt retired in December 2018 after leading Miami to an appearance in the 2018 New Era Pinstripe Bowl.
2019 – 2021
THE MANNY DIAZ ERA
Manny Diaz, who has deep roots in the Miami community and catapulted the Hurricane's defense to elite status during his three years as the team's defensive coordinator from 2016-2018 – was announced as the 25th head coach of the University of Miami football program on Dec. 30, 2018.
Diaz coached three seasons for the Canes, compiling a 21-15 record and earning bowl invitations all three seasons. After a 6-7 debut season, Diaz's 2020 team climbed as high as seventh in the nation, eventually finishing with an 8-3 overall record. The Canes went 7-2 in ACC play, placing third behind College Football Playoff participants Notre Dame and Clemson. Miami posted a 7-5 mark in Diaz's final season, winning five of its last six games.
2021 – Present
THE MARIO CRISTOBAL ERA
Mario Cristobal has returned home to Miami.
Cristobal, who helped lead the University of Miami to two national championships in 1989 and 1991 as a standout offensive lineman, was named the University's 26th football head coach on December 6, 2021.
One of college football's most highly regarded coaches, Cristobal returned to his alma mater after leading the University of Oregon to three straight Pac-12 Conference championship game appearances and two Pac-12 titles. He is the only coach in the nation whose team has played in a Power Five conference championship game in each of the past three seasons.
"We are incredibly excited to welcome Mario, his wife, Jessica, and their sons Mario Mateo and Rocco home to Miami," UM President Julio Frenk said. "Mario's legacy as a student-athlete at the U is well established. And the standard for competitive excellence that he and his teammates helped establish is one to which we continue to aspire. Our selection, however, was not one based in nostalgia for a proud past, but rather in a bold vision for a promising future.
"The characteristics that helped Mario excel as a national championship-winning player—drive, determination, and discipline—continue to propel his success as a coach. In Mario we have found a head coach who shares our belief in providing student-athletes with the very best opportunities to succeed on and off the field, and our commitment to winning at the highest level."
"My family and I are excited to return home to the University of Miami, which has been so instrumental in shaping me as a person, player, and coach," Cristobal said. "This program has an unparalleled tradition and an exciting future ahead of it. I can't wait to compete for championships and help mold our student-athletes into leaders on and off the field who will make our University, our community, and our loyal fan base proud."
Cristobal brings more than 20 years of FBS coaching experience to Coral Gables, including 10 as a head coach. He compiled a 35-13 record at Oregon, leading the Ducks to consecutive Pac-12 titles in 2019 and 2020. Oregon advanced to three straight conference championship games from 2019 to 2021 and earned bowl-game appearances in each of Cristobal's seasons in Eugene, highlighted by a Rose Bowl victory that capped a 12-win season and No. 5 ranking in the final Associated Press and AFCA Coaches polls in 2019. Cristobal was named the Associated Press Pac-12 Coach of the Year for his efforts that season.