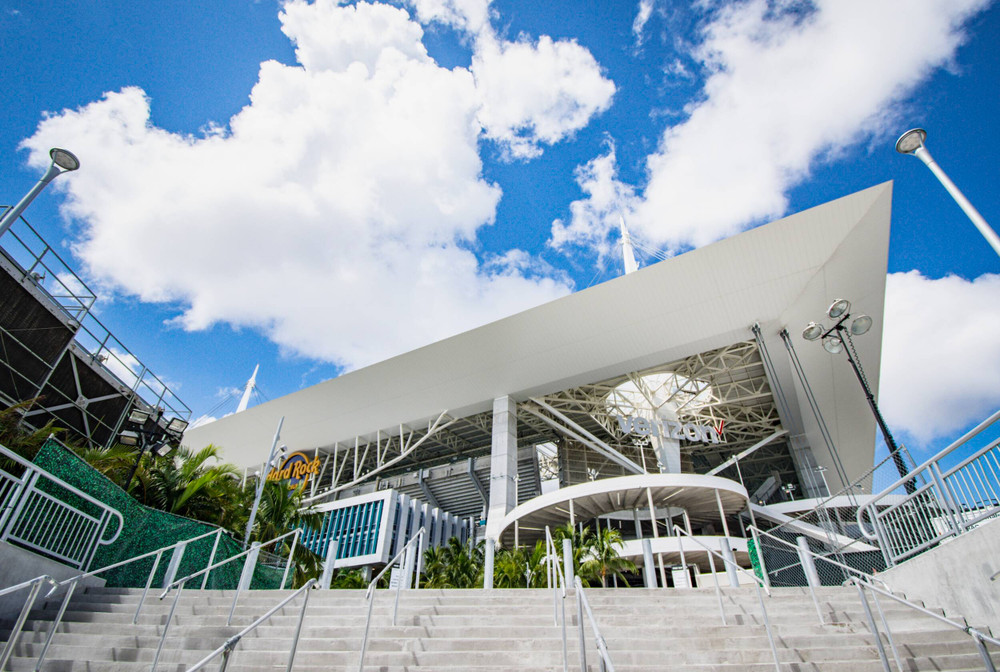 2023 University of Miami Football Media Credential Application:
Single Game Requests Only
Welcome to the University of Miami online media credentialing system. This system is designed to allow you to request credentials efficiently and in a timely manner. Credentials are issued to individuals working on assignment for a legitimate news organization.
To request staff media credentials for 2023 Miami Hurricanes football home games, please complete the appropriate sections and submit online. APPLICATION DOES NOT GUARANTEE ACCESS/CREDENTIAL APPROVAL. Final media policies for the 2023 season will be announced at a later date.
Credential requests should be submitted by the news organization's assigning editor. News agencies requesting multiple credentials must submit a separate application for each individual. If a parking pass is requested, please be sure to include the email address and phone number of the person whom it is for.
Credentials: The organization's "Contact" should be prepared to submit a passport size photo (no larger than 100 dpi–passport size) of each "Attendee" during the online application process to expedite the process of securing your organization's credentials. Those requesting individual game credentials will not need to submit a photo.
Additional Information: Please direct any additional questions to Camron Ghorbi at c.ghorbi@miami.edu.
2023 UNIVERSITY OF MIAMI FOOTBALL CREDENTIAL WAIVER
Please read the following media credential regulations. You must agree to adhere to the football credential waiver in full before submitting your online application.
This Assumption of Risk, Waiver and Release & Acceptance of Conditions is given by the undersigned "you" or "your") in favor of the University of Miami and its trustees, officers, employees, students, agents and representatives (collectively, the "University Parties"), in consideration of you being allowed to view the University of Miami varsity intercollegiate football games during the 2022 season (the "Game") from the field of Hard Rock Stadium in close proximity to the playing field (the "Sidelines").
You agree as follows:
1) You understand that there are significant risks (including, without limitation, risk of injury or death) inherent in watching an event such as the Game from the Sidelines.
2) You acknowledge that you are at least 18 years of age and assume the risk of any accident, injury, illness, death, loss, theft, damage to person or property, or other consequences arising or resulting directly or indirectly from your presence on the Sidelines, including but not limited to claims arising from or related to the University Parties' negligence, in whole or in part, and waive, release, indemnify, and agree to hold harmless and defend the University Parties from, and agree that you, your spouse, assignees, heirs, guardians, and legal representatives will not make a claim against, sue or attach the property of the University Parties for, any loss or damage arising out of or related to your presence on the Sidelines. In assuming the risk, you acknowledged that you are releasing the University Parties from any and all liability arising out of such activities.
3) You will not obstruct the view of various media members, camera equipment and other game personnel who share the Sidelines areas, especially when the flow of the Game is headed in your and their direction. The Sidelines, exclusive of the team bench area are considered a part of the total working press and media area.
4) You will conduct yourself in a manner that exhibits good sportsmanship and refrain from the use of any profanity and yelling at or engaging in any "conversations" with team members, team staff or the game officials.
5) You understand that no food, alcoholic beverages or tobacco products are permitted on the field.
6) You understand that you must stay out of and away from the team bench areas on both Sidelines.
7) You understand that you must remain standing at all times for safety purposes, unless you are credentialed working media photographer shooting from your knees in the photo alleys.
8) You understand and agree that this agreement is to be interpreted as broad and inclusive as is permitted by the laws of the State of Florida, and that if any portion of this Agreement is held invalid, the remaining terms shall continue in full force and effect.
9) The University of Miami reserves the right to restrict access to any media member that it does not deem appropriate to attend events as a credentialed member of the media.
10) Only photographer and videographer credentials will allow for on-field access; no other media credentials will allow for on-field access at any point, including pregame access, access during the final five minutes of the fourth quarter or postgame access.