No. 20 Miami Strikes Down Knights, 14-3
CORAL GABLES, Fla. — After picking up its first weekend sweep over rival Florida State since 2001, Miami had plenty to celebrate.
But on Tuesday night, it was back to business for the Hurricanes.
Miami capped off its perfect homestand with a 14-3 victory over the UCF Knights Tuesday evening at Alex Rodriguez Park at Mark Light Field.
"Just a good complete game," Miami head coach Gino DiMare said. "I was proud to see how our guys played. We got a big lead there and we got a lot of guys in the game."
The Hurricanes (20-9) scored early and often, tallying runs in four of their eight trips to the plate.
Miami mounted a three-run second sparked by a pair of doubles from junior Dominic Pitelli and sophomore Dorian Gonzalez, Jr.
Pitelli padded the Hurricanes' advantage with a two-run blast in the fourth, extending the lead over UCF (17-12) to 5-1.
"I'm trying to be aggressive and not miss my pitch early in the count," Pitelli said. "It's a big confidence booster when you see everyone in the lineup hit like we do."
Two frames later, junior Ian Farrow ripped a bases-clearing triple down the right field line before junior Yohandy Morales plated Farrow with a sacrifice fly.
After the Knights pushed across two in the eighth, Miami responded immediately.
The Hurricanes totaled five runs in the bottom half, highlighted by home runs from sophomore Renzo Gonzalez and freshman Jason Torres.
Miami starter Alejandro Torres (3-0) retired all nine batters he faced, striking out five Knights along the way.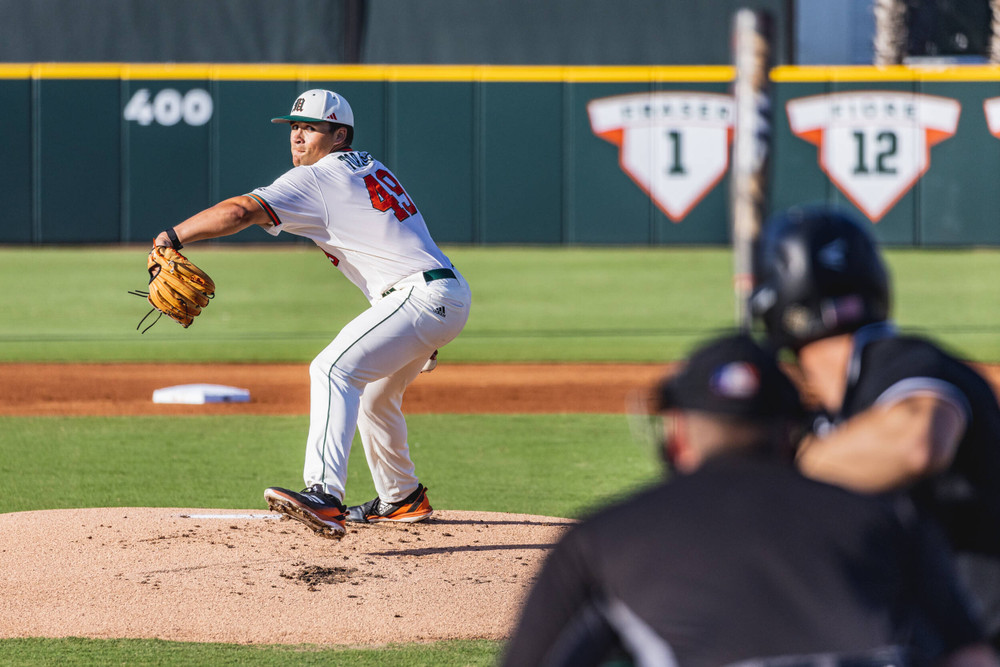 "I felt great out there," Torres said. I just pounded the strike zone and hit my spots. I trusted the pitch-calling from [associate head coach/pitching coach] J.D. Arteaga and I really have to tip my cap to Carlos Perez. He did a heck of job back there framing pitches and stealing strikes for me."
Right-handers Ben Chestnutt and Ronaldo Gallo and southpaws Chris Scinta and Rafe Schlesinger teamed up to pitch the final seven innings, limiting UCF to three runs on five hits.
Following their fifth straight win, the Hurricanes square off with No. 7 Virginia at Davenport Field at Disharoon Park. The three-game set begins at 6 p.m. Friday.
"Every game is the most important game of the year," Pitelli said. "We came in today knowing what we did this weekend, but knowing that we still have to compete and that's what we did today. Now, we're ready for the weekend."
To keep up with the University of Miami baseball team on social media, follow @CanesBaseball on Twitter, Instagram and Facebook.