Morales' Historic Night Leads Hurricanes to Victory in Coral Gables Regional Opener
CORAL GABLES, Fla. — Mark Light Field came alive.
The 2,595 fans rose to their feet and chanted in unison, 'Yoyo. Yoyo.'
They were cheering for Miami third baseman Yohandy Morales, who hit three home runs to propel No. 1 seed Miami to an 11-6 win over fourth-seeded Canisius Golden Griffins in the Coral Gables Regional opener Saturday evening.
Morales emerged out of the first base dugout and threw up The U, igniting the Hurricanes' faithful following his last homer.
"We're just trying to win every game that we can, especially tonight's game," Morales said. "Tonight, was the most important game of the year. We had to get through Canisius first. We struggled in the beginning, and it was a tough game. I'm always trying to do the best I can to help my team win."
The Miami native became only the fourth Hurricane all-time with a trio of home runs in a postseason game, joining Lale Esquivel (1999), Kevin Brown (2001) and Scott Lawson (2010)
Morales' 1,200-plus feet of round-trippers and career-best five RBI helped the Hurricanes (40-18) erase a three-run deficit against the Golden Griffins (23-30).
"Not surprised," sophomore outfielder Jacob Burke said about Morales' career night. "All it takes is one guy to get on and then Yohandy to do what he does. It takes the pressure off of us."
With Canisius ahead, 2-0, Morales mashed a first-inning solo shot to trim the Golden Griffins' advantage in half.
After the visitors tacked on a pair in the second to extend their lead to 4-1, the sophomore answered in the third.
Morales hammered an 0-1 fastball for a two-run bomb to straightaway center, pulling the Hurricanes within one.
Two batters later, Burke blasted his 13th home run of the year to level the contest.
"When we go on those little runs and we start hitting, it gets contagious," Burke said. "We just go up there and swing and try to get something there and let it fly."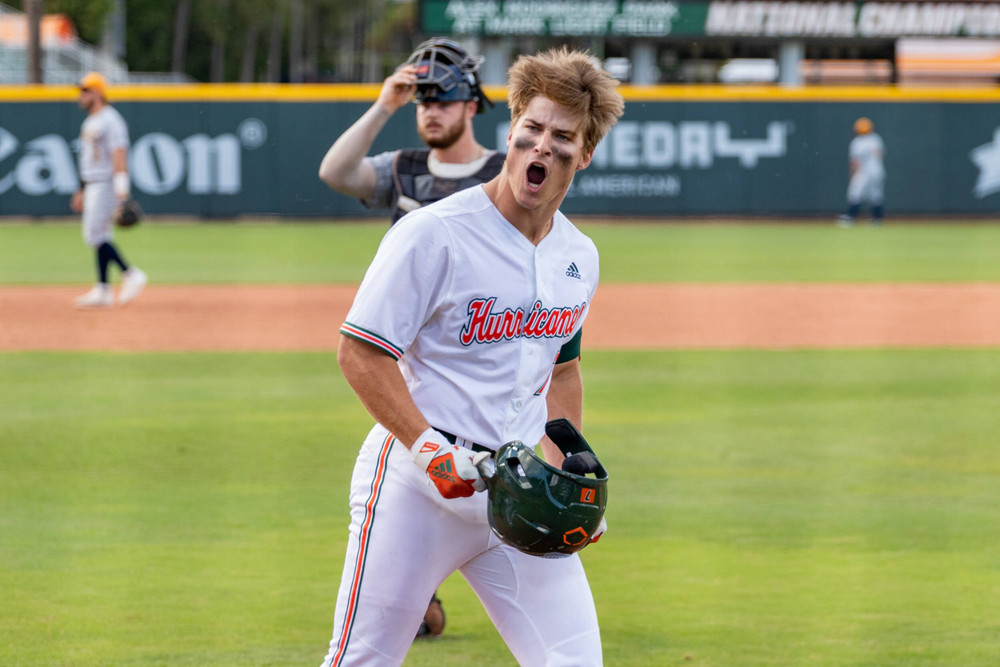 Miami relievers Ronaldo Gallo, Alejandro Torres and Gage Ziehl contained the Golden Griffins in relief of starter Karson Ligon.
Gallo, Torres and Ziehl combined to pitch 5 2/3 scoreless innings, teaming up for seven strikeouts along the way. The right-handers limited Canisius to only two hits and one walk, heading into the middle of the seventh.
"We went to them early," Miami head coach Gino DiMare said. "We were just talking about Ronnie's pickoff…that was a huge play. That was bases loaded and two outs…We bring in Alejandro Torres and Gage Ziehl and both [faced the minimum]. Both threw two innings, which really gave us a chance to come back."
With the Hurricanes and Golden Griffins even at 4-4, Morales' capped off his historic 4-for-4 night with a go-ahead two-run bomb.
Morales circled the bases, pointing to his teammates and pumping up the fans dressed in orange and green.
"I was seeing the ball really well today, but I'm more excited about getting the win tonight," Morales said. "It doesn't matter if I go 0-for-4 or 4-for-4, all that matters is we won the game."
Freshman second baseman Dorian Gonzalez, Jr. and sophomore designated hitter Zach Levenson each delivered two-RBI singles to provide the Hurricanes with insurance.
Miami closer Andrew Walters recorded the final five outs to pick up his 14th save and put the Hurricanes in the winner's bracket of the Coral Gables Regional.
"Canisius is a good team," DiMare said. "That's a veteran team — battled. Very, very confident team. They gave us all we could handle. They jumped out early on us and I was happy to see our guys come back. Obviously, Yoyo had an unbelievable game, but we also got some other big hits. And we had insurance runs that were huge late in the game."
Ziehl earned his second career win with two frames in relief, while Canisius hurler Tom Peltier (3-3) was tagged with the loss.
Next, Miami will play the winner of second-seeded Arizona and three-seeded Ole Miss at 3:06 p.m. Sunday.