Canes Recruiting Class Tabbed First in ACC By Baseball America
CORAL GABLES, Fla. – The University of Miami's 2021 recruiting class was ranked highest in the ACC for the third straight year by Baseball America, as the Canes come in seventh nationally in the rankings.
The recruiting rankings take into account all players from the high school and junior college level and were compiled following many conversations with coaches and scouts. Four-year transfers were not considered for the rankings.
"We are very excited about this year's recruiting class," Miami head coach Gino DiMare said. "One of our goals as a coaching staff is to consistently bring in a top-10 recruiting class. Our coaching staff, led by assistant coach/recruiting coordinator Norberto Lopez has done that again with the No. 1 recruiting class last year backed with the No. 7 recruiting class this year. Coach Lopez, along with associate head coach J.D. Arteaga and director of player development Jonathan Anderson have done an excellent job in finding the right players that fit our needs along with quality character guys. As always, the development of the player is going to be the major key to the success of this class."
The top-10 mark extends an impressive line of premier talent coming to Coral Gables; Miami's 2020 class was ranked No. 1 in the nation, its 2019 class was rated 12th, its 2018 class was slotted 10th and its 2017 group was listed eighth.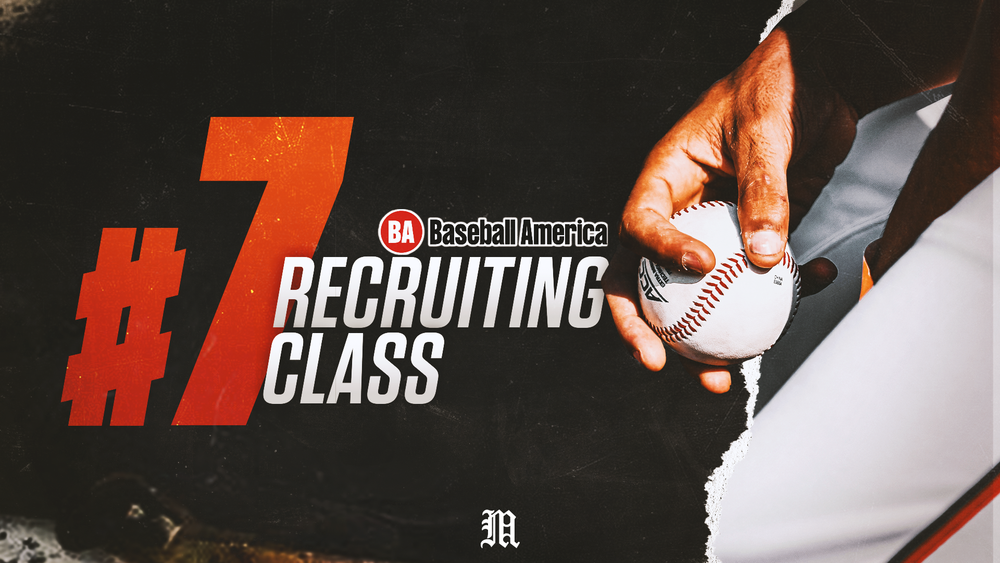 Karson Ligon highlighted the Hurricanes' class as the right-handed pitcher checked in at No. 339 in Baseball America's top 500 draft prospects in July. Right-handed pitcher Gage Ziehl, who was selected in the 11th round by Chicago Cubs, was ranked No. 469 and left-handed pitcher Rafe Schlesinger was rated No. 478.
The Canes' incoming class is comprised of 12 freshmen and two junior college transfers.
"In this class, we were looking for more athletes—guys who can run, guys who have power arms and power bats," Lopez said. "We were able to spend a lot more time on the phone with this class, getting to know them a lot more and their character. We did a lot of homework and a lot of background checking. Coach DiMare, J.D., Jonathan and I wanted to know more about their character, their habits off the field and what type of workers they are. They've really shown how open-minded they are to learning and they are buying in. Those are the type of guys we wanted to bring in."
See below for Baseball America's full top-25 recruiting class rankings:
UCLA
Florida
Vanderbilt
Arkansas
Tennessee
Oregon State
Miami
Alabama
Duke
Mississippi State
North Carolina State
Texas Christian
Wake Forest
Louisiana State
Georgia
South Carolina
Southern California
Dallas Baptist
Florida State
Louisville
Nebraska
Clemson
Texas A&M
Washington
Mississippi