Hurricanes Secure Spot in Semifinals with Win over Wolfpack
DURHAM, N.C. — Moving on.
Miami fourth-year junior Andrew Walters secured the final seven outs to lift the fourth-seeded Hurricanes over the ninth-seeded NC State Wolfpack, 4-2, Thursday evening at the Durham Bulls Athletic Park.
"Our bullpen threw well. The guy next to me is the best closer in the country," Miami head coach Gino DiMare said. "NC State's playing for a lot. They usually seem to play really well at the end of the season, especially in these tournaments. Tough battle, tough game. I'm just proud of our guys to get it done."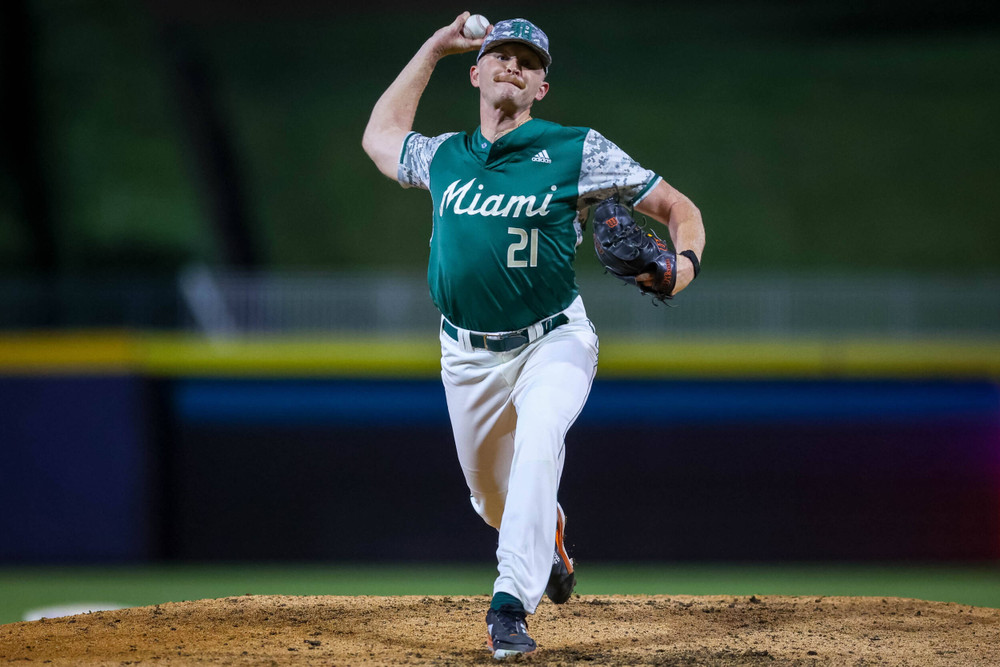 With the Hurricanes (38-18) in a jam in the seventh, DiMare turned to his All-American closer.
Walters (10) stranded a pair of Wolfpack runners on base, retiring seven of the eight batters he faced to put the Hurricanes in the ACC Baseball Championship semifinals for the first time since 2017.
"It's straight business," Walters said. "I attack guys and try get them to swing swing the bat. I never shy away from a hitter."
The 6-foot-4, 225-pound flamethrower teamed up with sophomore southpaw Rafe Schlesinger (3-1) and righty Carlos Lequerica to silence NC State (35-19) over the final 5 1/3 innings. The Hurricanes' three relievers surrendered just two hits after ace Gage Ziehl limited the Wolfpack to a pair of runs.
Miami jumped ahead of NC State early behind a two-run blast from sophomore left fielder Edgardo Villegas in the top of the first.
Villegas' homer marked the Hurricanes' 107th round-tripper of the year, the second-most in a single season in program history.
"When we played them in Miami, they threw me a lot of offspeed," Villegas said. "I knew that I was going to get it again. Thank god I recognized the change-up and hit it out."
In the bottom half, NC State responded immediately.
Freshman first baseman Eli Serrano III plated a pair to even the score, 2-2.
Ziehl set down nine of the next 12 hitters before handing it over to the bullpen.
Sophomore designated hitter Renzo Gonzalez pushed the Hurricanes back in front with a run-scoring single in the fourth.
Junior center fielder Jacoby Long scampered home on a passed ball to tack on an insurance tally in the eighth.
Following its postseason-opening victory, Miami will conclude pool play against fifth-seeded Duke Friday. First pitch is set for 3 p.m.
"We want to win tomorrow," DiMare said. "We're not looking ahead to Saturday. I do not want to go out and play a game that is 'meaningless.' That word is not going to be used tomorrow. I want to beat Duke…I want to make sure that our players understand how important that game is."
To keep up with the University of Miami baseball team on social media, follow @CanesBaseball on Twitter, Instagram and Facebook.