Cardiac Canes Rally to Defeat No. 13 North Carolina
CHAPEL HILL, N.C. — Sixty-two home runs.
Miami's power had been on full display as the top home-run hitting team in the ACC.
But Thursday evening, it wasn't the long ball that propelled the Hurricanes to victory.
Redshirt senior Dario Gomez delivered a picture-perfect squeeze bunt in the ninth, as Miami rallied to defeat No. 13 North Carolina, 5-4, at Boshamer Stadium.
"That was maybe as good of a team win as we've had all year," Miami head coach Gino DiMare said. "We normally give an MVP to one guy, but if I were to change it, tonight would've been the night to give it to everybody."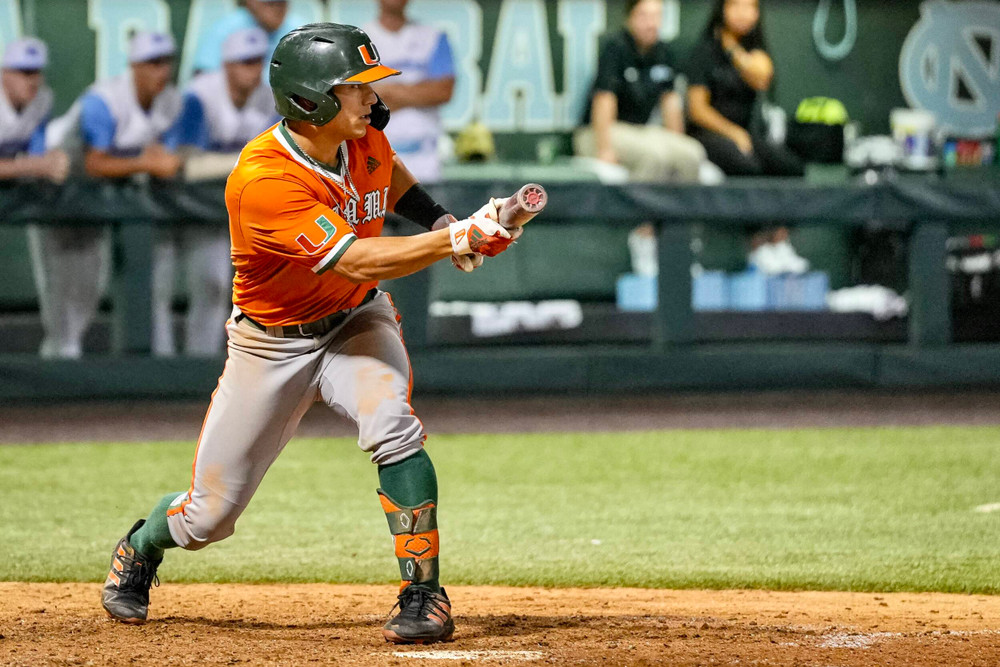 With the Hurricanes (21-12, 9-7 ACC) and Tar Heels (23-11, 8-6 ACC) deadlocked heading into the ninth, sophomore Edgardo Villegas drew a leadoff walk.
After junior Jacoby Long pinch ran at first, sophomore Renzo Gonzalez singled to left, flipping the lineup card over.
Junior CJ Kayfus advanced both runners 90 feet with a groundout, setting the stage for Gomez.
"It was a great moment. We had a whole bunch of guys before get the job done, and it felt great to be a part of that. This was a team win all the way around," Gomez said. "Personally, it means a lot. It was frustrating at the beginning of the season, hitting the ball hard and not having much to show for it. Throughout the season, you're going to get off track, but it's about how quickly you can get back on track."
Miami closer Andrew Walters (3-0) slammed the door in the bottom half, retiring the Tar Heels 1-2-3 to secure the series-opening win.
Walters, reliever Alejandro Torres and starter Gage Ziehl combined to retire the final 14 batters, holding North Carolina without a base runner after a one-out single in the fifth.
"That's what made us so good last year," Walters said about the bullpen's performance. "It's good to see us come out of the bullpen, shut guys down and swing momentum for the Canes."
Right-hander Kevin Eaise (2-2) was charged with loss after allowing one run on three hits across two innings.
In his first start of the season, redshirt freshman Lorenzo Carrier opened the scoring with a 405-foot rocket that sailed over the left-field scoreboard.
"That might be the farthest I've ever seen hit and I've seen a few balls hit far over the years," DiMare said. "Zo has been buying his time and waiting. I've been waiting to put him in. It was great to see him swing the bat like that. We're going to continue to use our whole team because we've got way too many talented guys on this team."
Freshman Blake Cyr doubled the Hurricanes' advantage with an extra-base hit to right center.
After the Tar Heels answered with four runs in the bottom half, junior Ian Farrow pulled the visitors within one with an RBI double one frame later.
In the sixth, Cyr clobbered his co-team-leading eighth homer to level the score.
"We have all the tools, it's just about making them all work together," Gomez said. "We're a great team. We can compete with any other team in the country. I've got faith in all of our guys. It's the right time for this team to start getting hot. This whole team is about to start clicking and we're about to take off."
Following its 12th comeback win of the season, Miami looks to win the series Friday. First pitch is set for 7 p.m.
To keep up with the University of Miami baseball team on social media, follow @CanesBaseball on Twitter, Instagram and Facebook.