Miami Set for Crosstown Clash with FIU
BACKYARD BATTLE
• For the first time in 2023, the Miami Hurricanes will face the FIU Panthers with a midweek matchup Wednesday.
• Miami has won six straight games over FIU and leads the all-time series, 99-29.
• Under fifth-year skipper Gino DiMare, the Hurricanes are 6-0 against the Panthers.
• Since DiMare was elevated to head coach ahead of the 2019 campaign, Miami is 31-10 (.756) in midweek tilts.
• Miami fourth-year right-handed pitcher Ronaldo Gallo (0-2, 17.85 ERA) makes his first start as a Hurricane, opposing FIU redshirt senior righty Angel Tiburcio (2-1, 3.00 ERA).
• Gallo, who has appeared in 34 games out of the bullpen during his time in the orange and green, earned 13 starts in two seasons at FGCU.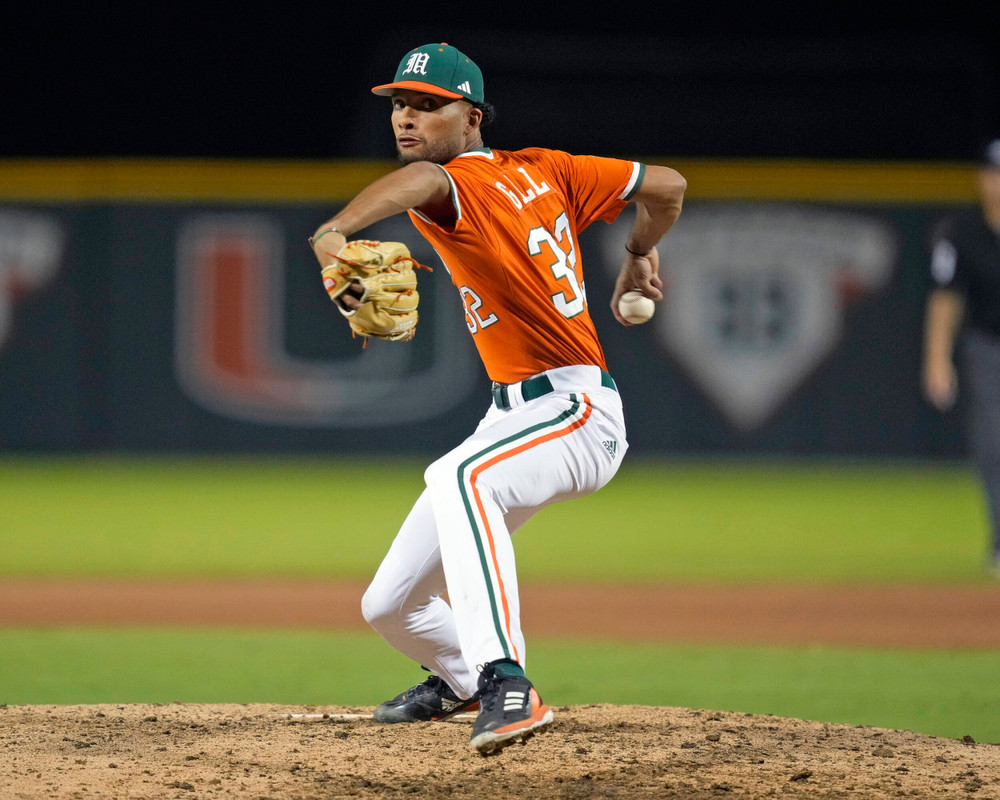 HURRICANES HOWL PAST WOLFPACK
• Miami mounted a series victory on the opening weekend of ACC play, taking two-of-three from then-No. 19 NC State.
• In the opener, junior Ian Farrow smacked a pair of homers, including the game-winning blast, as the Hurricanes bested the previously undefeated Wolfpack, 9-8. 
• Farrow's three-run shot highlighted an eight-run second inning, which matched Miami's largest frame of the season.
• Fourth-year right-handers Ben Chestnutt and Alejandro Torres slammed the door, teaming up to toss the final 2 1/3 innings. Chestnutt picked up his second win, while Torres collected his first career save with a 1-2-3 ninth.
• The Hurricanes secured the series Saturday with a dominant 8-1 win over the Wolfpack.
• Sophomore Gage Ziehl tossed a career-high eight innings, limiting one of the most potent offenses in the nation to only one unearned run on four hits.
• The right-hander recorded eight-plus strikeouts for the third straight outing, ultimately garnering ACC Pitcher of the Week honors.
• Miami's offense backed Ziehl the entire evening, scoring four runs over the first four frames before tacking on four more across the sixth and seventh, capped off by Farrow's third homer of the series.
MIAMI MASHERS
• As of March 14, the Hurricanes are tied for 14th nationally with 33 home runs.
• Miami has circled the bases in 13 of 16 games, totaling 10 multi-homer performances along the way.
• The Hurricanes are on pace for 106 homers during the regular season, which would match the second-most by a Miami team in a single season.
• Eleven different Hurricanes have left the yard, with juniors Ian Farrow and Yohandy Morales and freshman Blake Cyr blasting a co-team best five round-trippers.