DiMare Receives Three-Year Contract Extension
CORAL GABLES, Fla. — The University of Miami and head baseball coach Gino DiMare have agreed to a contract extension, Vice President/Director of Athletics Dan Radakovich announced Wednesday.
DiMare, who is the second fastest coach to reach 100 victories in program history, received an additional three years on his contract, extending it through the 2026 season.
"We are excited to have Gino continue to lead our baseball program," Radakovich said. "We made great strides as a program last season, including hosting a regional for the first time in six years. Gino and his staff are building momentum for Miami baseball and we are looking forward to more successful season to come."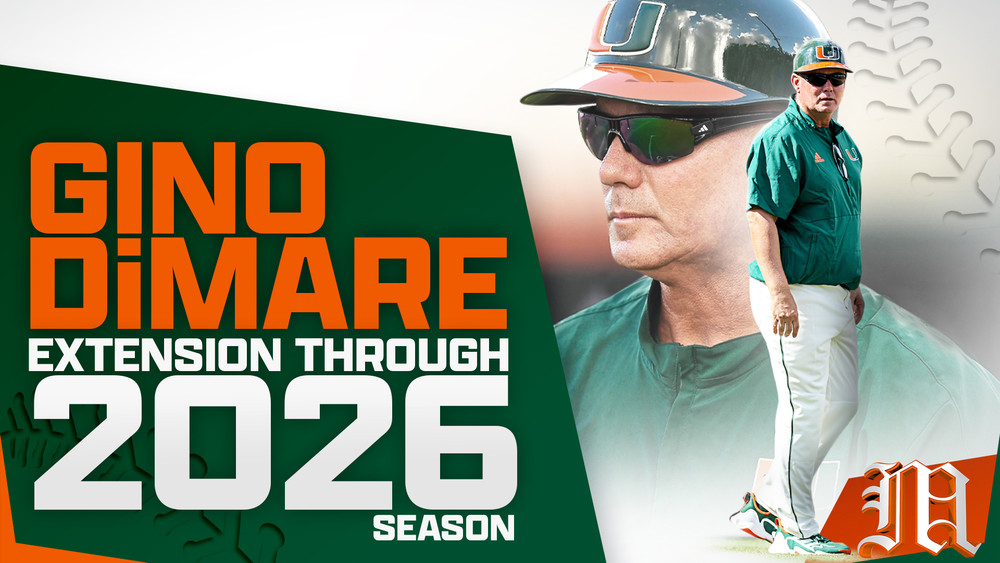 In DiMare's four seasons at the helm of the Hurricanes, Miami has proved to be one of the top teams in the country, qualifying for the postseason in each year the NCAA tournament was held.
The 2022 Hurricanes earned a national seed and hosted a regional for the first time since 2016. Miami tallied a 40-20 overall record, leading the ACC with 20 conference wins. The Hurricanes were ranked as high as No. 2 nationally, notching a 14-game winning streak, which is the program's longest in eight years.
In a year that began with a series victory at preseason No. 1 Florida, Miami finished the regular season second in the ACC Coastal and returned to the postseason for the second time under DiMare in 2021.
During the shortened 2020 campaign, the Hurricanes went 12-4 and ended the year ranked fifth by Baseball America. A preseason pick to win the Coastal, Miami won all three contests in conference play before the COVID-19 pandemic shut down the season prematurely.
The Hurricanes had an impressive first campaign under DiMare's tutelage, winning 41 games and qualifying for the NCAA postseason for the first time since 2016. Miami received the 46th postseason berth in school history and reached the Starkville Regional final. The Hurricanes amassed an 18-12 mark in ACC play in 2019, winning seven conference series and turning in their best league record since 2016.
"Growing up in Miami, I feel very fortunate to have spent 27 years here with the University as a player and coach," DiMare said. "The University of Miami has been a second home to me and my family. I am grateful for the opportunities it has afforded me and I look forward to leading our program to Omaha."
Four All-America honorees have emerged under DiMare's watch — Chris McMahon (2020), Brian Van Belle (2020), Carson Palmquist (2021, 2022) and Andrew Walters (2022).
All four of those players garnered All-ACC recognition as well, joining Michael Amditis (2019), Adrian Del Castillo (2019, 2021), Raymond Gil (2019), Van Belle (2019), Christian Del Castillo (2021), Yohandy Morales (2021, 2022), Anthony Vilar (2021), Jacob Burke (2022), CJ Kayfus (2022) and Karson Ligon (2022).
Since DiMare was elevated to head coach ahead of the 2019 campaign, 12 Hurricanes have been selected in the MLB Draft, including first-round pick Slade Cecconi in 2020.
DiMare's teams have excelled in the classroom as well, as 15 student-athletes have earned a spot on the ACC All-Academic team, with three players earning multi-year bids. Additionally, Christian Del Castillo was named an Academic All-American in 2021.