Hurricanes Rally to Best FIU, 12-5
MIAMI, Fla. — The wait was worth it.
After trailing by a run heading into the seventh, the University of Miami baseball team exploded for nine runs.
Behind their largest inning of the season, the Hurricanes rallied to defeat the FIU Panthers, 12-5, Tuesday evening at FIU Baseball Stadium.
"That inning really won the game," Miami head coach Gino DiMare said. "We got a lot of things we have to do better. We have to throw more strikes, walking too many guys, made a few errors. We're not receiving and catching the way I want us to. We should always be happy with a win, but we have to learn from this and get a lot better."
The Hurricanes (9-3) sent 12 batters to the plate in the seventh, tallying nine runs on as many hits. Miami totaled a season-high 14 hits in its second midweek victory of the season.
Sophomore outfielder Jacob Burke led the offense outburst, tallying four RBI. Meanwhile, junior catcher Maxwell Romero Jr. launched a game-winning three-run shot, putting the Hurricanes ahead, 7-4.
"I was trying to see a fastball, make contact and get that run in from third," said Romero Jr., after hitting his second home run of the season. "Hitting is all about rhythm. That inning, we caught a really good rhythm."
First baseman CJ Kayfus led off the seventh with a free pass before Burke doubled him home to tie the game, 4-4.
Third baseman Yohandy Morales followed with a base hit, setting the stage for Romero Jr.
After Miami's catcher cleared the bases, designated hitter Carlos Perez doubled to right field. One pitch later, second baseman Dorian Gonzalez Jr. traded places with Perez, ringing an extra-base hit off the wall.
With the Hurricanes up, 8-4, pinch hitter Mike Rosario drove in Gonzalez Jr. from second. Freshman left fielder Edgardo Villegas continued the hit parade with a single of his own.
Two batters later, Burke recorded his second hit of the inning, plating a pair of runs and ballooning Miami's cushion to 11-4.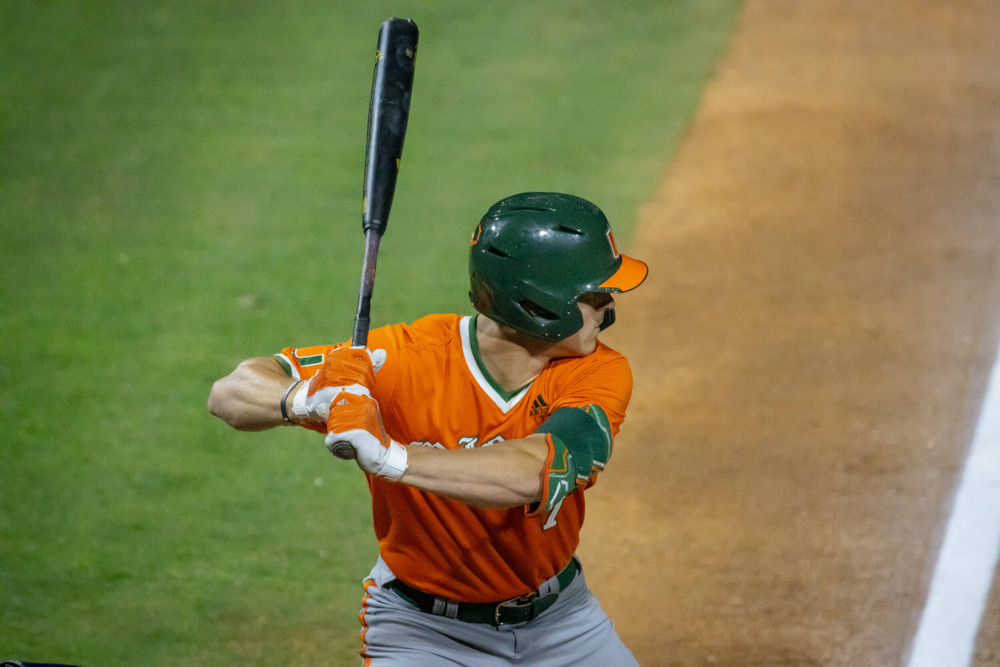 Morales capped off the offensive onslaught with an RBI double.
"Our approach at the plate got a lot better that inning. We took advantage of the mistakes they made along with a few clutch hits and it led to a big inning," Burke said. "Hitting is contagious. Any time the guy in front of you gets a hit and it gets rolling, you lock in a little more. When everybody is going like that, it works pretty well."
The Panthers (7-7) struck for two runs in the opening inning and held the Hurricanes quiet through the first four frames.
Miami leveled the contest with two runs in the fifth behind Kayfus' RBI double and Burke's sacrifice fly.
However, FIU would re-gain the lead, pushing across a run in the bottom half.
Once again, the Hurricanes knotted the score when Perez scampered home on a wild pitch in the sixth.
The Panthers responded immediately, taking a 4-3 advantage into the seventh.
"We were struggling early, so we wanted to have taxing at-bats," Burke said. "I wanted to do whatever I could to help the team out."
On the mound, Miami starter Alex McFarlane retired 10 of the final 13 batters he faced after yielding two runs in the first. McFarlane struck out three in his second start of the season.
Right-handed reliever Alejandro Torres (1-0) was credited with his first victory as a Hurricane after spending his first two seasons at FIU.
FIU hurler Juhlien Gonzalez (1-1) received the loss.
Next, the Hurricanes begin conference play Friday evening. Miami welcomes Boston College to Alex Rodriguez Park at Mark Light Field for the first contest of a three-game series. First pitch is slated for 7 p.m.