University of Miami Athletics
Daniel Federman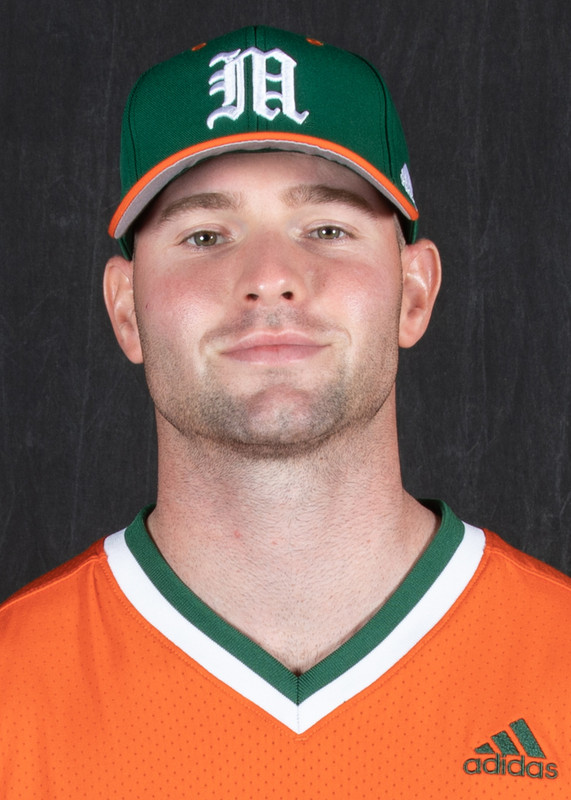 The asterisk next to 2020 and 2021 season bios indicate the NCAA's decision to grant an extra year of eligibility for student-athletes in light of the COVID-19 pandemic; the student-athlete's year of eligibility did not "advance" from 2020 to 2021 due to this NCAA ruling.
2021 ALL-ACC ACADEMIC

*Junior (2021): Made 21 appearances, including five starts, as a right-handed pitcher…Was one of three team captains in 2021…Went 4-4 with a 4.08 ERA over 46.1 innings pitched…Struck out 39 batters while walking just nine and holding opponents to a .261 batting average…Allowed just four earned runs in 23.2 innings as a reliever for a 1.52 ERA…Went 3-1 out of the bullpen and struck out 14 batters while walking just four over his 16 relief appearances…Struck out seven batters in season opener at preseason No. 1 Florida (Feb. 19)…Fanned seven batters over 6.0 innings in home opener vs. Virginia Tech (Feb. 26)…Earned first win after striking out five batters over 3.1 scoreless innings of relief in victory at Virginia (Mar. 28)…Held Duke to just one run over six innings to earn win over Duke (Apr. 2)…Had one strikeout over one scoreless inning at Pitt (Apr. 10)…Did not allow a run over 4.0 innings in win over FGCU (Apr. 14)…Had one strikeout over 1.2 shutout innings in win over Clemson (Apr. 17)…Struck out two batters over one scoreless inning in second half of doubleheader at North Carolina (Apr. 23)…Had one strikeout over 1.1 innings in win at North Carolina (Apr. 25…Had scoreless appearance in win at Boston College (May 1)…Struck out only batter he faced in win at Louisville (May 20)…Tossed 2.2 shutout innings to sweep Louisville (May 22)…Threw 1.1 scoreless innings over two appearances in ACC tournament (May 27-28)…Retired both batters he faced in NCAA tournament victory over South Alabama (June 4)…Ended Miami career with three strikeouts over 3.1 shutout innings vs. South Alabama in NCAA tournament (June 6).
*Junior (2020): Made seven appearances out of the Miami bullpen in shortened 2020 college baseball season…Went 0-1 with a 2.08 ERA and 11 strikeouts over 8.2 innings pitched…Led the Hurricanes with three saves…Recorded first save after throwing 1.1 scoreless innings vs. Rutgers (Feb. 14)…Struck out five batters in 2.2 innings vs. No. 2 Florida (Feb. 21-22)…Notched second save after recording final out in win over Towson (Feb. 28)…Had a strikeout in a scoreless inning vs. Towson (Mar. 1)…Had a season-high four strikeouts over a season-long 2.1 shutout innings in win over Pitt (Mar. 6)…Recorded third save after throwing a scoreless ninth inning at No. 12 UCF (Mar. 11).
2019 ALL-ACC ACADEMIC
Sophomore (2019): Led the Hurricanes with 35 appearances, serving as a set-up man…Went 3-5 with a 3.51 ERA and earned seven saves…Struck out 60 batters and walked just 19 over 48.2 innings pitched…Tossed a scoreless inning in win over Rutgers (Feb. 16)…Earned first save after tossing two scoreless innings in win at Florida (Feb. 22)…Struck out a pair and earned second save in win over UMBC (Mar. 2)…Picked up third save in win over Appalachian State (Mar. 6)…Earned save after scoreless inning of relief vs. Jackson State (Mar. 12)…Picked up fifth save after throwing a scoreless ninth inning at UNC (Mar. 15)…Tossed a scoreless inning of relief in win at FAU (Mar. 27)…Struck out two over 1.2 innings pitched, earning win at Pitt (Mar. 29)…Threw two shutout innings in win at Pitt (Mar. 31)…Struck out two in a scoreless inning vs. Florida State (Apr. 6)…Fanned four in two shutout innings against Florida State (Apr. 7)…Struck out two in one scoreless frame vs. FGCU (Apr. 9)…Earned sixth save after 2.2 scoreless innings at Virginia (Apr. 13)…Threw a scoreless inning in sweep-clinching win at Virginia (Apr.14)…Earned win after throwing two scoreless innings vs. Virginia Tech (Apr.26)…Earned seventh save and struck out four over season-high three shutout innings vs. Virginia Tech (Apr. 28)…Struck out the side in scoreless inning vs. Bethune-Cookman (May 3)…Blanked Bethune-Cookman for 1.2 innings in win (May 4)…Tossed scoreless inning in series-clinching win at Wake Forest (May 11)…Fanned a season-high five batters in two scoreless innings vs. Duke (May 16)…Threw 1.1 shutout inning in win over Duke (May 18)…Struck out two over 1.2 innings vs. Virginia at the ACC tournament (May 23)…Fanned two batters in two shutout innings vs. North Carolina at the ACC tournament (May 24)…Threw two innings in NCAA tournament debut vs. Central Michigan (May 31).
2018 FRESHMAN ALL-AMERICA (Collegiate Baseball Newspaper)
True Freshman (2018): Served as one of Miami's top pitchers in first season, making 23 appearances and four starts…Compiled 2.25 ERA in 60.0 innings with 54 strikeouts…Walked 22 and surrendered just 15 earned runs all year…Held opponents to .203 batting average…2.25 ERA was lowest among all pitchers on staff…54 strikeouts and 60.0 innings were fourth-most… Struck out multiple batters in 15 of 23 appearances…Opened career with three scoreless appearances spanning 5.2 innings from Feb. 16-21…Picked up first win of career in first start, tossing 5.0 innings at UCF (March 14)…Struck out five and allowed three runs vs. Knights…Allowed two earned runs in 6.0 innings with five strikeouts against FAU (March 21)…Delivered best performance of career at FGCU (March 28), throwing complete game in hard-luck 1-0 loss to Eagles…Struck out career-high seven and allowed just one unearned run in career-long 8.0 innings at FGCU…Made final start of season vs. FAU (April 4)…Tossed 2.1 scoreless innings of relief in Game 2 of doubleheader at Clemson (April 14)…Struck out three batters at Florida State (April 28)…Combined for 5.1 innings of relief in two appearances at Virginia Tech (May 11-13).
High School/Prep: Four-year varsity letterwinner at Archbishop McCarthy…Ranked No. 348 by Perfect Game in its top-400 freshman rankings…Helped lead team to three state championships and national championship in final season…Earned Co-Pitcher of the Year honors…Recognized with all-state and all-county recognition.
Personal: Parents are David and Amy…Intends to major in finance.