Federman Signs with Baltimore Orioles
CORAL GABLES, Fla. – The University of Miami's Daniel Federman signed a free agent contract with the Baltimore Orioles.
Federman was a versatile arm for the Canes, finding success on the mound as both a starter and reliever.
In 2021, Federman was a valuable set-up man for the Canes, allowing just four earned runs in 23.2 innings as a reliever for a 1.52 ERA. The veteran right-hander went 3-1 out of the bullpen and struck out 14 batters while walking just four over his 16 relief appearances.
The Pembroke Pines, Fla., native finished the season with an 8.1-inning scoreless streak and allowed just one run over his final 19 innings of 2021. Federman played a key role in wins at Virginia (Mar. 28) and against FGCU (Apr. 14), combining to throw 7.1 innings of scoreless relief over those two outings. He also was vital in Miami's sweep of Louisville, throwing three scoreless innings over two relief appearances to help the Canes become the second team in history to sweep the Cardinals at Jim Patterson Stadium.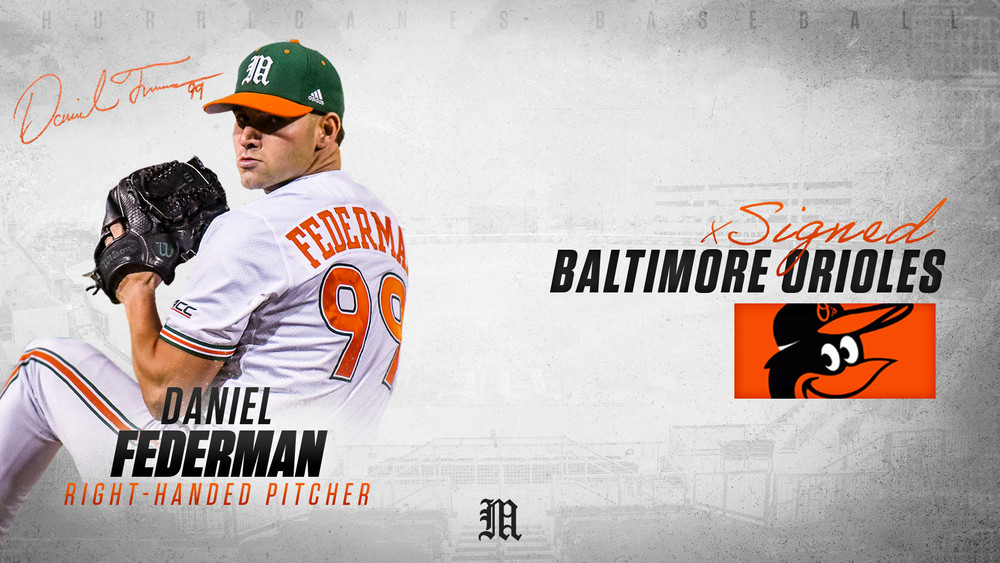 As a junior, Federman made seven appearances out of the bullpen in shortened 2020 college baseball season. He went 0-1 with a 2.08 ERA and 11 strikeouts over 8.2 innings pitched, pacing the Hurricanes with three saves.
The 6-foot right-hander had seven saves and compiled a 3-5 record and a 3.51 ERA over a team-leading 35 appearances as a sophomore in 2019. Federman struck out 60 batters and walked just 19 over 48.2 innings pitched and was named to the All-ACC Academic team.
Federman earned Freshman All-America honors in 2018 after he served as one of Miami's top pitchers, making 23 appearances and four starts. He compiled 2.25 ERA in 60.0 innings with 54 strikeouts, walking 22 and surrendering just 15 earned runs all year. Federman held opponents to a .203 batting average and his 2.25 ERA was lowest among all pitchers on staff. He also struck out a career-high seven and allowed just one unearned run in career-long 8.0 innings at FGCU on March 28, 2018.
In four seasons at Miami, Federman amassed a 9-14 record with a 3.13 ERA over 86 appearances including nine starts. He compiled 164 strikeouts against just 52 walks and held opponents to a .234 batting average over 163.2 innings pitched.
A two-time All-ACC Academic honoree, Federman earned a bachelor's degree in management. He earned one Provost's Honor Roll and Dean's List distinction, twice was named to the Athletic Director's Honor Roll and was named to the Book Bluster Club eight times. Federman is also a two-time ACC Honor Roll recipient.
Adrian Del Castillo (catcher, 2nd round, Arizona), Jake Smith (right-handed pitcher, 6th round, LA Angels) and Anthony Vilar (catcher, 15th round, San Diego) gave the Hurricanes three players selected in the 2021 MLB Draft. A Miami Hurricane has been picked in 48 consecutive drafts dating back to 1974.