Federman Ready to Lead Pitching Staff
When you're looking for leaders, you want someone who has experience, remains poised under pressure and wants to help others on their team.
Daniel Federman has been there and done that.
Now, the fourth-year junior is looking to guide the Hurricanes pitching staff as Miami looks to make a run to Omaha in 2021.
"Since I was a little kid, I've always wanted to play pro ball, but I also wanted to go play in the College World Series and wear that U on my chest," Federman said. "So, I'm going to get another shot to do that now and I'm motivated, I'm fired up and I can't wait to lead these guys."
Federman, who has logged 117.1 innings pitched over 65 appearances as a Cane, brings a wealth of experience to Miami's pitching staff and his leadership will be important as the Hurricanes reload with a new group of arms in 2021.
"He's been a starter for us as a freshman, he's worked out of the bullpen in middle relief and he's been a set-up man and a closer. He's kind of done a little bit of everything and has experience in just about every situation," Miami pitching coach J.D. Arteaga said. "He's a guy that has done whatever his team has needed. He has the capability to do any of those roles well.
"With the fact that we're going to have new guys in pretty much every role, he's someone the players can lean on and talk to about stuff," Arteaga continued. "He's also a guy that can show them and talk about the Miami way. I expect most of our guys to look up to him."
The Pembroke Pines, Fla., native has played a key role in his three years at Miami, regardless of whether he was on the mound to start a game or close it out. As an established veteran in the clubhouse, Federman thinks he can help the 22 newcomers on the Hurricanes' roster as they adjust to college life.
"I think I'm in a unique position because I've been a starter and a reliever. I've played for two head coaches now and I've kind of seen the way things work from talking to guys in the past and just being here these past three seasons," Federman said. "I think that I'll be in a position to almost lead by example, not really having to say anything and not having to get on guys but just by doing things the right way and showing the younger guys how things are done here.
"It might be different than what they're used to in high school and their travel ball team," Federman continued. "I know it's definitely an adjustment coming in from high school to our team because I've been through it. In a college season, you have classes and training and workouts, it's a grind. I think leading by example will be important. I've been there and I've done that. So, I think it's time to put it together and help the younger guys so they can get their feet wet and be ready to go when we need them."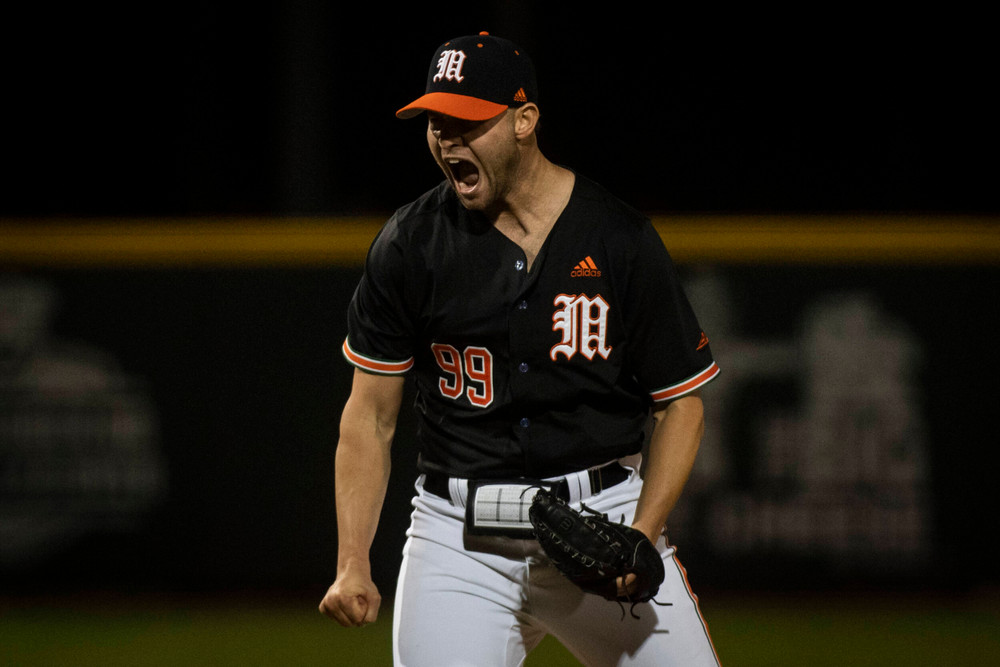 Federman's desire to succeed is palpable.
The right-hander pitches with a lot of emotion and leaves everything on the field. But after the COVID-19 pandemic took away his junior season and postponed his dream of being drafted by a year, Federman is especially motivated to have a big season in 2021.
"I've always had a chip on my shoulder," Federman said. "I was never the biggest, the fastest or the strongest kid, but I've always figured it out and been able to produce and to stay at the level and keep progressing. I'm proud to have stayed who I am. I haven't really changed since I was little. I've always played the same and I've always trained the same. For the people who know me know that I don't do anything halfway. I'll go full throttle always."
It's that full-throttle mentality that head coach Gino DiMare hopes Federman can instill in his teammates, especially the new pitchers who will put on Miami's orange and green for the first time this year.
"Having a guy like Fed is very important," DiMare said. "I think what he can bring to the table in terms of guiding our incoming guys, along with the [Alex] Torals and the [Raymond] Gils and some of these other veteran guys that we have that are four-year juniors, is just emphasizing the importance of the program and what it means to them and what it means to all of us, and getting this thing into the direction we need it to go. We haven't gotten there yet, but guys like Fed and Toral — who played together in high school — they have the right temperament, the right attitude, the right leadership skills to be a huge influence and impact in our program for our young guys, especially."
DiMare and Arteaga envision Federman carving out a role as a starting pitcher this season, but the veteran will be comfortable doing anything he is asked because he knows the team's success will lead to individual success, too.
"When I was a freshman, our team captain was Jeb Bargfeldt and I learned a lot from him. He was a great captain," Federman said. "He wasn't the biggest guy and he didn't throw the hardest, but at the end of the day, you knew when he was on the mound that he was going to compete and he was going to give you in a chance to win and everyone respected him for that. So, I hope I can go into this season and be that guy for the team in whatever my role is, whether it's a starter this year or whether I'm the closer. I want the younger guys and even the guys who are my age to look at me with respect, the same way I look at them. I'm excited to get us on the road to Omaha."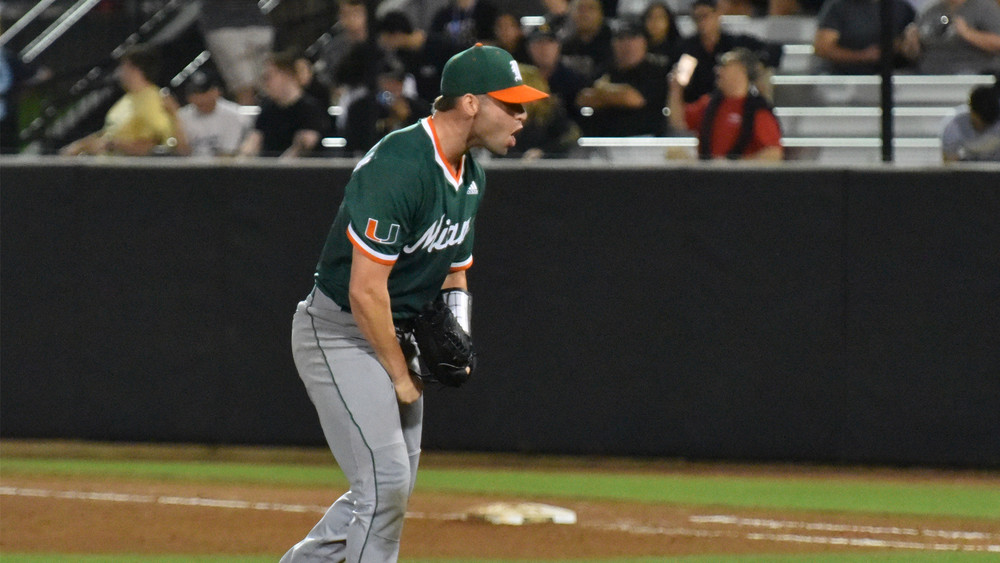 Miami appeared on track for an appearance in the College World Series in 2020 before the pandemic shut down the season after just a month's worth of games. The Canes had a special team that was talented and motivated to achieve its goals. But the pandemic's effect on the MLB Draft meant several Hurricanes would get a chance to chase their Omaha dreams one more time.
"The group that we had this year, since I've been at Miami, was probably the closest group. I'm upset because we didn't get to do what I know this team could have done," Federman said. "I really can't think of an overall weakness that this team had. We were strong up and down the lineup and we had the arms to get this team back to Omaha. I know some guys wanted to sign and some guys had the opportunity to sign. Obviously all the draft-eligible guys would have loved to get the opportunity to play pro ball, but I think this was meant to happen.
"I'm excited to come back to school," Federman continued. "I'm not really missing anything right now by going back to school. I look at it as a win for myself and for the program. It sucks that the guys that got drafted this year, they can't go play a minor league season.  I think it all worked itself out the way it was supposed to and everything happens for a reason. I think I was meant to go back to Miami and I still have unfinished business. I really want to be able to help lead this team this year and get us back to Omaha."
Federman is one of 17 returners back in Coral Gables from last season's roster that was considered one of the best in the country. He will be joined by 14 freshmen, six junior college transfers and two graduate transfers in a recruiting class hungry to make an impact.
"You hear these stories about all these guys in high school and all these flamethrowers. We've got some really talented guys coming in and I've heard all positive things about them," Federman said. "I haven't played with or against anybody coming in, so I'm excited to see all the new guys. I'd say around 50 percent of the team this year is going to be a new face, so it's going to be really cool to get to see what guys bring to the table and what guys have to offer and how this team shakes out through the fall."
College baseball pundits are counting Miami out when making early predictions for the 2021 CWS and that is fine with Federman. He prefers to let his team prove the doubters wrong with its performance on the field.
"I say let them count us out and let them sleep on us, because I know the talent that this team has and I know we've got some guys coming in that are going to fill those spots," Federman said. "Yes, we lost our three starting pitchers and our shortstop, but at the end of the day, I'd say we've got one of the meanest lineups in college baseball and we've got some arms coming back with experience.
"Then look at the coaching staff," Federman continued. "They play a big part in a team's success and they've had experience and they've all been to Omaha. We probably have the best pitching coach and coaching staff in the country, so I'm not worried about what people think we can or can't do. I'm confident in us and I'm just excited to see what this team does."