Canes Camp Report: August 2
CORAL GABLES, Fla. – The Hurricanes were back on the Greentree Practice Fields for their second day of camp and after Wednesday's practice, receivers Xavier Restrepo and Colbie Young, along with defensive lineman Jahfari Harvey and defensive back James Williams spoke with reporters.
Here are some of their best quotes after Tuesday's practice, along with some team notes as Miami moves one day closer to its Sept. 1 season opener against Miami of Ohio at Hard Rock Stadium.
Defensive lineman Jahfari Harvey
On what it's like to work with defensive line coach and Pro Football Hall of Famer Jason Taylor:
"He did it all [and has] seen it all. Any question you've got, anything you need help with, he's there to help you with and he knows all the answers because he did everything."
On Miami's new defensive scheme:
"It's coming together well. I love this new defense. You're able to move around a lot, get active. Everybody's moving around, getting active and getting into the backfield."
On the depth on Miami's defensive line:
"You've got a lot of guys. Me, Nyjalik Kelly, Chantz Williams, Akheem Mesidor, Branson Deen in the middle, Jared Harrison-Hunte. I keep going on, but we've got a lot of guys so we can keep rotating, get new guys in there so we can stay fresh."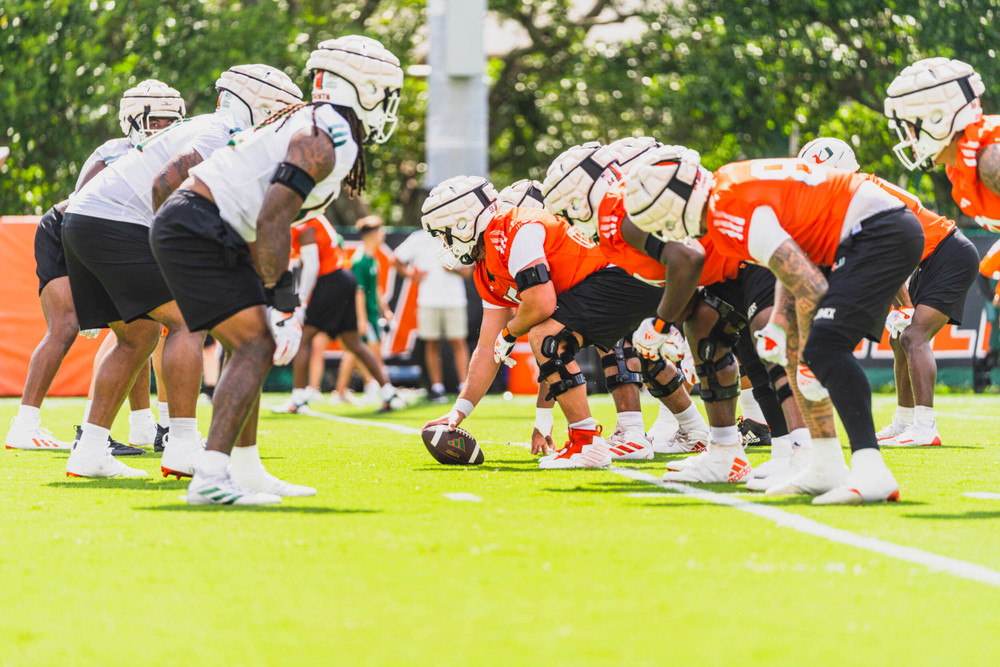 Wide receiver Xavier Restrepo
On Miami's new offense and working with offensive coordinator Shannon Dawson:
"It's just so many opportunities. Coach Dawson is doing a great job giving us opportunities and we're just taking advantage of them. It's a real explosive offense. I'm just glad to be a part of it."
On freshman receiver Nathaniel "Ray Ray" Joseph:
"Ray Ray's my guy. As you can tell, the kid's super-fast. He's doing a great job listening and taking coaching and leadership, too. He's going to have a great career here."
On quarterback Tyler Van Dyke and how their connection has grown on the field:
"He's back right where he left off. He's healthy now and he's doing a great job conducting the offense and I'm super excited to play…Every single year, every single day, [the connection] grows, not only with me, but with all the receivers. He's doing a great job spreading the ball everywhere and again, like I said, it's an explosive offense. I just can't wait to play because I know that everybody's putting in the same work and we're all on the same page."
Safety James Williams
On how he feels his skill set fits into new defensive coordinator Lance Guidry's system:
"I feel like I can do anything he asks me to do, whatever he wants, I'm willing to do it all, no matter what it is. I'm ready to help the team win and become a better defense in total."
On his relationship with fellow safety Kam Kinchens:
"First, I want to say I'm proud of Kam, the leader he's become. At first, when we first came in, he wasn't really [talkative], but he outgrew it. He understands the role that me and him [have] got on this team, not even the defense, the team in general. It's very exciting to see us maturing up and becoming big leaders of the team."
Receiver Colbie Young
On the depth in the wide receivers room:
"It creates competition. [Receivers] coach [Kevin Beard] is trying to build that, how they used to play when he had a lot of competition in his room. He wants to build the best receivers. He wants us to be dogs."
On what it's like to compete against safety James Williams:
"He's a lanky guy. Every time you see him out there, he's all of [6-foot-5]. When you get up close to him, if you get in his range, you better be able to hand-fight because he's going to get ahold of you…I like going against him all the time, being able to go deep against him, having a jump ball. He's going to go after that ball and it's just a competition thing."
Borregales, Cohens, Kinchen honored
Three Hurricanes – kicker Andres Borregales, offensive lineman Javion Cohen, and safety Kam Kinchens were all named to the pre-season All-ACC team on Wednesday after a vote by 176 of the league's media members.
In addition, Borregales was named to the preseason watch list for the Lou Groza Award on Wednesday, which recognizes the nation's top collegiate placekicker. While on Tuesday, Cohen was named to the watch list for the Outland Trophy, honoring the nation's top lineman and Kinchens was named to the watch list for the Bronko Nagurski Trophy, which honors the college football's top defensive player.
Last season, Borregales connected on all 32 of his extra-point attempts and was 17-for-20 on field goal attempts. He was 4 of 5 on kicks between 40 and 49 yards, with a season-long 49-yarder against Florida State.
Cohen, who transferred to Miami from Alabama earlier this year, started 24 games for the Crimson Tide and was a second-team All-SEC selection in 2022.
Kinchens put together an All-American campaign for Miami last fall with a team-high 59 tackles and six interceptions.