University of Miami Athletics
Shannon Dawson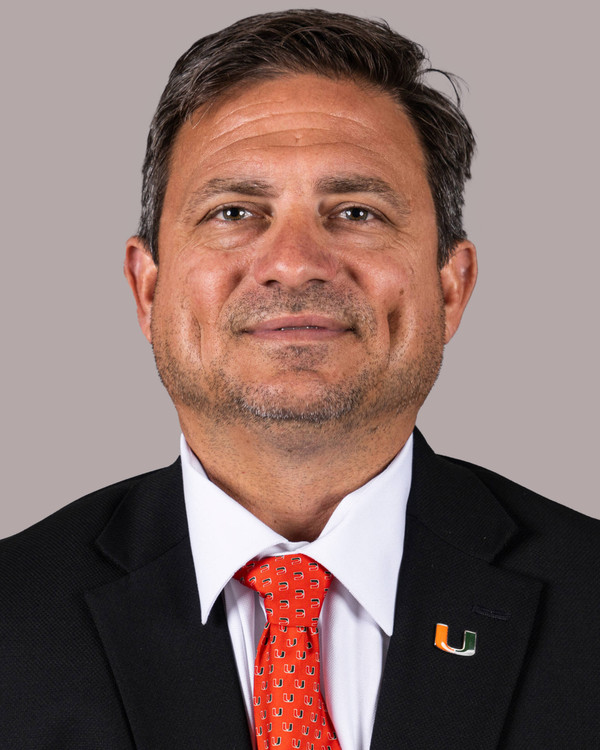 Shannon Dawson is in his first season as the Hurricanes' offensive coordinator in 2023.
Dawson, who was named offensive coordinator / quarterbacks coach at Miami in February 2023, spent the past four seasons at the University of Houston, including the last three as offensive coordinator and quarterbacks coach. He joined the program as tight ends coach at Houston in January 2019 after three seasons as offensive coordinator at Southern Miss.
In Dawson's three seasons as quarterbacks coach with the Cougars (2020-22), Houston quarterbacks combined to throw 87 touchdown passes (13th nationally) behind a 65.3 completion percentage (19th nationally) and 10,008 passing yards (21st nationally). Dawson tutored signal caller Clayton Tune to a record-setting career. In 2022, Tune set the American Athletic Conference single-season touchdown passes record (40). The first-team all-conference honoree ranked third nationally in passing touchdowns, third in total offense (355.2) and fifth in passing yards per game (313.4).
Dawson's Cougars ranked eighth nationally in passing offense (314.0) this past season. Houston wide receiver Nathaniel Dell led the nation in receiving touchdowns (17) and receiving yards (1,398) while Matthew Golden set a Houston true freshman record with seven receiving touchdowns.
Houston ranked 15th nationally in scoring offense (35.6), 22nd in first downs offense (314), 23rd in passing offense (271.6) and 25th in red zone offense (.891).
In his final year at Southern Miss (2018), Dawson helped guide the Golden Eagles as the No. 3 team nationally in completion percentage, completing 69.2 percent of their passes. Sophomore quarterback Jack Abraham ranked third in the league and 22nd nationally with an average of 260.8 passing yards per game while leading the nation with a completion percentage of 73.1 percent and ranking fourth nationally with 24.8 completions per game. Sophomore receiver Quez Watkins earned first team All-Conference USA honors after finishing second in the league with nine touchdown receptions while true freshman center Trace Clopton earned FWAA Freshman All-America honors.
Despite missing his starting quarterback for three games and in limited action in two more contests in 2017, the Golden Eagles were still able to amass 424.6 total yards per game, just behind league champion Florida Atlantic and West Division champ North Texas. His efforts also helped former Golden Eagle Ito Smith become just the 10th running back in FBS history to rush for over 4,000 yards and collect at least 1,000 receiving yards.
In his first season with Golden Eagles, Dawson mentored Nick Mullens in his senior season, who ended his career first in passing yards and touchdowns thrown. Mullens signed a free-agent contract with the San Francisco 49ers heading into this season. Southern Miss also set a school record for total offensive yards in a game with 702 against Rice.
Dawson also helped build some of the nation's most prolific offenses at West Virginia, where he spent four seasons, including his last three as offensive coordinator. In his last season in Morgantown, WVU ranked 12th in the nation in total offense, averaging 499.8 yards per game, and was ninth nationally in passing offense at 317 yards per contest. The Mountaineers averaged 33.5 points per game and set a school record by scoring at least 30 points in eight consecutive games. WVU also averaged more than 182 rushing yards per game.
A native of Clinton, La., Dawson played his college football at Wingate (N.C.) University as a quarterback and wide receiver. He began his coaching career as receivers coach at his alma mater in 2002.
Dawson linked up with former Kentucky head coach Hal Mumme in 2003-04 to help revive a program at Southeastern Louisiana that had been dormant for 17 years. He also coached with Mumme at New Mexico State in 2005.
Dawson went to Millsaps College as offensive coordinator and quarterbacks coach in 2006-07. The Majors won the Southern Collegiate Athletic Conference championship both years, the first back-to-back titles in school history, and quarterback Juan Joseph was two-time SCAC Offensive Player of the Year. Millsaps played in the NCAA Division III playoffs in 2006.
Dawson moved to Stephen F. Austin University as offensive coordinator and quarterbacks coach from 2008-10. With the Lumberjacks averaging only 16 points a game during a winless 2007 season, Dawson helped orchestrate an amazing turnaround in SFA's offensive fortunes. In his first season, the Lumberjacks ranked third in the nation in passing offense, 13th in total offense and 14th in scoring offense.
SFA won or shared the Southland Conference championship the next two seasons, advancing to the Football Championship Subdivision playoffs both years. In 2009-10, SFA led the nation in passing offense while ranking in the top six nationally in total offense and scoring. Quarterback Jeremy Moses was a two-time All-American, two-time Southland Conference Offensive Player of the Year and won the Walter Payton Award as the FCS National Player of the Year. Wide receivers Dominique Edison and Contrevious Parks went on to play in the NFL.
Dawson and his wife, Chelsea, have two daughters, Acelyn and Baker.