University of Miami Athletics
Lance Guidry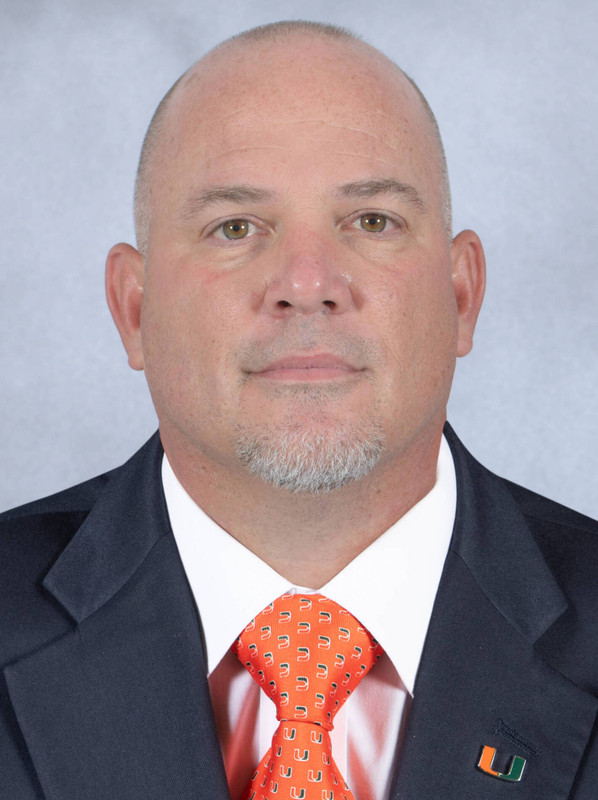 Lance Guidry is in his first season as the Hurricanes' defensive coordinator in 2023.
Guidry, who was named defensive coordinator at Miami in February 2023, spent the past two seasons as the defensive coordinator and safeties coach at Marshall University, where his defenses proved to be among the nation's elite units. Marshall's defense ranked in the top five nationally in FBS in several key statistics, including third down defense (first), stop rate (second), pass efficiency defense (third), defensive efficiency (third), yards per play (third), turnovers gained (fifth) and rushing defense (fifth).
In a dominant 2022 campaign, the Thundering Herd also finished the season ranked sixth in scoring defense (16.0) and passes intercepted (18), eighth in total defense (294.5), ninth in first down defense (200), 12th in defensive touchdowns (3), 16th in team sacks (2.92), 19th in red zone defense (76.7) and 22nd tackles for loss (6.9) and fumbles recovered (11). Both redshirt juniors Owen Porter and Micah Abraham were selected to the All-Sun Belt First Team, while four other standouts earned all-conference honors under his watch.
In his first season in the position with the Thundering Herd in 2021, Guidry's defensive squad led the conference and placed among the top 30 nationally in passing efficiency defense (12th – 117.56), sacks (18th – 3.08) and tackles for loss (30th – 6.6). Nine of the team's defensive players were recognized by the C-USA in their end of the season awards.
Prior to arriving at Marshall, Guidry spent a year working as the safeties coach at FAU. In 2020, his unit contributed to the 16th-best pass defense in all of FBS. (188.2) The unit ranked No. 24 in total defense in the NCAA and also finished as the second-most difficult unit to score in the conference (17.4 points per game, the ninth-best mark in the FBS).
Guidry, who spent the 2019 season at Southeastern Louisiana, served six seasons for McNeese State, his alma mater, the last three as the head coach of the Cowboys. All told, Guidry spent 12 seasons at McNeese State during which the team compiled a 98-45 overall record, including a 60-24 mark in Southland Conference play. During his most recent stint in Louisiana, he mentored Southland Defensive Players of the Year BJ Blunt (2018) and Wallace Scott (2015)
Guidry was part of McNeese staffs that helped the Cowboys to four Southland Conference championships and six appearances in the FCS playoffs, including a trip to the 2002 FCS championship game.
Guidry's consistently dominant defense were highlighted by his units in both the 2015 and 2017 seasons. The 2017 Cowboys led the nation and set a new Southland record with 54.5 rushing yards per game allowed – the seventh-lowest average allowed in FCS history. Guidry's 2017 McNeese defense propelled the Cowboys to a 9-2 record, ranking in the top 10 nationally in third down conversion defense (1stt – 23.8), first downs allowed (2nd – 150), defensive touchdowns (3rd- 5), total defense (5th – 262.5 ypg.), red zone defense (6th – 63.0 percent), turnovers forced (6th – 26), interceptions (7th – 16) and tackles for loss per game (9th – 8.2). That season, the Cowboys held five teams without an offensive touchdown, including Southeastern Louisiana in a 13-3 McNeese victory in Lake Charles. That year's Lions' offense averaged 428.1 total yards, 283.1 rushing yards and 34.8 points per game. In 2015, McNeese won the Southland Conference title and finished with a perfect regular season record thanks in large part to rankings of No. 12 nationally in total defense, third in scoring defense and fourth in rushing defense.
Prior to his stint at McNeese, Guidry was the defensive coordinator for two seasons at WKU and served as the interim coach for the Hilltoppers in the Little Caesars Pizza Bowl – the program's first bowl appearance. At WKU, he coached three NFL draft picks in defensive end Quanterous Smith, linebacker Andrew Jackson and safety Jonathan Dowling. His 2012 defense led the Sun Belt Conference in total defense, sacks, pass defense efficiency and first downs allowed.
Before coaching at WKU, Guidry was defensive backs coach at Miami (Ohio) for two seasons. The 2010 RedHawks were 10-4 and won the GoDaddy.com Bowl over Middle Tennessee, 35-21, with Guidry serving as interim head coach.
Guidry also had local high school coaching stops at Leesville and Carencro High School. A 1995 McNeese graduate and two-time All-Conference strong safety, Guidry helped McNeese to a pair of conference titles and playoff appearances during his collegiate playing career (1990-93).
Guidry and his wife, Starlet, have four children: Janzen, Madison, Alexis and Kaitlyn.