No. 16 Miami Rallies to Down No. 21 Louisville, 10-7
LOUISVILLE, Ky. — The Miami Hurricanes never quit.
Despite being shorthanded on the mound and trailing by four runs, the Hurricanes didn't back down.
No. 16 Miami scored in four of the final seven innings, rallying to beat No. 21 Louisville, 10-7, at Jim Patterson Stadium Saturday.
"I think it's our biggest win of the year," Miami head coach Gino DiMare said. "We don't have a third starter right now, so we had to match guys up. We were down four runs and they might've had the best pitcher in the conference on the mound today. Our offense did a great job to keep battling, get him out of there, score runs in bunches and put pressure on them."
The Hurricanes (28-16, 14-10 ACC) trailed Louisville (28-15, 9-12), 4-0, after two innings,
Junior catcher Carlos Perez sparked the comeback with a 412-foot solo shot to put the Hurricanes on the board in the third.
Then, freshman second baseman Blake Cyr followed with a two-run double, pulling the visitors from Coral Gables within one.
In the fourth, junior first baseman CJ Kayfus delivered.
Kayfus plated a pair with a hit up the middle, pushing the Hurricanes in front, 5-4.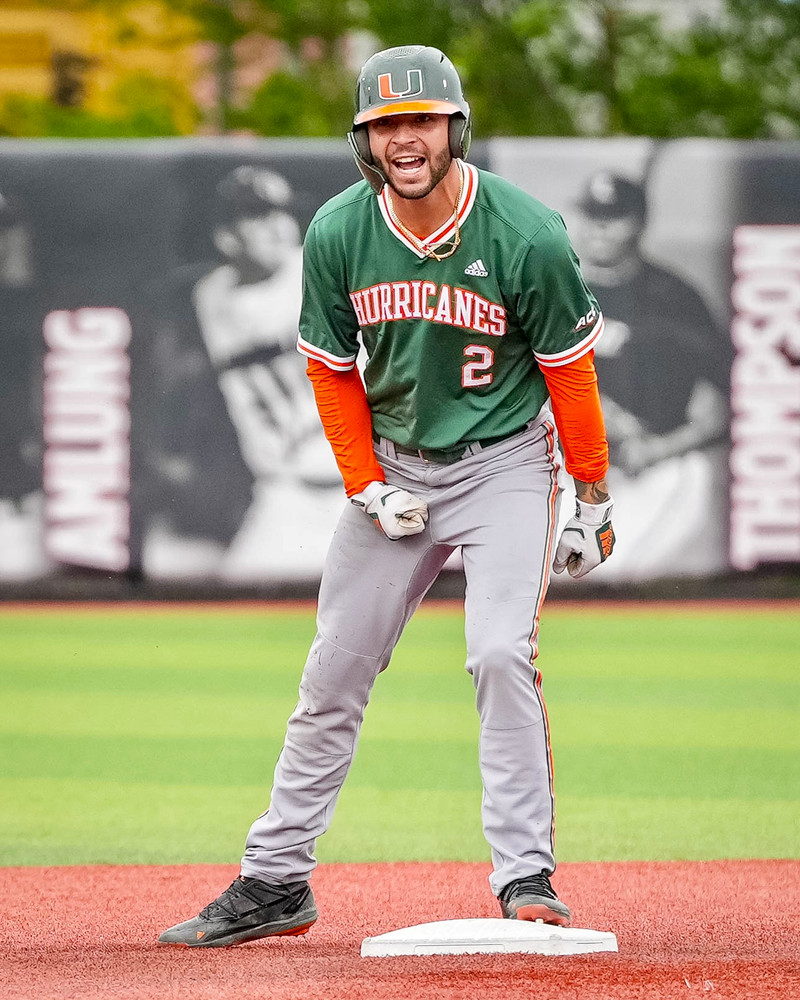 Miami's leadoff man darted to second on the relay throw home and let out a roar, igniting the third base dugout.
"The game is never over," Kayfus said. "There's no time limit in baseball and anything can happen, especially with the guys that we have. That moment was a huge momentum changer for the team."
Sophomore outfielder Edgardo Villegas chased home another tally, reaching on a fielder's choice to make it six unanswered runs.
The Cardinals responded with two tallies of their own in the bottom half, but Miami's offense was just getting started.
Kayfus punched back for the Hurricanes, driving in his third run of the day with a base knock.
Sophomore second baseman Dorian Gonzalez, Jr. and junior shortstop Dominic Pitelli tacked on three insurance tallies in the eighth, which would be more than enough for Miami closer Andrew Walters.
Walters recorded the final six outs to secure the top-25 series victory for the Hurricanes.
"Winning on the road against a team like this will only help our chances in terms of rankings and RPI," DiMare said. "When we get down to the end of the season, all this stuff matters. Most importantly, we still have to play well and finish the season."
Fifth-year senior right-hander Carlos Lequerica (4-0) earned the win in relief, tossing a season-high 3 1/3 scoreless innings. Lequerica struck out five of the 11 batters he faced, allowing only one Cardinal batter to reach safely.
"I threw with confidence and conviction," Lequerica said. "I pounded the zone and trusted my defense. This is a win that shows our grit. It's a part of our DNA and culture. We always fight until the end."
In the victory, junior third baseman Yohandy Morales eclipsed the 200-career hit mark, becoming the first Hurricane to reach the milestone since Zack Collins in 2016.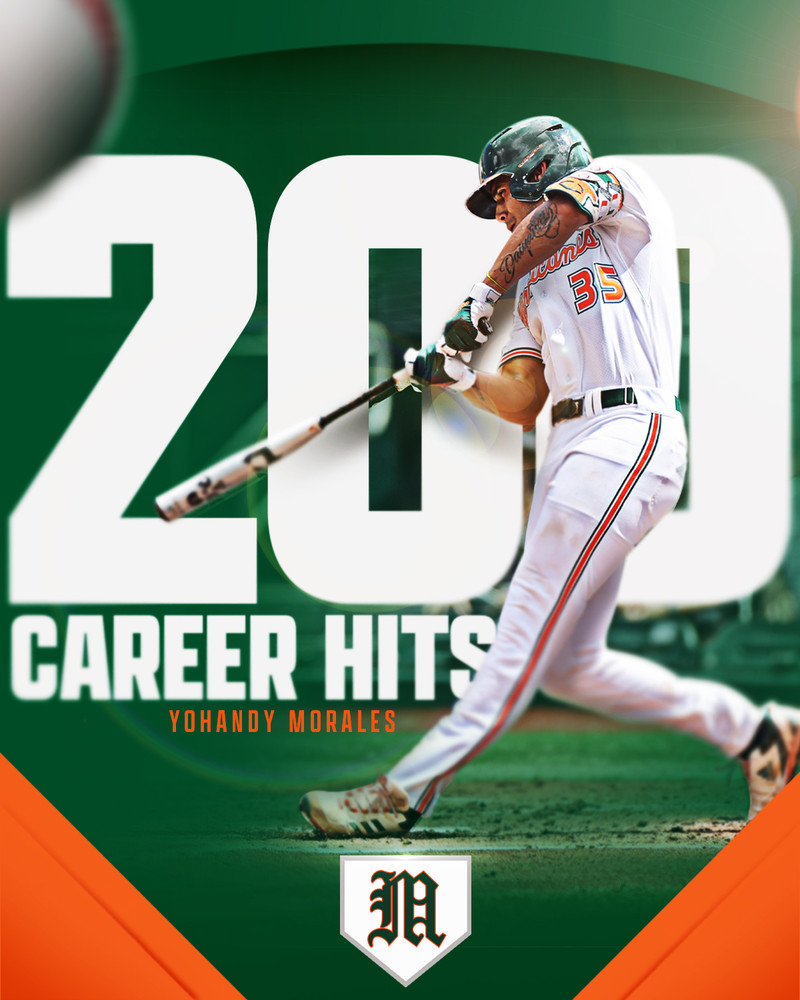 "It's uncharted territory," DiMare said. "There aren't a lot of guys who have that many hits. That right there tells you all you need to know about how good he is. It's just a testament to who he is."
Following its fourth ranked series victory of the season, Miami returns home to face Presbyterian. The three-game set begins at 7 p.m. Friday at Alex Rodriguez Park at Mark Light Field.
To keep up with the University of Miami baseball team on social media, follow @CanesBaseball on Twitter, Instagram and Facebook.