No. 16 Canes Claim Series Opener at No. 21 Cards
LOUISVILLE, Ky. — Gaby Gutierrez was ready.
With No. 16 Miami and No. 21 Louisville level in the eighth, Gutierrez heard his name.
Playing for the first time in 13 days, the sophomore stepped off the bench and delivered the biggest swing of the game.
Gutierrez ripped a go-ahead base hit to lift the Hurricanes to a 6-5 victory over the Cardinals at Jim Patterson Stadium Thursday afternoon.
"Gaby hasn't had a lot of chances and I've been thinking about him a lot," Miami (27-15, 13-9 ACC) head coach Gino DiMare said "It was a perfect situation and he came through with a big-time clutch hit."
The Hurricanes' hero almost didn't even get his opportunity.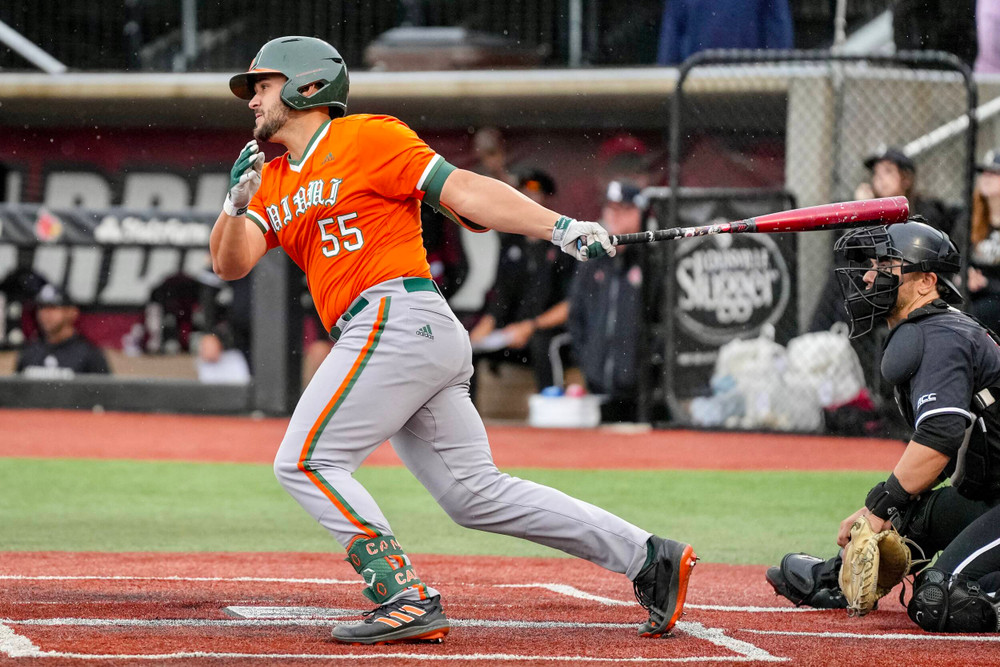 With two runners on and two out, DiMare called upon sophomore Renzo Gonzalez to pinch hit against Louisville right-hander Kaleb Corbett.
The Cardinals (27-14, 8-11 ACC) made a move to the bullpen, bringing in lefty Riley Phillips.
Miami's fifth-year skipper countered and the rest is history.
"I've been waiting for my opportunity," Gutierrez said. "Whenever I get called, I'm ready to do the best I can and just help this team. We are a family."
Closer Andrew Walters (7) locked down his fourth save in the Hurricanes' last five games to seal the win.
Right-handers Carlos Lequerica and Alejandro Torres bridged the game to Walters, combining to toss 3 2/3 scoreless.
"I didn't have my best stuff today, but at the end of the day, I still had to get a zero for the team," Walters said. "The bullpen has been the strength of our team the past few years. Our job is to put up zeros to allow for game-winning hits like Gaby's knock."
Junior first baseman CJ Kayfus set the tone from the first inning, socking a leadoff solo shot, his third homer in his last six at-bats.
After Louisville answered with a run in the second, the Hurricanes plated three in the fifth, capped off by Kayfus' RBI single.
Outfielder Zach Levenson pushed the visitors' lead to 5-2 with a run-scoring double in the sixth before the Cardinals tied things up in the sixth.
Following its ninth ranked victory of the year, Miami will look to secure the series Friday. First pitch is set for 6 p.m.
"Took the entire team to pull that one off," DiMare said. "It was a huge one to start off the series and the next one is even bigger tomorrow."
To keep up with the University of Miami baseball team on social media, follow @CanesBaseball on Twitter, Instagram and Facebook.