No. 16 Miami Outslugs FAU in 12-9 Win
 CORAL GABLES, Fla. — The Miami Hurricanes flexed their muscles.
Miami mashed six home runs, including four in one frame, as the Hurricanes topped the FAU Owls, 12-9, Tuesday evening at Alex Rodriguez Park at Mark Light Field.
"Anybody in our lineup can go yard at any time," junior third baseman Yohandy Morales said. "We've shown it and prove that time and time again this year."
Morales and first baseman CJ Kayfus both smacked two homers in the victory, with outfielder Zach Levenson and second baseman Blake Cyr joining the Hurricane Home Run Derby.
Kayfus sparked the offensive onslaught with a solo shot in the first before Morales pushed the Miami (26-15) ahead, 6-1, with a three-run blast an inning later.
The Hurricanes' leadoff man once again set the table in the fourth with a two-run jack, tallying his second career multi-homer game.
After sophomore Edgardo Villegas singled, Morales left the yard for the second straight at-bat, sending a laser the other way.
Morales' 10th blast of the year vaulted the slugger into the Hurricanes' top-10 career home run list, tying the Miami native for ninth all-time.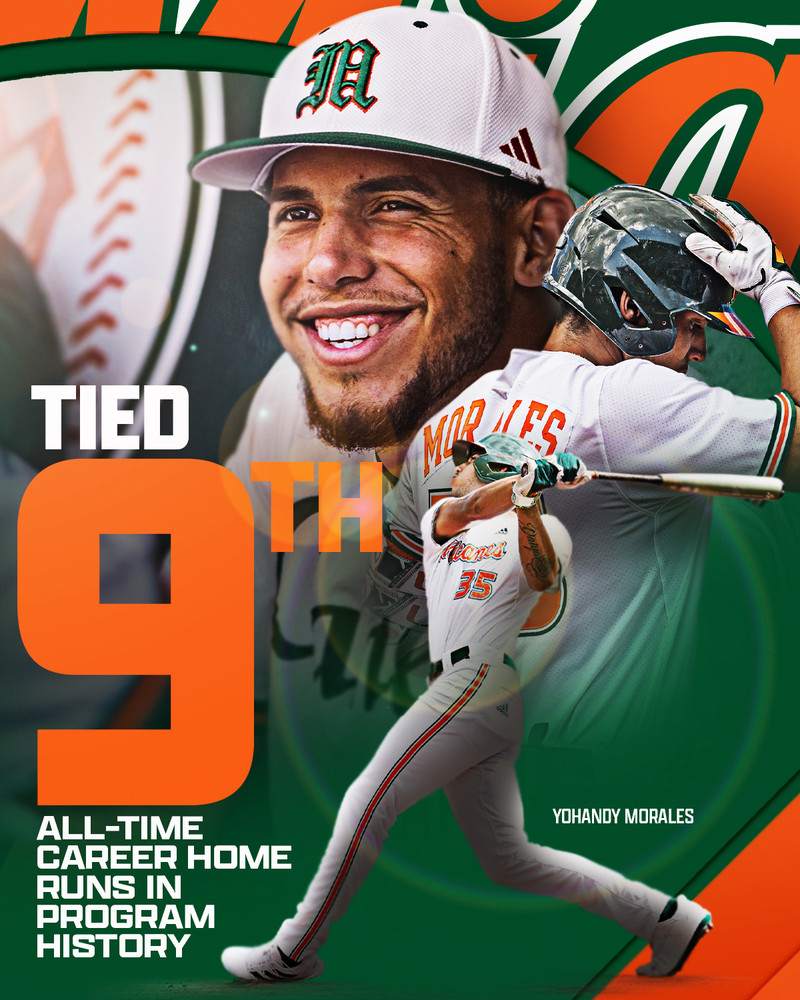 "It's an unreal feeling," Morales said. "Being from Miami and doing it for your hometown program, you can't write a better script."
Levenson followed Morales' round-tripper with his career-high ninth home run before Cyr capped off the inning with a solo shot.
The four-homer inning marked just the fourth time Miami accomplished the feat in program history, joining the 1984, 1998 and 2008 teams.
"Everybody was clicking," Kayfus said. "Each and every guy that inning was just locked in."
With a 12-4 cushion, the Hurricanes' bullpen did the rest.
Fourth-year right-hander Ronaldo Gallo (1-3) retired all five batters he faced, logging his first win of the year.
Righty Carlos Lequerica fanned three of the four batters he faced before closer Andrew Walters (6) put on the finishing touches to seal the win.
Following their best home start since 2015, Miami heads to Louisville to face the 21st-ranked Cardinals. The three-game series begins at 4 p.m. Thursday.
"I was very happy about the fact we got the win," Miami head coach Gino DiMare said. "Most of the teams in our league are beating up on each other. So, it's about catching fire and getting hot at the right time. We're getting closer and closer to that."
To keep up with the University of Miami baseball team on social media, follow @CanesBaseball on Twitter, Instagram and Facebook.