Scanlon Shines in Comeback Win over FIU
MIAMI, Fla. — Jack Scanlon was hitless in his first 13 at-bats as a Hurricane.
Still, the fourth-year junior catcher, who transferred to Miami from Oregon, remained positive.
After picking up his first hit in the orange and green Sunday, Scanlon shined Wednesday night.
Scanlon smacked his first home run of the year, leading Miami to a 7-3 win over crosstown foe FIU at FIU Baseball Stadium.
"He's been great ever since he stepped foot on campus," Miami head coach Gino DiMare said. "Super kid. He wants to be coached, wants to be pushed and wants to be better. He's waited his turn and hasn't pouted…He's been a great teammate."
When the Hurricanes (11-6) walked-off Penn State on Feb. 19, Scanlon instilled confidence in eventual-hero CJ Kayfus with a pep-talk in the dugout.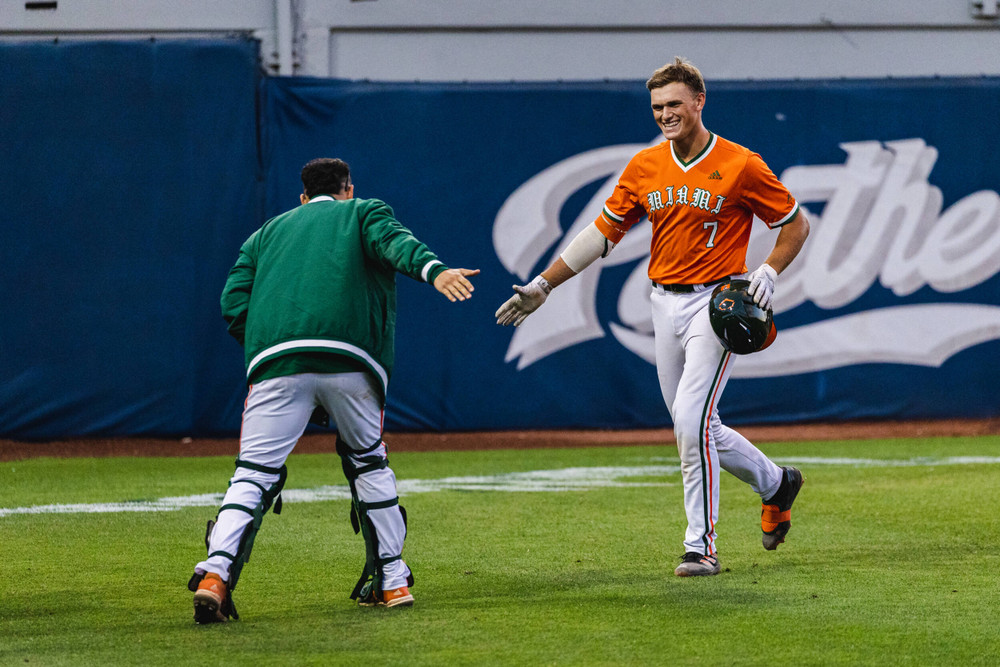 Against the Panthers (11-7), the upbeat-Scanlon supplied the spark on the diamond.
With FIU ahead 2-0 in the third, the 6-foot-4, 224-pound backstop smoked a first-pitch fastball over the right-center field, tying things up, 2-2.
"I've been struggling, scuffling, but every day I come to the ballpark with the same mentality," Scanlon said. "Good things are starting to come, and I feel better up at the plate…I was just trying to put together a good at-bat for the team. Once I hit it, I was just hoping that the ball was going over the wall and wasn't getting caught."
After FIU re-grabbed the lead in the bottom of the fourth, Scanlon singled and scored to level the game in the fifth.
Scanlon handled five different Miami pitchers, as the Hurricanes shut down the Panthers over the final five innings.
Southpaw Chris Scinta and right-handers Carlos Lequerica and Alejandro Torres combined to toss 4 1/3 scoreless, getting the visitors back up to the dish in a hurry.
Miami broke out for four runs in the ninth, highlighted by Edgardo Villegas' go-ahead double and Jacoby Long's two-run blast to cap off the evening.
Lequerica, who played last season for the Panthers, earned his first win as a Hurricane. Meanwhile, redshirt senior righty CJ McKennitt (2-1) was tagged with the loss after pitching the final frame.
"Those guys came in and threw strikes," Scanlon said. "Even if they got punched in the mouth, they competed. They did an excellent job and continued to fight. They didn't back down."
Next, the Hurricanes, who have won three of their last four contests, welcome 17th-ranked Virginia Tech to Alex Rodriguez Park at Mark Light Field. The three-game set begins at 8 p.m. Friday.
"Overall, we're playing okay, but not quite the way I want to see us play," DiMare said. "The good thing is we won the game, but we have a lot to improve on. All facets. I want to see us clean things up and play a lot better. At the end of the day, when you can win when you aren't playing your best baseball, that's always a good thing. Now, we have to get ready for a big series this weekend."
To keep up with the University of Miami baseball team on social media, follow @CanesBaseball on Twitter, Instagram and Facebook.