22nd-ranked Hurricanes Hammer Hatters, 11-2
CORAL GABLES, Fla. — Yohandy Morales is known for hitting home runs.
In fact, Morales blasted 29 career homers in his first two seasons. But through Miami's first three games, he was held quiet.
The slugging third baseman didn't change his swing. Didn't change his hairstyle. But he did change one thing.
With his old walk-up song blaring over the speakers at Mark Light Field, Morales mashed two home runs to lead No. 22 Miami to a dominant 11-2 win over the Stetson Hatters Tuesday evening.
"Everybody in the dugout was telling me I needed to go back to my old walk-up song," Morales said with a smile. "Everybody was telling me to go back, even my family."
Two days after the Hurricanes (3-1) relied on Mark Light Magic to secure the series over Penn State, Morales leaned on the magic of music against the Hatters (3-1).
As "Mony Y Jevita" by Un Titico resonated throughout the crowd, one of the most prolific power hitters in the country recaptured his mojo.
Morales rocketed a loud three-run jack to jumpstart the offensive outburst. His first-inning round-tripper traveled an estimated 456 feet and put the hometown Hurricanes ahead, 3-0.
But the Miami native wasn't done beating to his own drum.
The junior launched a 443-foot two-run dinger in the third to push the Hurricanes' cushion to five.
"I was seeing the ball well out of the hand," Morales said. "My first weekend wasn't very good, but my teammates were there to pick me up. I wanted to do whatever I can to help our team score runs."
With Morales approaching the top-10 home run mark in program history, freshman Blake Cyr began his chase up the charts.
Two batters after Morales' majestic blast, Cyr crushed an opposite field two-run shot of his own.
The freshman stroked a 2-0 fastball and sent it over the right field wall for his first career homer.
"Unreal," Cyr said. "It felt pretty good right off the bat. I'm just glad to be able to produce for the team. At the end of the day, we just want to keep winning and keep rolling."
Just like Morales, the 5-foot-11, 190-pound second baseman was in rhythm.
Cyr doubled down the right field line, plating a pair of tallies and ballooning the advantage to 10-1.
"He's got some juice in that bat," head coach Gino DiMare said. "There's still some rawness to him, but he's very, very talented…He's certainly shown in just a couple games what he can do."
While Morales and Cyr turned up the volume, Miami's pitching staff silenced the Hatters.
Fourth-year redshirt sophomore Alejandro Torres dazzled in his first career start, pounding the strike zone. The right-hander tossed a career-long three innings and punched out a career-best seven, firing 32 of his 47 pitches for strikes.
"This was surreal," Torres said. "Yesterday, when [associate head coach/pitching coach] J.D. [Arteaga] gave me that call, I freaked out. Knowing that J.D. and Gino wanted me to open up, that gave me all the confidence I needed."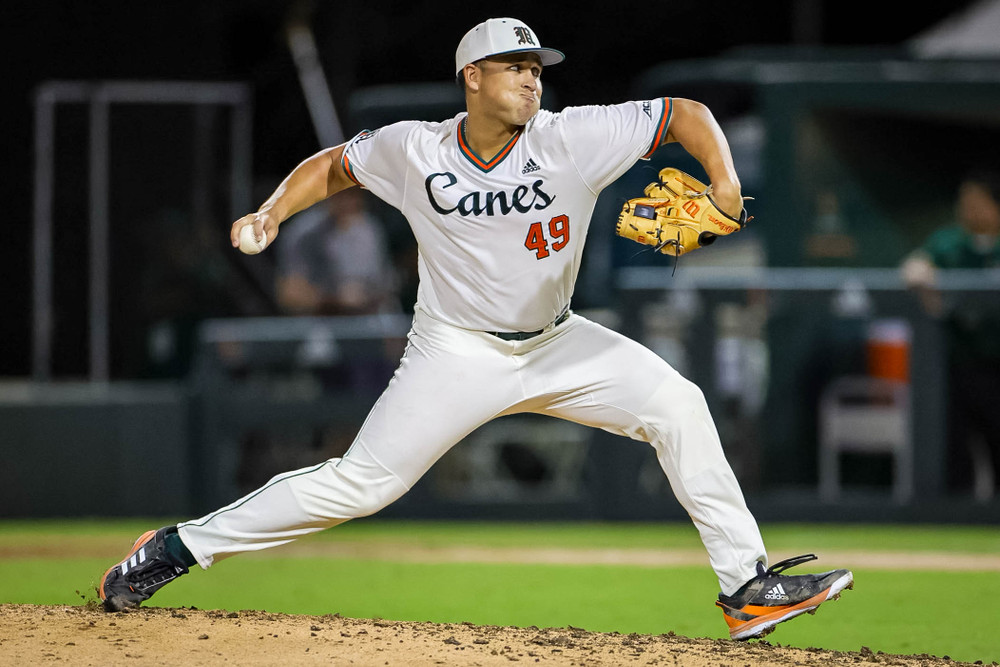 Rookies Chris Scinta, Gunther Braendel, Sebastian Perez and fifth-year senior Carlos Lequerica picked up where Torres left off.
Scinta and Lequerica each struck out two over a pair of frames, while Braendel and Perez teamed up to record the final six outs.
As a pitching staff, the Hurricanes tallied 14 strikeouts and did not issue a free pass.
"Tonight, we did an excellent job of getting ahead of most of the hitters," DiMare said. "It was a great job by the entire staff. Zero walks and 14 strikeouts doesn't happen often, that's pretty impressive, and there were a lot of guys who were a part of that."
With the win, Miami now boasts a 30-8 (.789) mark in midweek matchups under DiMare.
Following Tuesday's victory, the Hurricanes welcome Indiana State to Mark Light Field Wednesday. First pitch is slated for 6 p.m.
To keep up with the University of Miami baseball team on social media, follow @CanesBaseball on Twitter, Instagram and Facebook.