Breaking Down the Canes' 2023 Schedule
CORAL GABLES, Fla. – Already, they've begun the work of preparing for a new season.
Now, the Hurricanes know a little bit more about how that season will look.
There will be a Friday-night opener. A non-conference showdown in the Northeast against an old familiar foe. A road game against their biggest rival. And a marathon late-season, eight-game stretch against conference opponents that will determine Miami's fate in the race for a berth in the ACC Championship Game.
The ACC's new scheduling model means there won't be any more crucial division games to determine which teams play for the conference title. Instead, Miami and the rest of the ACC's teams will face a series of high-stakes matchups against opponents from across the conference.
That means this year, the Hurricanes will play teams they haven't necessarily seen regularly.
Miami will host Clemson, the reigning conference champion and a former Atlantic Division team, in October. The Hurricanes will then close the season out with games against four more former Atlantic teams including Miami's three new primary opponents: Florida State, Louisville and Boston College.
Each game will, no doubt, provide a unique challenge.
But they're challenges Hurricanes head coach Mario Cristobal knows will only help his team as Miami continues working to become the championship-caliber program he believes it can be.
"We've got a lot of work to do," Cristobal said of the Hurricanes back in December. "There is no flinching. There is no nothing except that mentality to go forward. But the right pieces are starting to fall into place and you know, it's back to work."
Here, a breakdown of Miami's 2023 schedule, which was released Monday night by the ACC:
Sept. 1, vs. Miami (OH)
Hard Rock Stadium
 Miami University and the University of Miami haven't met since 1987, but the two similarly-named schools will kick off the new season at Hard Rock Stadium the first Friday of September.
The Hurricanes will feature plenty of new faces across the roster, but the opener is expected to feature the return of a very familiar face – veteran quarterback Tyler Van Dyke, who was hampered by a shoulder injury late last year and missed four of the final five games of the season. Despite that, Van Dyke still finished the year completing 63 percent of his passes and throwing for 1,835 yards and 10 touchdowns.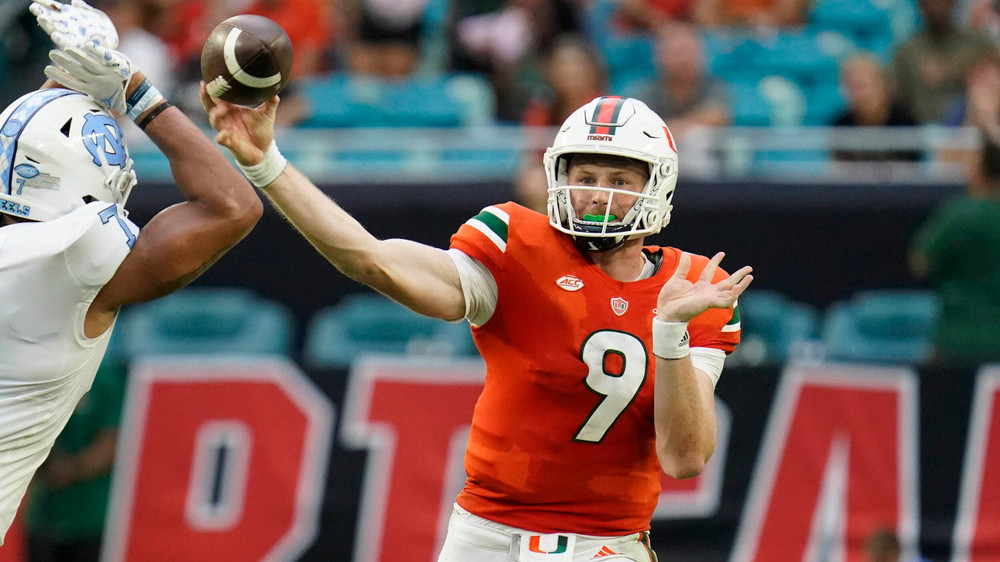 The Red Hawks, meanwhile, are coming off a 6-7 season that ended with a 24-20 loss to UAB in the HomeTown Lenders Bahamas Bowl. They return redshirt freshman quarterback Aveon Smith, who started the season as a reserve but finished the year appearing in 10 of Miami's 13 games. He threw for 1,299 yards and 11 touchdowns and was also the Red Hawks leading rusher with 553 yards and six touchdowns.
The Hurricanes lead the all-time series against the Red Hawks 3-0.
Sept. 9, vs. Texas A&M
Hard Rock Stadium
A year after the Hurricanes held their own in front of more than 107,000 fans at Kyle Field, the Aggies will make their first trip to Miami since 2007.
The Hurricanes won that last meeting in South Florida, 34-17, and will look to not only replicate that success, but avenge a hard-fought 17-9 loss to A&M last September.
In that game, Van Dyke threw for 217 yards, Henry Parrish, Jr. ran for a team-high 85 yards and Andy Borregales connected on field goals of 28, 26 and 34 yards while Miami's defense totaled six tackles for loss, including three sacks of quarterback Max Johnson, who was held to just 140 passing yards.
After last year's matchup in College Station, the Aggies went on to finish the season with a 5-7 mark. They closed the year out with a pair of back-to-back home wins, including a 38-23 victory over then sixth-ranked LSU.
This season's game in South Florida will also give one team the edge in the all-time series. As it stands now, that series is even 2-2.
Sept. 14, vs. Bethune-Cookman
Hard Rock Stadium
The Hurricanes will face another familiar foe in 2023 when they welcome Bethune-Cookman back to Hard Rock Stadium, this time for a prime-time Thursday night showdown.
The Hurricanes and Wildcats have met six times, with Miami winning all of those games including last year's 70-13 season-opener.
In that game – head coach Mario Cristobal's first in his return to his alma mater – Miami totaled 605 yards of offense including 305 rushing yards. Van Dyke completed 13 of 16 passes for 193 yards and two touchdowns, while Parrish rushed for 108 yards and Xavier Restrepo had 100 receiving yards.
The Wildcats finished 2022 with a 2-9 mark and lost four straight to end the year. They have endured a tumultuous offseason that has included the search for a new head coach and the transfer of starting quarterback Jalon Jones, who threw for 243 yards in last year's game at Hard Rock Stadium.
Sept. 23 at Temple
Lincoln Financial Field, Philadelphia
Since dropping their first meeting against Temple back in 1930, the Hurricanes have won 13 straight against their former Big East foe. The most recent matchup? A 34-3 Miami win in Philadelphia in 2005.
The Hurricanes will make their first trip back to the City of Brotherly Love since and will look to extend their win streak against the Owls, who lost four of their last five and finished the 2022 season with a 3-9 record.
Despite their struggles, the Owls got a stellar season from quarterback E.J. Warner, the son of former two-time NFL MVP and Super Bowl champion Kurt Warner.
In his first season with the Owls, E.J. Warner completed 61 percent of his passes and threw for 3,028 yards with 18 touchdowns and 12 interceptions. He was named the American Athletic Conference Rookie of the Year, the Pro Football Networks Newcomer of the Year and was named to the All-Freshman Team by both the College Football News and Pro Football Focus.
Warner will lose his top target, though, with receiver Jose Barbon – who had 71 catches for 910 yards last season – declaring for the NFL Draft last month. Receivers Amad Anderson, Ian Stewart and D'Wan Mathis – transfers from Purdue, Michigan State and Georgia, respectively – are all back.
Oct. 7, vs. Georgia Tech
Hard Rock Stadium
The Hurricanes, who have won two straight over Georgia Tech and have gone 7-3 against the Yellow Jackets in games played in Miami, will look to continue that success when they open ACC play and host their former division foes the first week of October.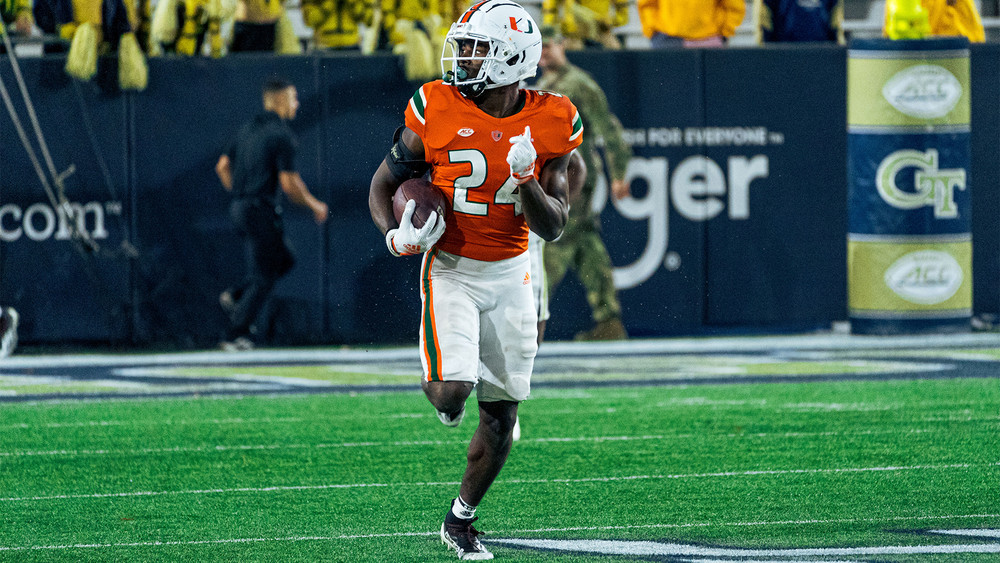 Last year's game in Atlanta was a memorable day for Hurricanes safety Kamren Kinchens, who had three interceptions in Miami's 35-14 win, including one pick he returned 99 yards for a score.
His performance tied a Hurricanes record for interceptions in a single game and helped the rising junior secure first-team All-American recognition by multiple outlets including the Associated Press.
Also delivering a big performance in last year's win over Georgia Tech was quarterback Jacurri Brown, who got the start in his home state in the wake of Van Dyke's injury.
Brown accounted for 223 yards in the win on his own, completing 14 of 19 passes for 136 yards and throwing for three touchdowns in the process.
Georgia Tech went on to finish the season with a 5-7 record and elevated interim coach Brent Key to full-time coach in late November. Key, a former letter-winning guard for the Yellow Jackets, led his alma mater to four wins during the final eight games of 2022.
Oct. 14 at North Carolina
Kenan Memorial Stadium, Chapel Hill
The Hurricanes' first ACC road test will come against another familiar team in a familiar place.
Miami is no stranger to Chapel Hill, traveling there 10 times to face its former Coastal Division foe, North Carolina. The Hurricanes, though, have had a tough time at Kenan Memorial Stadium of late and will look to snap a two-game losing streak there.
The game could also be a showdown for two of the ACC's top signal callers.
In last year's matchup, Van Dyke – the 2021 ACC Rookie of the Year and Offensive Rookie of the Year – had one of his best games in orange and green.
The quarterback completed 42 of 57 passes and threw for 496 yards and three touchdowns. He set a new school record for completions and attempts and his 496 yards are second only to the 566 yards former Miami quarterback Stephen Morris threw for in a 2012 game against North Carolina State to set the Hurricanes' single-game record.
On the other side, North Carolina's Drake Maye completed 19 of 28 passes and threw for 309 yards and two touchdowns. He and the Tar Heels picked up the narrow 27-24 victory and North Carolina went on to face Clemson in the conference title game.
Maye, meanwhile, went on to complete 66 percent of his passes and throw for 4,321 yards and 38 touchdowns. Those numbers helped him earn recognition as the ACC Player of the Year, Offensive Player of the Year, Rookie of the Year and Offensive Rookie of the Year.
He is only the second player in ACC history to accomplish that feat along with former Florida State quarterback Jameis Winston, who did the same in 2013.
Oct. 21, vs. Clemson
Hard Rock Stadium
After traveling to South Carolina last season, the Hurricanes will welcome the reigning ACC champions back to Hard Rock Stadium.
And every expectation is that once again, Clemson will be one of the conference's top teams.
Though the Tigers ended the season with a 31-14 loss to Tennessee in the Orange Bowl, they finished the season ranked No. 13 in the final AP Top 25 poll and have already appeared on multiple of the "way-too-early" top 25 rankings looking ahead to next season.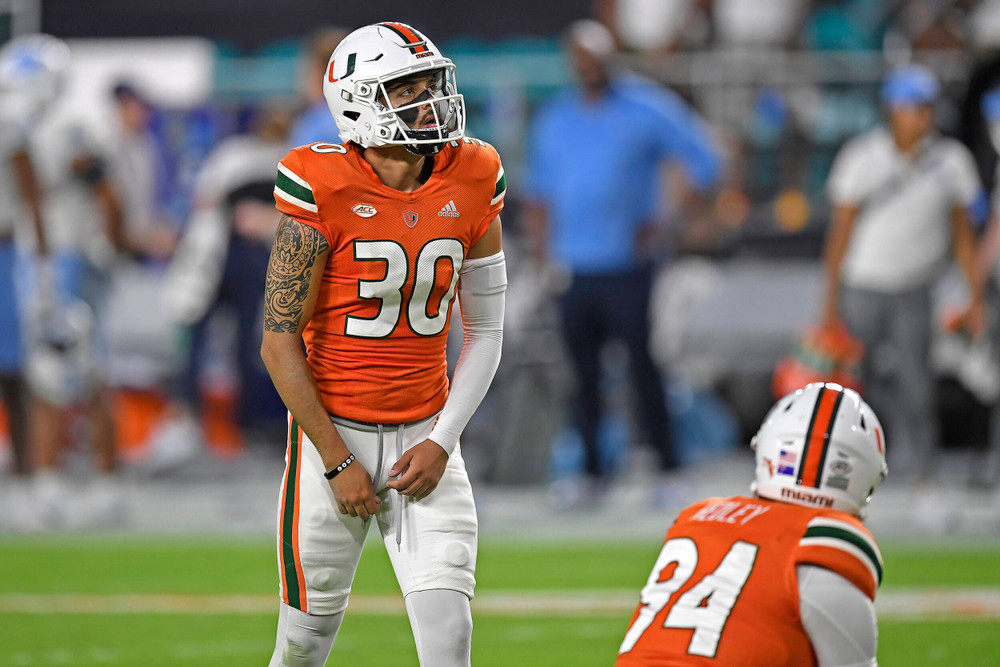 There's good reason for that.
Clemson returns quarterback Cade Klubnik, who was named the MVP of the ACC Championship Game after completing 20 of 24 passes and throwing for 279 yards in the Tigers' 39-10 win over North Carolina. Also back are running back Will Shipley (1,182 rushing yards and 15 touchdowns in 2022), running back Phil Mafah (515 yards and 4 touchdowns) and receiver Antonio Williams (56 catches for 604 yards and four touchdowns).
Defensively, Clemson returns first-team All-ACC and second-team All-American defensive tackle Tyler Davis, who totaled 27 tackles, including 9.5 for loss and 5.5 sacks and fellow defensive tackle Ruke Orhorhoro, who had 28 tackles and four sacks in 2022.
Oct. 28, vs. Virginia
Hard Rock Stadium
Another formal Coastal Division foe Miami knows well will return to South Florida this season when Virginia comes calling in late October.
The Hurricanes and Cavaliers have met 20 times, with Miami holding a 12-8 lead in the all-time series. The most recent Hurricanes' win came last October in a matchup that needed four overtimes to be decided.
In that game, Borregales converted on field goals of 38, 20, 42 and 37 yards to provide the bulk of the scoring in what was eventually a 14-12 Miami victory.
The Hurricanes' defense was a force against the Cavaliers, holding former Virginia quarterback Brennan Armstrong to just 205 passing yards and sacking him five times.
In all, Miami totaled 11 tackles for loss in the game, with Leonard Taylor III collecting four of those.
Virginia went on to finish the season with a 3-7 record and did not play the final two games of the season after football players Devin Chandler, Lavel Davis Jr. and D'Sean Perry were shot and killed after returning from a class field trip to Washington, D.C. in early November.
Another member of the football team – tailback Mike Hollins – was injured in the shooting.
The Cavaliers will take the field together for the first time since when they play their spring game in Charlottesville on April 15.
Nov. 4 at North Carolina State
Carter-Finley Stadium, Raleigh
The Hurricanes haven't exactly made a lot of trips to Raleigh to face the Wolfpack in the past – but they've been successful when they've visited Carter-Finley Stadium.
Miami has posted a 4-1 record in games played on NC State's home field, the most recent win coming in 2020 when the then-10th-ranked Hurricanes outlasted the Wolfpack, 44-41.
And while the Hurricanes have won four straight against N.C. State, their last two games have been decided by a combined four points.
In their most recent matchup – a 31-30 Miami win in 2021 – Van Dyke threw for 325 yards over the 18th-ranked Wolfpack and Kinchens, then a freshman, made a crucial tackle that ended NC State's final drive and helped the Hurricanes hang on for the victory.
Both Van Dyke and Kinchens will look to replicate their success against the Wolfpack, who posted an 8-5 record a season ago and closed the year with losses in three of their last four games.
While veteran quarterback Devin Leary has transferred out of the NC State program after missing time last year with an injury, the Wolfpack return two of the players who filled in for him: redshirt freshman MJ Morris and redshirt sophomore Ben Finley.
Adding intrigue to the Wolfpacks' offseason? The addition of Armstrong – the former Virginia quarterback who was the school's all-time leading passer.
Defensively, linebacker Payton Wilson will return for a fifth season at NC State. He was among the Wolfpack's top defenders with 82 tackles, 12.5 tackles for loss and 4.5 sacks.
Nov. 11 at Florida State
Doak Campbell Stadium, Tallahassee
One of college football's most well-known rivalries will take center stage the second weekend of November when Miami ends a stretch of back-to-back road games with a trip to Tallahassee.
The Seminoles closed out the 2022 season with six straight wins and posted a 10-3 record. They were ranked No. 11 in the final AP Top 25 poll and are widely expected to be among the teams contending for the ACC title this year.
After winning four straight over the Seminoles from 2017 to 2020, Miami has lost two straight to Florida State adding to what's already been a streaky history between the two rivals. Two examples of that streakiness? Miami won six straight between 2000 and 2004 and Florida State won seven straight between 2010 and 2016.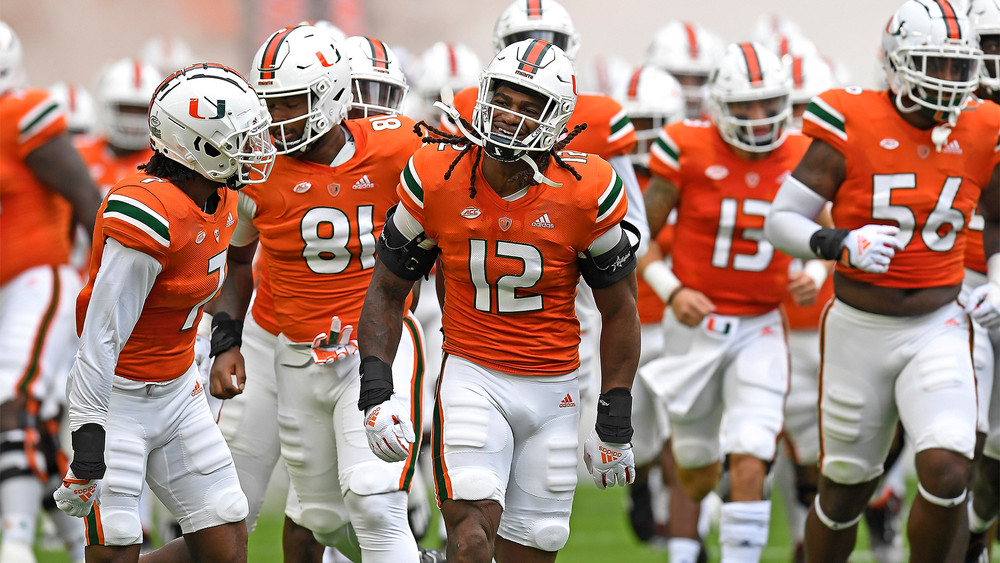 To reverse their fortunate of late against the Seminoles, the Hurricanes will have to contain dual-threat quarterback Jordan Travis, last season totaled 3,214 passing yards and 417 yards and accounted for 31 touchdowns.
Also returning for Florida State is defensive end Jared Verse, who had a team-high 17 tackles for loss and a team-high nine sacks, and running back Trey Benson, who totaled 1,326 all-purpose yards for the Seminoles last season.
Nov. 18, vs. Louisville
Hard Rock Stadium
With the ACC's new scheduling model, the Hurricanes and Cardinals – who were previously in opposing divisions – will now meet on a yearly basis.
The first of those meetings will occur in November when the Cardinals come to Miami for the first time since 2019. That day, the Hurricanes ended a three-game losing streak to Louisville with a 52-27 win.
The Cardinals enter the new season with a new coach – former Louisville quarterback Jeff Brohm, who returned to his hometown and alma mater in December after spending six seasons as the head coach at Purdue.
At Purdue, Brohm posted a 36-34 mark and led the Boilermakers to four bowl appearances and wins over No. 2 Ohio State in 2018, No. 2 Iowa in 2021 and No. 3 Michigan State in 2021.
He'll now lead a team that went 8-5 last year and will have to make big adjustments with quarterback Malik Cunningham, running back Tiyon Evans and receiver Tyler Hudson all headed to the NFL while 15 players entered the transfer portal.
The Cardinals, though, are adding 12 transfer portal players of their own including graduate transfer quarterback Jack Plummer, who spent last season at Cal but was previously at Purdue while Brohm was there. And Louisville returns running back Jawhar Jordan, who had a team-high 843 rushing yards and four touchdowns.
Nov. 24 at Boston College
Alumni Stadium
The Hurricanes will close out the regular season against the third of their new primary opponents and another former Big East foe, Boston College.
The Eagles went 3-9 last season and the offense is expected to look markedly different after quarterback Phil Jurkovec, who threw for 1,711 yards, entered the transfer portal and receiver Zay Flowers, who had 1,077 yards, opted to enter the NFL Draft.
Boston College does return its leading running back, Pat Garwo III, who had 402 yards and three touchdowns last season and linebacker Kam Arnold, who had 75 tackles and two interceptions last year.
Miami and Boston College have met 30 times, with the Hurricanes holding a 24-6 lead in the all-time series, though the Eagles have won three of the last four against Miami. The teams' most recent matchup came in 2018 when Boston College posted a 27-14 win over the Hurricanes.