Canes Head to Virginia Tech for First ACC Road Test
CORAL GABLES, Fla. – Will Mallory still remembers how charged the environment was.
He remembers the energy from the frenzied, sold-out crowd. He remembers Virginia Tech's, earth-shaking, memorable entrance into Lane Stadium on a chilly, Virginia afternoon.
And he remembers how ultimately, he and his teammates handled it all.
Now, with Miami preparing for its first ACC road test of the year – a showdown against the longtime rival Hokies in Blacksburg – Mallory and the Hurricanes will have to find ways to replicate the success they've had of late at one of the conference's most intimidating venues.
"I played there my freshman year and I saw exactly how electric it can get and how that crowd is and how big of an advantage that is for them," said Mallory, a fifth-year tight end. "We've got to prepare for it. We've got to prepare to get up there and be in front of a sold-out crowd. We already know how it's going to be, especially when 'Enter Sandman' comes on. It's going to be crazy. We just have to use that to fuel us and focus on us. That's the most important thing. Just do what we've got to do and execute."
Mallory is one of just a few Hurricanes that have experienced a sold-out crowd at Lane Stadium.
Covid restrictions limited the number of fans in attendance in 2020, when Miami last traveled to Blacksburg. With those restrictions now gone, every expectation is the Hurricanes will find themselves playing in front of a capacity crowd eager to give the Hokies (2-4, 1-2 ACC) an edge.
The Hurricanes (2-3, 0-1), of course, are doing their best to prepare for that.
Noise has been pumped into Miami's practices. There's been a heavy focus on attention to detail and communication. And the Hurricanes say they believe the experience they gained playing in front of more than 107,000 fans at Texas A&M last month will be invaluable.
"The experience versus A&M is going to help. It was loud there. Really loud," Miami quarterback Tyler Van Dyke said. "But we handled it well. I think we only had one false start, which is very good, considering it was their third-best crowd in history there. We're ready."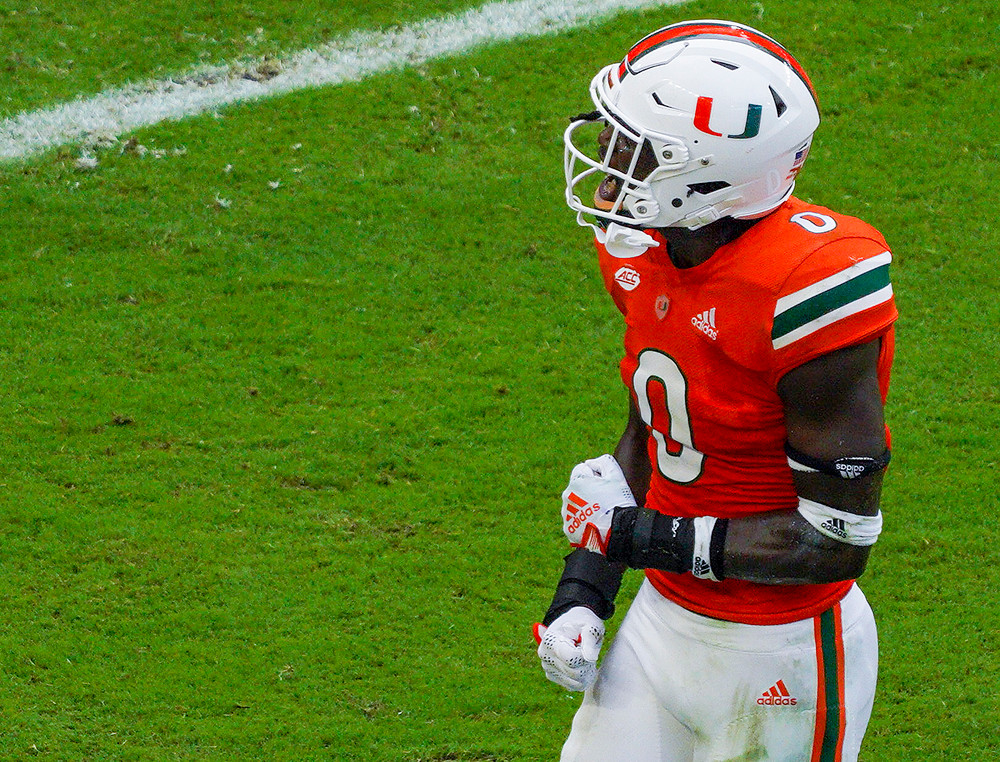 There's no doubt Miami will have to be prepared.
The Hurricanes are looking to snap a three-game losing streak and know a win Saturday will go a long way toward helping keep them in the race for both the division and conference titles.
Still, for Miami's players and coaches, those division and conference standings aren't the biggest priority this week. Continuing to find ways to improve has been the focus.
"We're establishing a certain DNA and a culture. The lumps that come with it are part of it. We're here for that," Miami head coach Mario Cristobal said. "We challenge our team on a weekly basis and that's never going to change. We're going to be in very tight games, competitive games. These games go down to details. You name it: alignment, assignment, eye discipline, communication, all those things…Not keeping an intent focus on your particular job can lead to a bad play that ends up hurting you from a win-loss standpoint. Those are the challenges that we're going to keep throwing on our guys. We want to increase our capacity to take on responsibility and obligation at an elite level. That's what we want to work towards."
One of the areas the Hurricanes have worked to improve? Red zone efficiency, particularly on the goal line.
During the second quarter of last week's hard-fought loss to North Carolina, the Hurricanes drove 91 yards into Tar Heels territory only to come up short on four attempts to score from North Carolina's 2-yard line.
Similar struggles have plagued Miami throughout the early portion of the season and offensive coordinator Josh Gattis made it clear this week that simply can't continue.
"That can't be who we are. We've got to develop an identity and a mindset that once we're on the goal line, we can't be denied. We've got to score with a man up front. We've got to run over defenders at the second level. We've got to be more physical," Gattis said. "Obviously, we've got some challenges from a physicality standpoint, with depth and help, but that's an area where you can't be denied. [When] the ball's on the 1-yard-line, there's very few choices you can make. The choice you can make is to impose your physicality on your opponent… We can't have three games in a row where we get stopped and denied at the goal line. That's just unacceptable. We're going to put a huge emphasis in that area moving forward."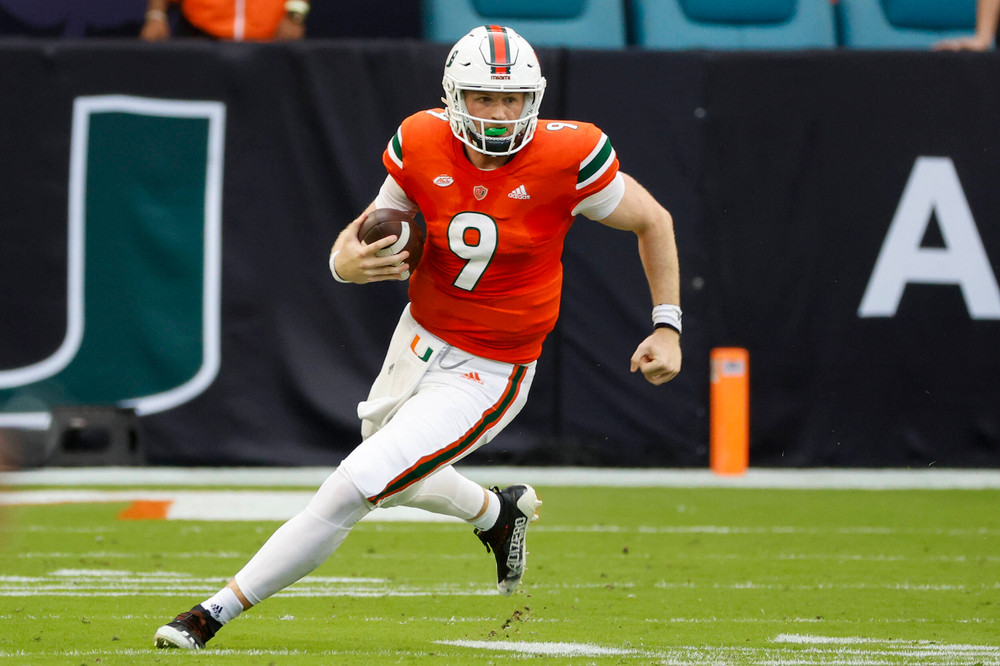 Van Dyke, who is coming off a career performance, says he's ready to do his part.
After struggling against Middle Tennessee State on Sept. 24, Van Dyke completed 42 of 57 passes and threw for a career-high 496 yards with three touchdowns against North Carolina.
Only Stephen Morris – who threw for 566 yards against North Carolina State in 2012 – has passed for more yards in a single game at Miami.
Van Dyke earned ACC Quarterback of the Week recognition for his efforts against North Carolina, but was adamant he and the rest of Miami's offense need to do more.
Wins, not individual numbers or accolades, are what matter and the quarterback said he's confident the Hurricanes can bounce back.
The first step in that process could come Saturday against Virginia Tech.
"We know we're this close to clicking. I said this last year, too. We really have heart and we really are a team," Van Dyke said. "It's all about clicking and putting things together and doing the right details, finishing in the red zone, not making mistakes on either side of the ball. Once we put all that together, we'll be hard to stop."