Making the Most of an Opportunity
CORAL GABLES, Fla. — His time at Seminole State College was an eye-opening experience.
Zach Levenson and his teammates woke up before sunrise. They didn't know what to expect.
They just knew they needed money for their program.
"We'd have to go volunteer three or four times a year to raise money," Levenson said. "We had to lay sod on a two- or three-acre lot. We were there right when the sun came up until it set."
As a freshman at Seminole State, Levenson wanted to grow as a baseball player.
But first, he'd have to develop his skills as a fundraiser.
"There was another time that we helped out at a local dog show," he said. "All the money went to our bats and cleats. We got two pairs of shorts and two shirts, a hat and a jersey, that's all you really get at a JUCO."
So, when the Oviedo, Fla., native arrived at Alex Rodriguez Park at Mark Light Field for the first team meeting this past fall, he had to pinch himself.
"When I first got here, [director of baseball operations and camps Robert "G.M." McDaniel] handing us all the gear was just crazy," he recalled. "It was really eye-opening, seeing all the hard work I put in come full circle. I felt that I sort of made it. This is the biggest stage of college baseball there is."
As a catcher and outfielder at Lake Howell High School, Levenson received his fair share of Division I offers.
He originally committed and signed to play at Kennesaw State, but once the COVID-19 pandemic ramped up, he asked for his release.
That same day, Seminole State gave him a call.
"They told me if I didn't find any other Division I options, they'd take me," Levenson said. "It's 15 minutes from my house, so it's really convenient. A week later, I made a decision."
Levenson had a respectable rookie season, batting .291 with a team-best 12 home runs and 39 RBI in 44 games. He was named a second team All-Mid-Florida Conference selection, helping the Raiders reach the state tournament.
But Levenson still didn't receive any attention from Division I programs.
Like many collegiate baseball players, he ventured to a summer league, looking to refine his craft.
Levenson began his summer, hitting .375 with five home runs and 13 RBI across 15 contests for the Waynesboro Generals.
His scorching-hot start earned him a bid in the 2021 Valley Baseball League Home Run Derby and All-Star Game.
Against some of the country's most talented sluggers, Levenson claimed the home run derby crown, blasting 24 homers.
"It's one of my favorite baseball experiences," he said. "These guys were probably like this is some JUCO kid and he has no shot. I went out there and hit my home runs and won."
Levenson quickly received attention from schools, including Appalachian State, FGCU and Houston, among others.
But Levenson hoped to play at a bigger program. He asked his skipper, Seminole State College Head Coach Mike Nicholson for help to make that dream happen.
Once Nicholson got word, he wanted to help Levenson.
Nicholson reached out to Power Five programs on Levenson's behalf and connected with Miami Hurricanes hitting coach and recruiting coordinator Norberto Lopez.
"Normally, we don't recruit freshman from junior colleges, unless the coach gives us permission," Lopez said. "He was getting a lot of buzz. I saw his numbers and he had a lot of power, so we started talking to him on the phone. As soon as I did that, I fell in love with the kid. He showed a real interest in wanting to be a Cane. The rest is history."
With the Hurricanes returning zero starting outfielders, Lopez didn't waste any time.
He spoke with Levenson that night. By morning, Levenson had an offer from Miami.
"I didn't even let Florida State or Virginia Tech come in," Levenson said. "Miami believing in me was really a big deal to me."
Levenson finished his summer with a .350 batting average, seven home runs and 21 RBI.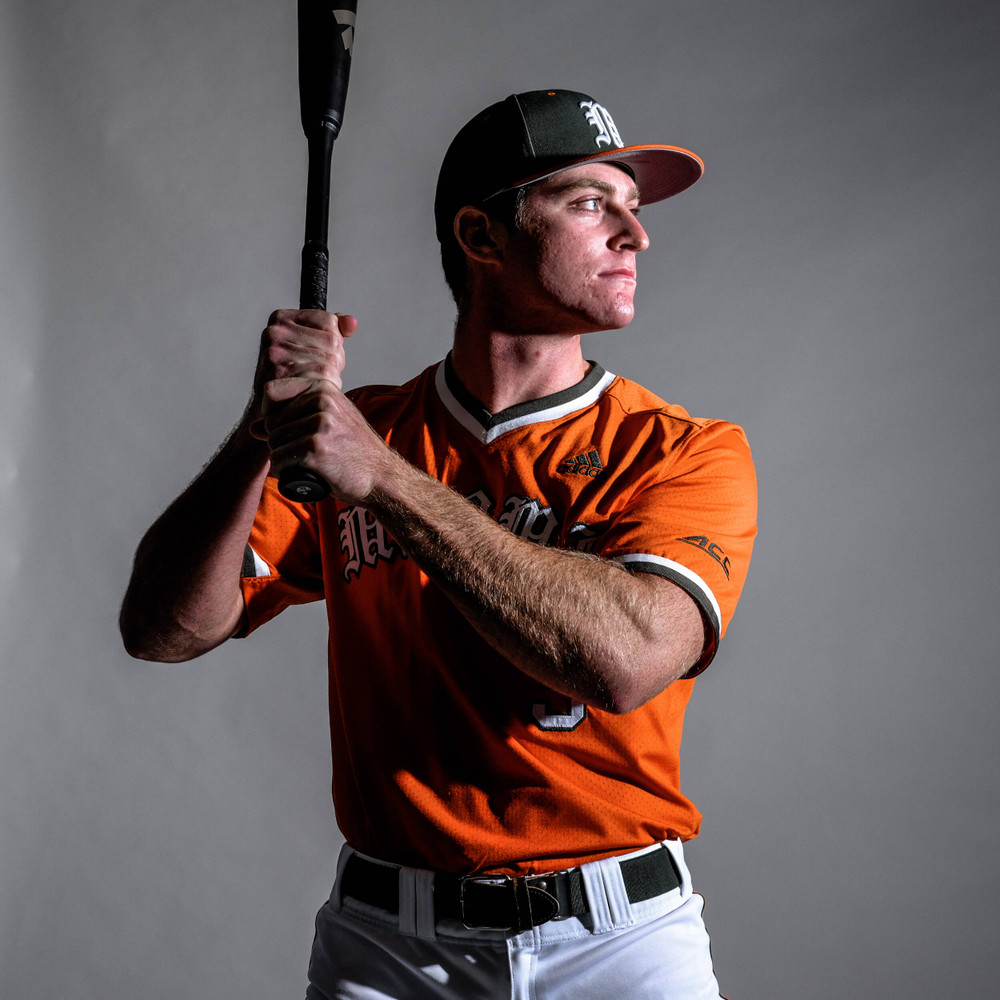 But more importantly, he finished his summer as a Hurricane.
After making an initial adjustment to Miami's top-tier arms, Levenson posted a .422 on-base percentage, which ranked second among Hurricanes this past fall.
The 6-foot-2, 210-pound slugger also totaled four extra-base hits in his first fall at The U.
"Zach is a right-handed power-guy, which works well at our ballpark," Miami head coach Gino DiMare said. "He's an offensive guy and he swings the bat with power. He's an extremely coachable, hard-working guy with a great attitude. He's always listening, always doing everything you ask him to do. I'm hoping he can be a guy that can provide a lot of power for us."
Now, with Opening Day just around the corner, Levenson is ready to make the most of his latest opportunity.
"My number one goal is getting to Omaha and winning, that's why I came here," he said. "I want to help any way I can to get us to Omaha."