University of Miami Athletics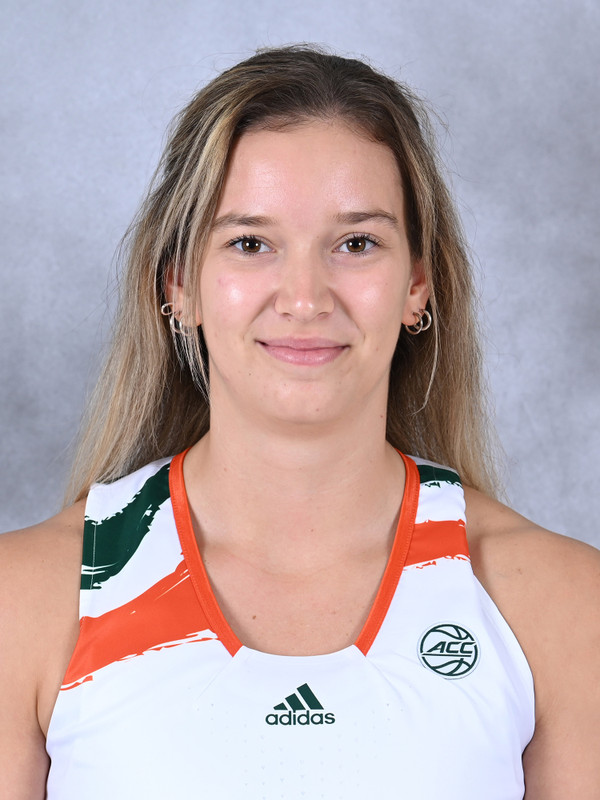 As a Junior (2020-21): Appeared in 17 games for the Canes in 2020-21…Earned her first career start as a Cane against Florida State (2/7)…Started six games throughout the rest of the season…Missed the first five games of the season due to transfer rules…Was granted immediate eligibility on Dec. 16 thanks to the blanket waiver passed by the NCAA allowing transfers sitting a year in residence to play immediately…Averaged 4.2 points and 2.0 assists per game as a junior…Tallied a bucket in 14 of 17 games played…Posted back-to-back double-digit outings with 13 and 11 points against Georgia Tech (2/16) and Boston College (2/18), respectively…Her 13 points against Georgia Tech set a new career high in scoring at Miami for the junior…Knocked down two-plus 3-pointesr on three separate occasions in 2020-21…Recorded 10 multi-assist games, including a pair of five-assist outings…Ranked second on the Canes in 3-point shooting at 31.9 percent (15-of-47).
Wyoming (2018-2020): Started 51 of 53 games played for the Cowgirls, averaging 30.2 minutes per game…Averaged 8.0 points, 2.9 rebounds and 3.5 assists per game…Shot 37.5 percent from the field and 32.7 percent from 3-point range…As a sophomore, totaled three double-digit outings and tallied three-plus assists in 14 of 20 games played…Finished the season ranked fifth in the Mountain West in assist-to-turnover ratio (1.59) and 11th in assists per game (3.3)…Named to the Mountain West All-Freshman Team in 2018-19…Helped the Cowgirls to the WNIT Quarterfinals, posting 10.0 points and 2.8 assists per game in the tournament…Owns the Wyoming freshman record for assists in a single season (124)…Recorded 13 double-digit outings in 2018-19… Tallied her first career double-double against San Jose State with 10 points and 10 assists (3/4).
High School: A member of the U18 and U20 National Team in Croatia…Represented home country at FIBA U20 Women's European Championship in 2018, averaging 5.7 points and 3.4 assists during the tournament…Led the U19 Croatian team to a championships and was the top scorer…In 2017, averaged 15.1 points, three rebounds and 1.6 assists in the U18 FIBA Women's European Championships…Helped her U18 team to four gold medals in the U18 State Championships and was a finalist in the U16 Championships three times.
Personal: Full name Karla Erjavec…Born in June 17, 1999 in Zagreb, Croatia…Parents are Mlhaden and Ivana Erjavec…Both parents played basketball professionally…Father served as an assistant coach for the Croatian national team from 2009-11 and again in 2013…One sibling, David…Plans to major in kinesiology and health promotion.