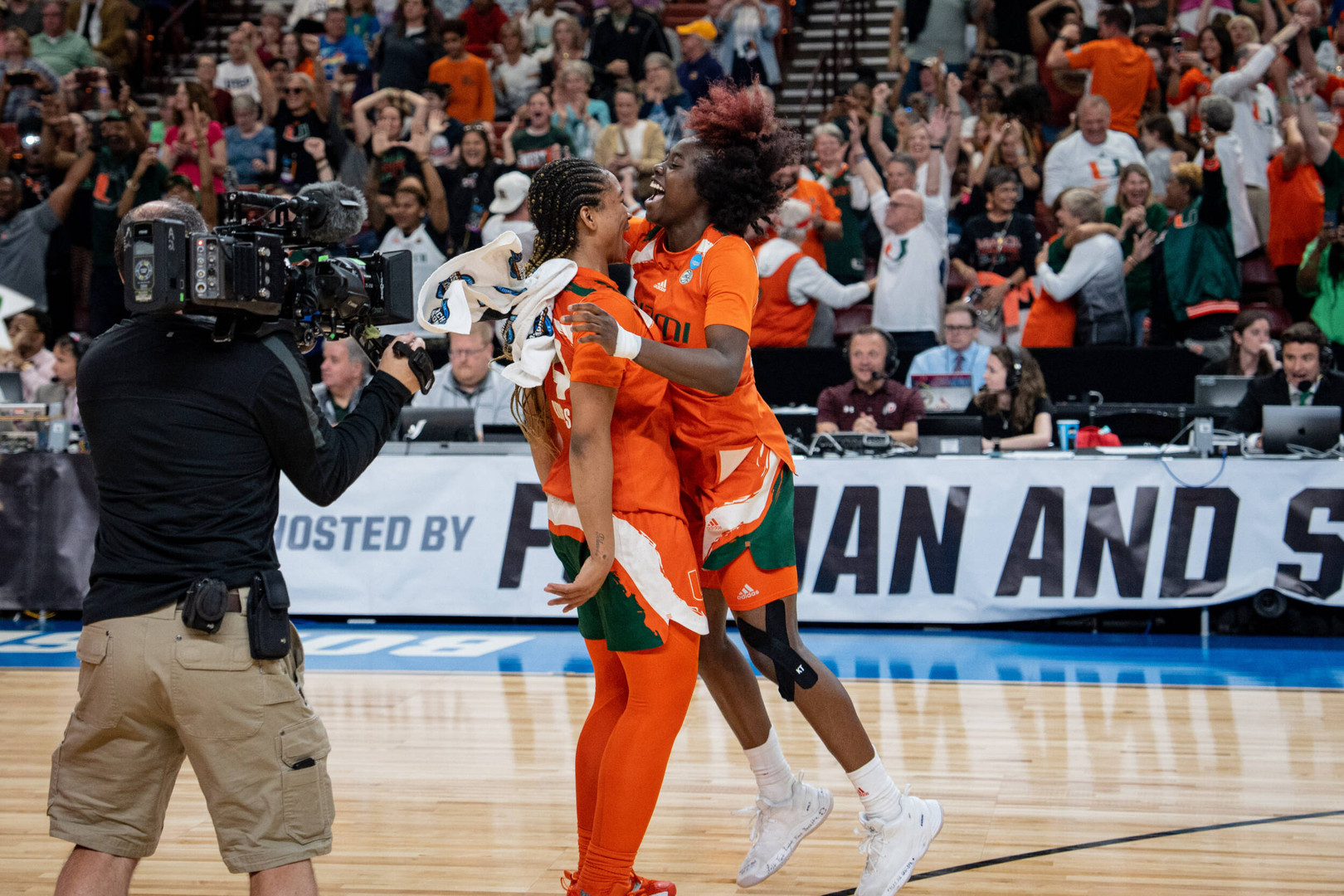 GREENVILLE, S.C. – Before every game of this magical run, Jasmyne Roberts has stood up on Miami's team bus and done her best to encourage the Hurricanes.
She has urged them to drown out the critics who say Miami can't keep winning. She has reminded them of how hard they've worked, both during the regular season and in the weeks and months leading up to it. And she has challenged them in the simplest of terms.
"Don't get off this bus unless you plan on winning," she has said time and time again.
Three games into this historic NCAA Tournament run – a run that now has Miami one win away from advancing to its first Final Four – the Hurricanes have heeded her every word.
Miami, the lone nine seed remaining on college basketball's biggest stage, is set to take on third-seeded LSU (31-2) on Sunday night in an Elite Eight matchup at Bon Secours Wellness Arena.
Roberts is a big reason why.
The sophomore guard came up big for the Hurricanes (22-12) during their Sweet 16 win over Villanova, scoring a career-high 26 points and giving Miami the lead for good when she converted on a 3-point play with 38.8 seconds left.
She was as cool as could be in that pressure-packed moment, never giving any indication of the butterflies she'd been battling all morning leading up the game.
"When I woke up, I felt like we were going to win, but the closer we got to the game, I was so nervous," Roberts said. "I was so nervous before the game. I had butterflies…It was crazy. It took me a second to get in the game, but once I got in the groove, I was really locked in, and I started feeling myself. The team was giving me confidence and giving me the ball, so I was just taking what I was getting."
For Roberts, taking advantage of opportunities has been a theme all season long.
She saw limited action as a freshman last season, averaging just 1.9 points, 1.5 rebounds and 8.0 minutes per game.
But she kept working, even in her most frustrating moments, and in January, was called on to make the first two starts of her career when teammate and leader Destiny Harden got hurt.
In those games – both wins against ranked opponents – Roberts was a force.
She scored 10 points and pulled down nine rebounds in a win over then-22nd-ranked North Carolina. Three days later against No. 9 Virginia Tech, Roberts had 23 points and eight boards.
Now, with the spotlight at its brightest, Roberts is stepping up again.
She has averaged 18 points and 7.3 rebounds in Miami's tournament games against Oklahoma State, Indiana and Villanova – a statistic she didn't know, but one that didn't surprise her teammates and coaches.
"I've being seeing it all year long from her in practice, in games, everything," said Harden, who is averaging 14.6 points and 6.67 rebounds per game in the tournament herself. "I'm just excited that the world has seen it now and that the world knows who Jasmyne is. We know who she is, and I can't wait for her to just keep going and next year, maybe take the program even further. But she's definitely increased her game and I'm proud of her."
Said Hurricanes head coach Katie Meier, "Jas Roberts, that's 26 points on 16 shots. Cool Hand Luke is her new nickname. She doesn't even know that movie, but that's Cool Hand Luke. Her efficiency numbers are incredible. The team was like 'Feed Jas, let her eat, she's beasting, she's bullying.' The whole team was on the Jas train."
For her part, Roberts credits Harden's mentorship and guidance with helping her grow her confidence and her game this season, and in the tournament.
"Destiny, that's my twin. She calls me '2.0' because we have very similar games and we play with the same tenacity," Roberts said. "It's been so fun to play with her this whole season and especially in March and make this big run with her. We both feed each other's confidence and we're always coming up to each other in games. To be able to play with her during her last year of college and make this great run, it's been so fun. I've been having the most fun with her."
Surviving and Advancing
The Hurricanes have won their three NCAA Tournament games by a combined eight points.
That's the smallest margin of victory through the first three games of a tournament run, but the Hurricanes say their schedule – one that features tough non-conference opponents and a series of matchups against ranked ACC opponents – has prepared them for this moment.
"We're there right now because of these games," Meier said. "Now, [the players] have got the recollection of it, what one rebound will make, what one stop will make, what one scout will make. Going back and saying 'Yeah, I need to jump left on this.'…We're just on the edge right there on a lot of plays right now that in November, there's no way I would have had the attention of my team like I have now. There's just no way and no other coach would, either."
Miami Madness
As special as Miami's run through the tournament has been, the Hurricanes haven't lost sight of what's happening in Kansas City, Missouri where the Hurricanes men's team on Friday night knocked off No. 1 seed Houston to advance to its second straight Elite Eight.
"It's amazing. We're around the team so much. We share the same facility with them. We share the same training room with them. We literally see each other every day," Roberts said. "We've all been on this journey since August, seeing each other practice and work out and stuff. So, to see both teams make it to the Elite Eight after all that hard work, it's so incredible. We support them a lot. They support us. We go to their games, and they come to ours…It's such a great time. All this hard work is paying off and Miami basketball is popping right now."
Said Meier, "I think it's a really, really big deal. Our arena is right on campus. It's right there. It's been a little bit more lit this year with the attendance and the students. We have this student organization, Category 5, they've done an amazing job…The two programs have a lot in common. We're very competitive, like a big brother/little sister or big sister/little brother [thing] depending on who won that week. We get that way with each other, and I love it…They're right there competing with each other in a very loving way, and I think it's elevated both of our programs."
Behind the Scenes
While Miami has gotten contributions from plenty of players, coaches and support staffers throughout its tournament run, two that have been essential to keeping the Hurricanes going have been longtime operations directors Margie Gill and Lonnette Hall.
And ahead of Sunday's Elite Eight matchup against LSU, more than a few of Miami's players had plenty of praise for their dynamic duo.
"They've done so much for us. If I call them and ask for anything, they're right there, right away. It's so nice to have that in your corner," said sophomore guard Lashae Dwyer. "A lot of people don't have that, so I'm very grateful for both of them, how they're just so quick to help any of us at any time."
Said graduate student Karla Erjavec, "They mean so much to us. There are no words. I know coach would say there are no words to explain how much each of them means to the program…Everybody in this program just wants to see Miami succeed and has so much joy throughout it. Everybody does their job and that just makes everybody better. We're trying to give back to them what they give to us, so it's just amazing to see everything kind of come together."