University of Miami Athletics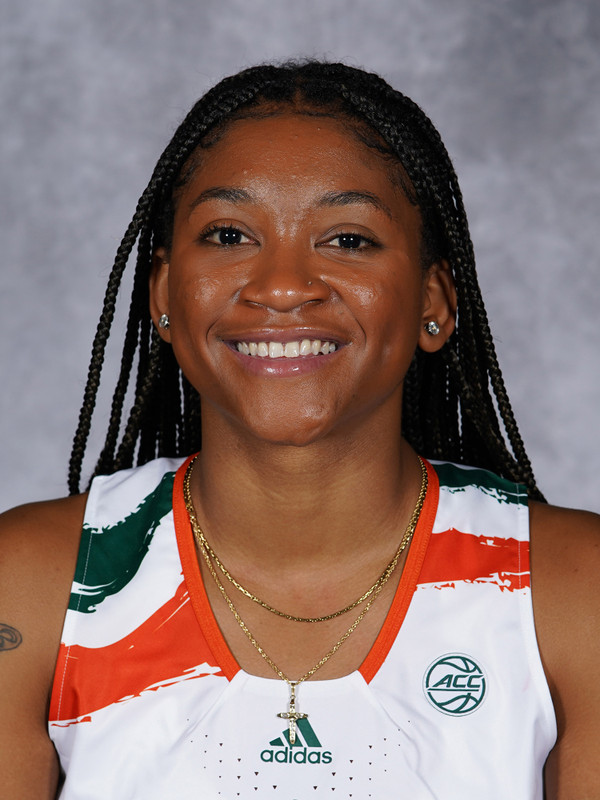 As a Freshman (2021-22): Saw action in 28 games as a freshman… Averaged 1.9 points and 1.5 rebounds per game, while averaging 8.0 minutes of action…Recorded a bucket in 11 games…Totaled seven rebounds at Clemson (1/13), setting a new career high in boards…Tallied the first double-digit outing of her career with 10 points against Pittsburgh (2/17)…Posted five multi-steal games, including a career-best four steals at Virginia (2/15).
High School: Graduated Cum Laude from Bishop Kenny…Averaged 18.6 points and 8.5 rebounds, 3.0 assists and 3.3 steals per game as a senior… Served as a captain for the 2020-21 season… Led her team to the Florida High School Athletic Association's Final Four…Team named District Champions…Helped Bishop Kenny to back-to-back state runner-up finishes…Tabbed the Florida Times-Union All-First Coast Player of the Year and News4Jax Player of the Year two years in a row…Named 2021 USA TODAY Greater Jacksonville Female Athlete of the Year…Accumulated 2,224 career points and 1,005 career rebounds at Bishop Kenny…Founded the Diverse Student Union at Bishop Kenny…Member of Bishop Kenny Diversity Task Force.
Personal: Born Jan. 1, 2003…Parents are Monica and Julian…Cousin, Courtney Williams, plays in the WNBA, most recently for the Atlanta Dream…Cousin, Shaneese Bailey, played at Miami from 2016-18…Cousins, Chris Milton and Champ Bailey, played in the NFL for the New York Giants and Denver Broncos, respectively…Four sisters and one brother…Committed to Miami over offers from Virginia Tech, Temple, Seton Hall, Arkansas, North Florida, Florida International University, and University of North Carolina-Wilmington…Chose Miami after falling in love with the campus, coaching staff, culture, and the program…Enjoys going to the beach, spending time with friends, jet skiing, and riding her scooter…Majoring in Broadcast Journalism.